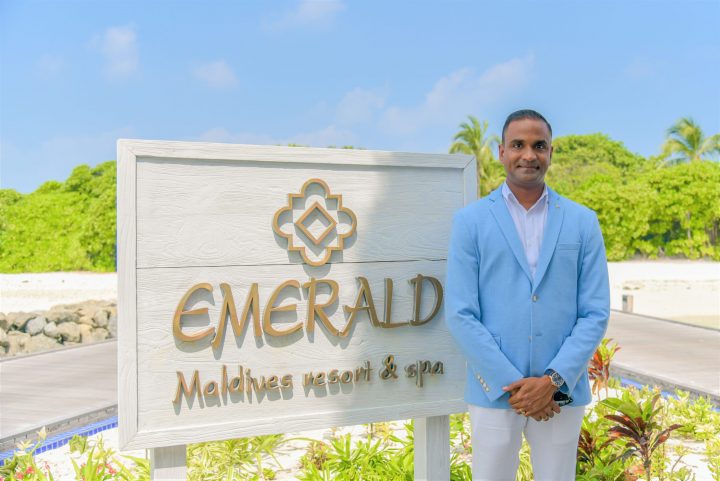 GM's View: Srikanth Devarapalli of Emerald Maldives
(with additional contributions by Ruby Amir)
Emerald Maldives Resort & Spa is a natural lush island in the beautiful Raa Atoll, offering all-inclusive service that exceeds expectations without limitations. Within this newest addition to the prestigious Italian-owned Emerald Collection portfolio, unique design elements have been carefully chosen, resulting in a contemporary concept of accentuating the island's tropicality. The vision of the owners is to 'give back to the community' and position this resort as one of the best in the Maldives. Srikanth Devarapalli, with vast experience in the industry, has been at the forefront of Emerald Resort & Spa since its beginning. He spoke to Hotelier Maldives about his journey and experiences.
HM: How has your tenure been in the hospitality industry and how did you land your current position at Emerald Maldives?
SD: It has been an exciting 18-year journey within hospitality, which began at Oberoi Hotels in India in 2002. Oberoi Amarvilas was a good training school. I came across a picture of a resort from the Maldives. This was Taj Exotica resort, I applied for a position and was fortunate to get through. I did five-years continuous service, moving to Four Seasons for while in between and then back to India to work with two Hyatt properties, handling the pre-opening for one of them, before returning to the Maldives, with Constance Moofushi. The Maldives is an exciting place – most of my career growth happened here. I went on to work in Constance Ephelia in Seychelles before returning. It has always been my dream to open a resort. I was fortunate to get the right opportunity to be part of the pre-opening team at Emerald Maldives. I joined in May 2019, our opening was set for the beginning of August, to get the initial team of 250 members on board, we had less than three months. From day one, when we welcomed our first guests, every facility in the resort was operational. So far, our guests have left great reviews.
"Passion takes you a long way in everything you do. Be sincere and learn as much as you can. With growing technology, you do not need to depend on anyone to teach you. Keep your eyes open, be curious and keep learning at every stage, whether you are a GM or a CEO"
HM: How does Emerald Maldives stand out from competitors?
SD: We are a deluxe all-inclusive resort, unique due to our design and offerings. We are part of the Leading Hotels of the World and both a family and romantic destination. In our all-inclusivity, we offer four restaurants, without limitations. The Teppanyaki at Le Asiatique is also all-inclusive a rarity in the Maldives. Amazonico the first of its kind here offering South American food. Product is one aspect, but we would like to differentiate the service. All 300 happy members of staff create unique experiences and do a lot in the background to reflect that.
HM: What can be done to improve the efficiency of teams while developing human resources?
SD: Since arriving in the Maldives in 2004, I have seen a lot of improvement in the skillset of the local people. At one point you hardly saw Maldivians in the top positions, but in the current generation, there are many ambitious people with a willingness to grow. This year we plan to do professional development programs for locals. We are currently working with Raa Maduvvari to take on four locals and train them in certain departments for six months. If this is successful, we will do this on a larger scale. At Emerald four heads of departments are local, many are assistant managers. I would like to see more Maldivians in top positions.
HM: What are Emerald Maldives' key consideration for sustainability?
SD: We do not use singleuse plastic; paper straws are provided only upon request. The design itself is sustainable because of the bamboo and Langhi Langhi leaves. The roof will not need to be replaced for six years, reducing timber consumption. We have a resident marine biologist who offers snorkeling trips for them educate them. We are starting a coral propagation project this year where guests can to plant and sponsor coral frames. We will implement organic gardening on a larger scale, with a chef's table. The idea is to cut down on the import of vegetables by 50 per cent, therefore restoring our natural vegetation is an important step towards becoming more sustainable.
HM: With increased connectivity to the Maldives, how do you foresee our tourism industry developing?
SD: We were pleasantly surprised by the success since reopening and we owe this to our hard working and passionate team members, sales and marketing teams and the vision of the owners to create the best product in the segment and the vision of our Chief Operating Officer Aldo Scarapicchia. We are fortunate to have a good mix of nationalities from the key markets. What impressed me most is the tourism reopening plan by the Maldives Government, Tourism Ministry and HPA. It is interesting to see growing new markets, like the Indian market which was never a key market here. Regarding arrivals, at times we have had feedback from some guests that the immigration clearance times at the airport is lengthy. This could be something to improve on, given the influx of travellers to the country. I am positive about the business situation in Maldives.
HM: What challenges do you face as a GM working in the Maldives?
SD: For a foreigner it takes time to understand the culture and the people. For me, the Maldives is my second home. I learned from day one that if you, like in any country, respect the locals they will respect you back. I would say the logistics are a challenge, for example, with the seaplane schedules and so forth, but we are fortunate to have a domestic airport nearby in case of any hindrances. Another challenge is the retention of team members. With many new openings, good employees are sought from all over. The price reductions on room nights with new openings would be a challenge as well when resorts compete with one another for the lowest selling prices resulting in a no-win situation.
HM: What is your advice for aspiring and well-established hoteliers?
SD: Passion takes you a long way in everything you do. Be sincere and learn as much as you can. With growing technology, you do not need to depend on anyone to teach you. Keep your eyes open, be curious and keep learning at every stage, whether you are a GM or a CEO. I believe for the resort to be successful the team needs to be happy. Here, we place people based on their qualifications rather than geography. It is the Emerald way to foster good working relationships with likeminded individuals of different nationalities