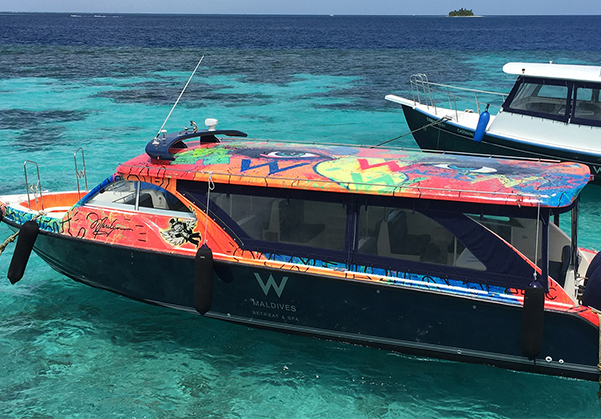 Graffiti artist Alec Monopoly paints at W Retreat and Spa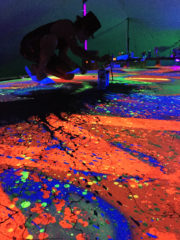 Legendary artist Alec Monopoly was at the W Retreat and Spa Maldives this month painting the resort's speedboat Marilyn.
Inspired by the Indian Ocean's multi-coloured marine life, clear night skies, and fluorescent plankton, Monopoly transformed Marilyn into "a vibrant neon colours boat set to 'Let It Glow,'" W Maldives stated in a press release on January 10.
"We are extremely excited to work with such a wonderful and talented artist. We wanted to have a boat that stands out from the rest and that fits with the new restyled concept 'Let It Glow'. Glowing in the dark, this amazing artwork gives a new energy and dimension to the Retreat," said Jean-Louis Ripoche, Complex General Manager, W Retreat & Spa – Maldives and Sheraton Maldives Full Moon Resort & Spa.
The newly restyled W Retreat & Spa – a 25-minute seaplane flight from the Male' international airport – features 78 private retreats, each with its own plunge pool and sundeck, six gourmet eateries and lounge bars, the Maldives' only underground nightclub and an over-water spa.
'Alec Monopoly' is the alias of a world famous anonymous graffiti artist from the United States, who has worked in urban environments in New York, Miami, Los Angeles, Europe, and parts of Asia, depicting pop culture icons in contemporary situations.
Monopoly's artwork has been sold to major celebrities including Miley Cyrus, Robin Thicke and Snoop Dog, and he has collaborated with Madonna, Justin Bieber and actor Adrian Brody.
Following his work at W Retreat, Monopoly partnered with a fashion brand to paint shoes for a limited edition.
"I've been painting ever since I can remember. My mom's a painter. So when I was learning to write letters I was learning to draw faces. So I've been painting all my life," said Monopoly during his stay at W.
According to W Maldives, Monopoly donned a mask and top hat to protect his identity during his public appearance at the resort.
Monopoly meanwhile noted that it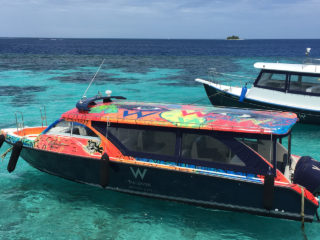 was his first time painting a boat.
"It was amazing to see everyone from the island come together and work as a team to pull the boat out of the water and I'm glad I was a part of it. I've never seen such a process," he recalled.
Monopoly said he was nervous at first, as the boat was not a regular sized canvas for the street artist.
"The roof was one of the main challenges because I've never actually done a mural on the ground," he said, adding that the process became a learning experience that underscored the value of patience and layering.
Monopoly explained that he draw inspiration from the contrasting atmosphere of a Maldivian island during day and night.
"During the day it's beautiful crystal clear water and then at night it turns into vibrant neon colours and there's an energy about the night here on the island that I was drawing a lot of inspiration from," he said.
Monopoly said he especially enjoyed painting with fluorescent colours as well as taking a dip in the lagoon or going snorkelling during breaks.
"To come to such a beautiful island here at the W Maldives and be painting a boat on the beach – it's almost a dream come true," he said.