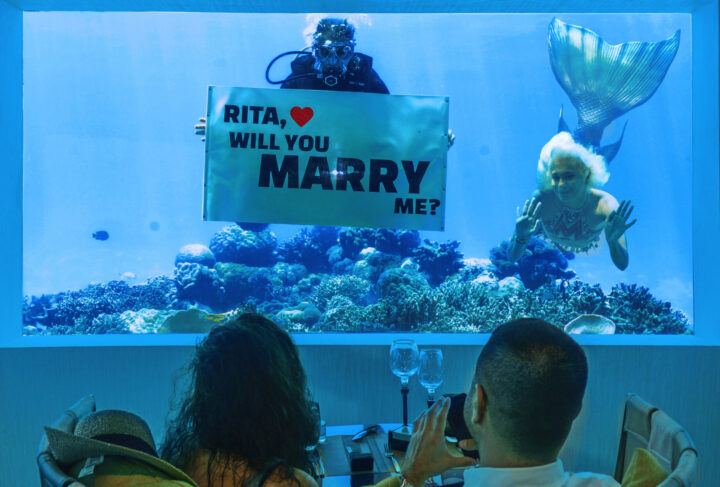 Guest "pops the question" underwater at the M6m in OZEN Maadhoo
An in-house guest at OZEN by Atmosphere at Maadhoo has popped the question to his girlfriend, in the iconic M6m (Minus Six Meters) – OZEN by Atmosphere's very own underwater fine‐dining restaurant. The surprise marriage proposal was made during a romantic, fine‐dining experience at the M6m.
The surprise proposal popped underwater was certainly very special and a unique experience indeed for the couple and for all the other couples dining at the M6m, who witnessed this wonderfully romantic Surprise, said OZEN Maadhoo. The M6m is an 'adults‐only' fine‐dining restaurant, except during lunch on Mondays and Thursdays when families are invited to dine.
According to the resort, the surprise marriage proposal had been in the works for a month, with the guest keeping constant contact with the OZEN team to carefully arrange the entire sequence of events. It was OZEN's very own 'mermaid' and a diver who swam down to the window facing the couple's table and unveiled a banner reading "will you marry me?"
And to the delight of the soon-to-be-fiancé and all others in attendance, the lady, who was absolutely in awe, answered "yes", the resort said. The rest of the couples, dining at M6m, joined in and applauded this amazing experience.The M6m is the first underwater restaurant in the Malé Atoll, with its specialty cuisine being modern seafood. This fine dining experience is included in the resort's Luxury All‐Inclusive plan ‐ 'The Atmosphere INDULGENCE™'!
The Award Winning Luxury resort – OZEN by Atmosphere ‐ just under a year old ‐ has already seen its fair share of romantic moments from celebrity stays, dozens of island weddings & renewal of vows and similar exotic and romantic proposals since opening! This romantic Marriage Proposal has however been, by far the most creatively Romantic Experience, since the resort's inception, it noted.
You can watch the video of the proposal at ozen‐maadhoo.com and facebook.com/ozenmaadhoo.