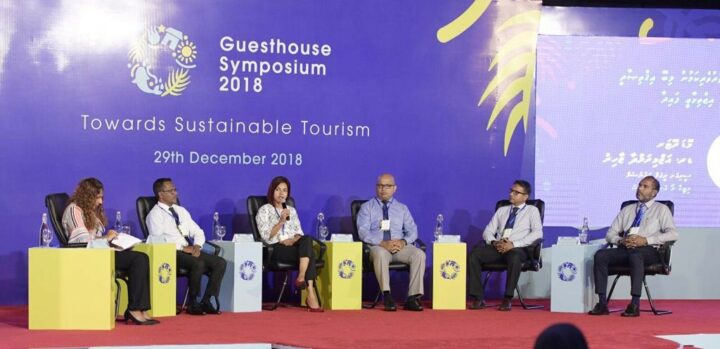 Guesthouse Symposium comes to a successful close
The Guesthouse Symposium, organised by the Ministry of Tourism, comes to a successful close with the participation from over 400 guesthouses from across the country. The symposium, held at the Dharubaaruge Convention Centre, also saw the attendance of tourism industry stakeholders and representatives from Atoll and Island Councils.
"The government will commence work on formulating a tourism sector strategic master plan within its first 100 days," said Ali Waheed, the Minister of Tourism, speaking to the media during the event. He further expressed content with the participation at the symposium. The event, held with the aim to seek the challenges faced by guesthouse owners and operators, featured four keynote presentations;
An Overview of Maldives' Tourism, by Ali Shinan, Director of the tourism ministry;
Local Tourism: Facilitating for Sustainable Growth; featuring two presentations by Dr Ahmed Salih, Minister of State for Tourism; and, Yoosuf Shiraz, Deputy Director, Maldives Tax Academy, Maldives Inland Revenue Authority (MIRA);
Guesthouse Tourism: Vehicle for Inclusive Growth, by Asad Riza, Deputy Minister, and Aishath Ali, Director General at the tourism ministry; and,
Marketing and Promoting the Guesthouse Product, by Safa Musthafa, Senior Marketing Executive at the Maldives Marketing and Public Relations Corporation (MMPRC).
The symposium also featured case studies on three topics:
Case Presentation on Maafushi, by Usman Rasheed, President of Maafushi Island Council;
Case Presentation on Waste Management at Ukulhas Island of Alifu Alifu Atoll, by Abdulla Waheed, President of Ukulhas Island Council; and,
Case Presentation on Hulhumalé, by Moosa Nasih, Vice President of Guesthouse Association of Maldives.
It also saw group discussions on the topics: Sustainable Guesthouse Tourism, Infrastructure for the Development of Guesthouse Tourism, and Promoting the Guesthouse Segment. The symposium was complemented with an address by President Ibrahim Mohamed Solih, who spoke extensively on further facilitating growth and operation of guesthouses across the country. According to the latest statistics released by the tourism ministry, the country has over 500 registered guesthouses offering a total bed capacity of 8292 accounting to around 18 per cent of the total accommodation capacity.EDITOR'S NOTE: Featured images courtesy of www.facebook.com/pg/tourismministry.