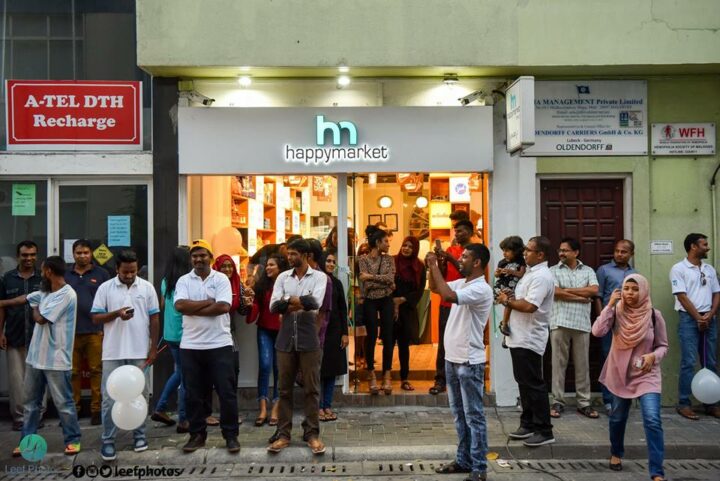 Resort supplier Happy Market opens new outlet in Malé
As part of 25th-anniversary celebrations, Happy Market Trading Co. – a leading hotel and resort supplier – has recently opened a new outlet in Malé. The new outlet named 'Happy Market Shop 5' is located on Medhuziyaaraiy Magu, adjacent to the temporary Dharumavantha School building.
"The new outlet will serve as an experience zone, giving our customers the opportunity to try our products," said Ali Ihsan, CEO of Happy Market, speaking to the local media. "Our aim is to provide quality products to our customers." The new outlet was opened with a live Boduberu event, which also featured chocolate tasting, exclusive discount vouchers and the chance to win gift hampers.
Happy Market, which is a lead supplier of frozen food, provides both wholesale and retail services at the new outlet. It seeks to expand its product range to dry goods, according to the company.
Happy market deals in over 3,000 varieties of food items, including frozen meats, frozen fruits, frozen French fries, and fresh vegetables, in addition to eggs, cooking oil, milk powder, milk, canned vegetables, canned fruits, dry assorted food items, pastas & noodles, jams & spreads, bakery & pastry items, premium drinking water, ice-cream powder, whipping cream, juices and drinks, herbs & condiments, etc.
A HACCP-certified food supplier, Happy Market aims to offer its customers with most comprehensive food items and beverages. According to the company, its well-trained team ensures that your shopping experience is satisfying and enjoyable with a great selection, competitive prices and superior services. To learn more about the products and services offered by Happy Market, please visit happymarket.com.mv.