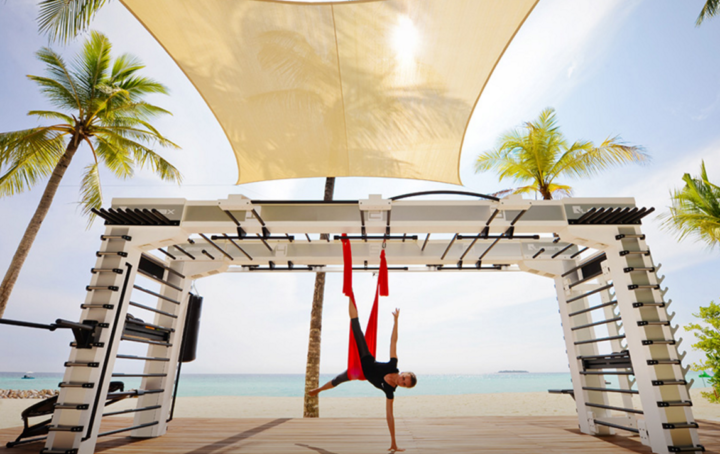 Health retreats with elite personal trainer Harry Jameson at One&Only Reethi Rah
One&Only, the award-winning collection of ultra-luxury resorts, has partnered with elite personal trainer and health and fitness expert Harry Jameson, to create three exclusive retreats at One&Only Reethi Rah in the Maldives next year.
With the first retreat taking place in January, there is no better way to kick start the New Year than with a health and lifestyle overhaul in the unique and beautiful island playground of One&Only Reethi Rah.
The Jameson Retreat combines science, fitness and diet to deliver a personalised programme with long lasting effects. A far cry from quick fix retreats, guests will embark on a comprehensive journey, expertly curated from significant pre-departure data analysis that sees them re-evaluate their lifestyles and maximise their health and fitness for the long term.
"We are delighted to be working with Harry Jameson to offer exclusive health and fitness retreats for our guests. This partnership allows us to take wellness, which is part of our DNA, to the next level, ensuring our guests leave with both everlasting memories and an improved sense of wellbeing," commented Jean-Luc Naret, General Manager, One&Only Reethi Rah.
"One&Only Reethi Rah is the perfect location for this experience – with our private  villas located over-water or along pristine beaches, an award-winning spa and incredible cuisine, all surrounded by the crystal clear waters of the Indian Ocean – it truly is the pinnacle of tropical luxury. Nowhere else in the Maldives is there a resort with this much space and exclusivity."
Harry Jameson, an award-winning personal trainer, health and fitness expert, and his team, provide the very best in personal training, strength and conditioning, and health and lifestyle management services for his clients based in London, as well as all around the world.
A firm believer in training the mind as well as the body to drive maximum results, Harry's meticulous approach to training clients is based on psychological scientific foundations obtained through a degree in sports science and psychology alongside his own personal research and development.
The Jameson concept is enhanced by Harry's selection of handpicked health partners who join together to assess, create and facilitate life-changing results.