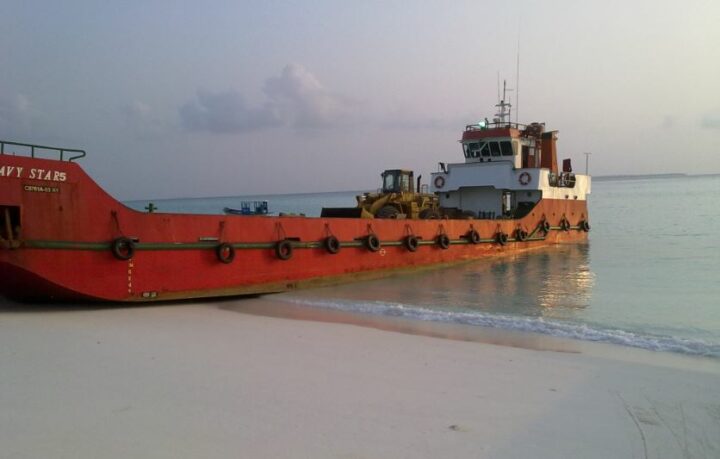 HeavyLoad Maldives: solutions for marine construction & heavy vehicle rentals
HeavyLoad Maldives Pvt. Ltd. has built a reputation for providing solutions to complex coastal and waterfront projects in the country. The company was established in 2003 as a marine construction and heavy vehicles rental.
Today, it is the total solutions provider to marine construction and heavy vehicle rentals, especially to the resort development sector.
"We help clients realise their vision by engineering cost-effective solutions in the design and construction of marinas, beaches, offshore coastal structures and resort constructions," says Mudrikath Moosa, the Managing Director of HeavyLoad Maldives, speaking with Hotelier Maldives.
"We provide the total solutions. Our experienced teams are ready to be deployed anytime, anywhere in the country."The HeavyLoad Maldives team is equipped with contemporary skills and experience in different segments of the marine and civil construction industry.
It provides a wide array of services to resorts that are being developed and under renovation; dredging services, coastal structure development, beach nourishment, civil engineering, site evaluation, development of waterfront buildings and marinas, marine environmental services, logistics, heavy vehicle rentals and management services.
The company has a pool of over 160 heavy machinery and vehicles including excavators, loaders, trucks and forklifts, etc.; the total works required for resort projects. It is one of the largest pool of heavy vehicles owned by a local private company. "The biggest challenge for heavy vehicle rental companies is logistics," says Mudrikath."But we are fully covered! We have three landing crafts and are capable of providing total logistics solutions. Where other companies take over five days to deliver vehicles to a project site, our teams can transport heavy vehicles and other machinery to any part of the country within a day or two."HeavyLoad Maldives – with bases in Thilafushi and Laamu Atoll – has already carried out a number of notable resort projects, including marine construction and vehicle rental services in properties owned by One & Only Resorts, Cheval Blanc and Four Seasons Resorts, to name a few."We have also undertaken a number of projects for the government, including dredging and reclamation works in Thilafushi and Velana International Airport, harbour development projects in over twelve islands, in addition to the development of waste management facilities in some 70 islands," says Mudrikath.While the company expanded its assets with the acquisition of new vehicles in 2016, it is gearing up to secure a cutter suction dredger and a 500-ton barge later this year, further growing its arsenal.
It also has offices in Singapore; dedicated to barge-building, and in Dubai; supplying heavy vehicle spare parts. HeavyLoad Maldives is also currently developing its own 800-bed tourist resort in Laamu Atoll.
For more information please visit heavyload.com.mv.