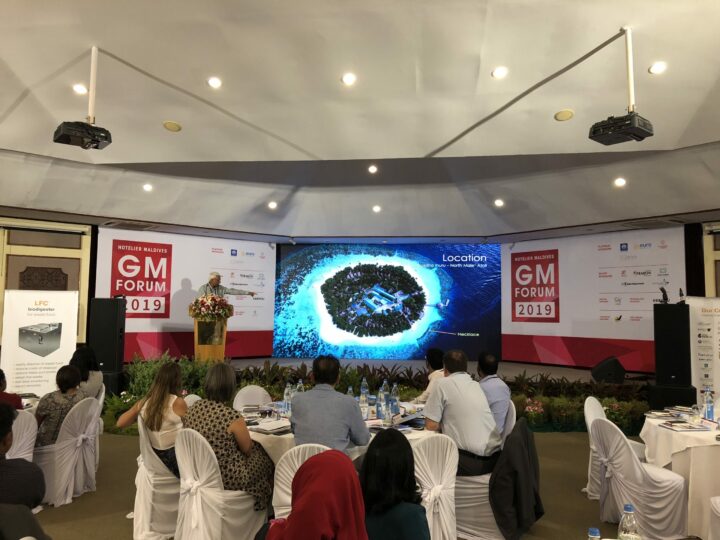 GM Forum 2019 kicks off in Bandos Maldives
The fourth edition of the Hotelier Maldives GM Forum has kicked off in Bandos Maldives. Over 100 delegates representing over 30 hospitality brands are in attendance at the annual event. The day-long event will see hoteliers and hospitality professionals congregating for keynote speeches, presentations and panel discussions on pertinent topics in the industry.
Keynote speakers at the event include Abdul Azeez Abdul Hakeem, a hotelier and a marine conservationist, speaking about his pioneering efforts at conservation – The Necklace Project; Shaahina Ali, Executive Director (Maldives), Parley for the Oceans, highlighting the challenges we face in dealing with recycling plastic; and Hervirender Pal Singh, Area Director for Global Safety & Security – South Asia, Marriott International, emphasising on the challenges for hotel safety and security.
Presentations are also be given by Sébastien Doussin, Vice President of Ground Services, dnata, outlining the efforts made to ensure the safety of travellers; Moosa Shafiu, Project Consultant for Coastline Foundation, speaking about the Technical and Vocational Education Centre (TVEC) launched last year offering vocational training required for the hospitality industry; Michael Friedel, German photographer responsible for some of the most memorable images of the Maldives and who helped to establish the destination on the 'tourist map'; and Shivendra Selvam, Account Manager, Central & South Asia, STR, taking the audience through recent trends seen in the hospitality industry in the Maldives and a general overview of APAC as a whole.
The event will also feature two panel discussions on the topics "Challenges for Sustainable Tourism in the Maldives", and "Bridging the Skills Gap & Women in Hospitality"; presenting some notable names in the respective fields. The forum will be followed by a networking event in the evening.
Platinum Sponsors of this year's event include Euro Marketing, Hospitality Depot, Allied Insurance, and SNS Group, with F1 Recreation, AEL Distributors, ASTRABON, Uniforms Unlimited and Dhivehi Insurance as Silver Sponsors. Other partners of the event are Tree Top Hospital as the Wellbeing Partner, CypreaAir & Holidays as the Airline Partner, The Hawks Pvt Ltd as the Transfer Partner, and Keiretsu as the Technology Partner.
For more information, visit www.hoteliermaldives.com/gmforum.