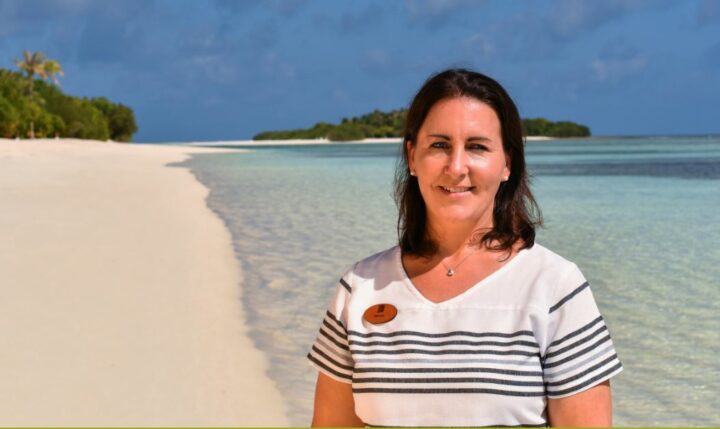 Helen Bolton, Director of Sales and Marketing at Kanuhura Maldives
In this edition of Women in Hospitality, we talk to Helen Bolton, Director of Sales and Marketing at Kanuhura Maldives. Hailing from Yorkshire, UK, Helen began her career in hospitality as a tour guide/holiday representative for Sunset Holidays at the tender age of 20. As well as studying business administration, Helen also completed a BTEC National Diploma in Travel and Tourism at Harrogate College.
Helen was bitten by the travel bug at a very early age; in fact, she describes her first overseas job with Sunset Holidays which took her to Marmaris, Turkey, as her setting step towards hospitality. She reminisces that it was this opportunity that really opened her eyes to working and living in a different culture, environment and climate and provided her with the confidence and independence to handle gruelling schedules and any issues that were thrown at her.
Hotelier Maldives: You are currently the Director of Sales and Marketing at Kanuhura
Maldives. What was your motivation to pursue a career in sales and marketing in the hospitality industry?
Helen Bolton: I didn't initially plan a career in Sales & Marketing. I started my career in the Maldives back in 1999 as a tour guide for Kuoni Travel and worked for several years with both Kuoni and Hayes and Jarvis looking after British tourists travelling to the Maldives.
After that, I felt I needed a new challenge and spent a year in Thailand as a teacher, teaching 8 to 12-year-old children English, Social Studies and Art which you can imagine was very rewarding and entertaining.I later moved back to the Maldives as a Guest Relations Manager for the pre-opening of Olhuveli Resort & Spa which, while it was a tough project, was a great character building experience which soon led to my being recruited by Anantara to join them as their pre-opening Senior Sales Manager which was my very first role in sales in the Maldives.  From that time, I realised that my strength lies in sales and I want to stay in the Maldives.HM: Was it difficult as a woman, to climb the ladder in a male-driven arena, balancing both your personal and professional lives?
HB: While it can be slightly more challenging to climb the ladder and reach a director level as a woman in the industry, I don't feel that this was ever really a consideration for me. I think that with enough grit, determination and passion for the job you can overcome this.
I come from a very hard working and career-driven family that know how to work hard and play hard, so while I'm completely driven and focused whilst on duty, I'm a completely different character "off the field".
HM: You've worked for some big brands that have taken you around the world. But you are now based on a secluded island in the middle of the Indian Ocean. How do you balance your life working away from home?
HB: I've lived overseas – especially the Maldives – for many years, so the isolation of an island life and adapting to different environments is second nature by now. In my position, I travel extensively to promote the property to worldwide markets so I don't have the chance to suffer from 'island fever'.Although I live on a secluded island my job is always social and over the years the majority of our partners/tour operators have become personal friends, so it's great when they visit the resort for FAM trips and I see them while on my travels. I've been living abroad and travelling for so long that my friends have learnt to ask 'where are you?' instead of 'how are you?'!HM: What is the greatest challenge or advantage of working in a single island resort, compared to big hotel chains with the resources big cities can offer?
HB: Everywhere I've worked has its own unique challenges and that's part of the fun of the job. One of the challenges of living on an island instead of a big city is travelling to meet our clients because it takes longer to reach our main markets. On the other hand, it's great to be living on the property as I feel truly connected to the resort and understand it deeply in a way that city hotel workers rarely do.
HM: Your current position came about just as the resort rebranded and reopened, what was your greatest challenges compared to the other positions you've held?
HB: I joined Kanuhura Maldives in late January just one month after the re-opening of the resort. The product had been closed for over a year and completely renovated.Of course, during that time the Maldives had moved on so one challenge was reminding our clients how wonderful this island is and why they've loved it for so many years. We had to show that we didn't change what they always loved about us and simply made the resort even better than before with a fresher, more modern feel.HM: You are not new to the Maldives, you've worked for some international companies, including Hilton, Lux* and Anantara to name a few. You've also worked for local brands like NIYAMA. How do these roles compare?
HB: I enjoy working for both international chains and local brands as they are both challenging yet rewarding in different ways. Having spent so many years in the Maldives I've been fortunate enough to meet and work directly with many inspirational local resort owners who have taught me so much about the industry for which I will always be thankful.
HM: We only see a handful of local women in management positions in the Maldivian hospitality industry. What do you think the reasons are and what advice you do have for women who aspire to be in your shoes?
HB: During my first few years in the Maldives, the hospitality industry was a very male-dominated environment. It was quite rare to find any local women working in the resorts, especially in management positions. I believe that with better education and a cultural transition women are now developing into such roles and more importantly prove their success in such positions.My advice: Don't expect everything to be handed to you. Hard work and determination are the keys to achieving your goals. Be willing to take decisions because whether they are right or wrong you will always learn from them which will develop you further within the hospitality field.HM: Do you foresee a positive shift in the ratios of women and men in management positions in the future?
HB: I think this will happen as more and more Maldivians work their way into management because there's no reason at all why women can't lead.
HM: In your opinion, what are the qualities a woman should possess to advance a career in hospitality in Maldives?
HB: Dedication and determination. The job will be challenging at times, but as we say in Yorkshire "where there is a will there is a way."
HM: What are some of your greatest achievements, working in Maldives, and your career in general?
HB: Being part of the pre-opening team of the first Anantara property in the country where I set up the sales department in my first Sales role. Another memorable achievement was handling the booking, arrangements and logistics for two large worldwide incentive groups for Conrad Maldives Rangali Island and bringing the various departments together to create what were two very successful events. And of course I'm enjoying building the team here at Kanuhura and positioning the resort as one of the leading five star resorts in the Maldives.
HM: You have almost exclusively worked in sales and marketing. Is there any area in the hospitality industry or otherwise you feel a passion for? Where do you see yourself in the future?
HB: I love planning and coordinating events so I am eager to use my sales, events skills and experience in the Maldives to develop the MICE and destination-wedding business both for the resort and for the country. I see myself staying within the sales and events industry for several years to come as this is truly where my passion lies.