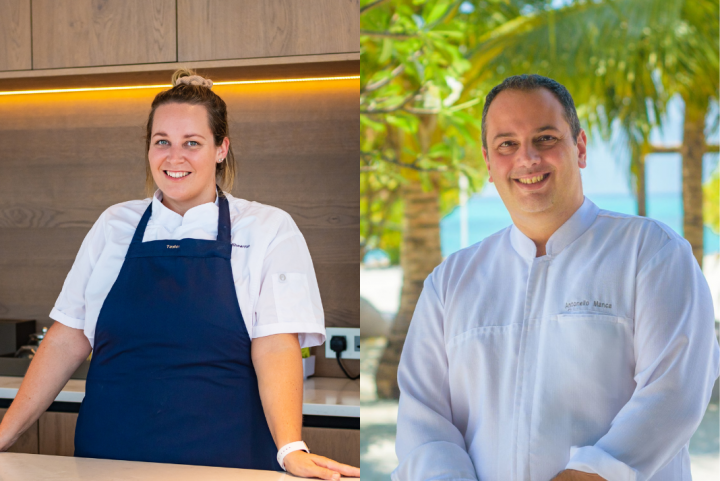 Meet the New Executive Chefs Leading Culinary Teams at LUX* Resorts Maldives
LUX* South Ari Atoll and LUX* North Male` Atoll announces appointment of new Executive Chefs who will overlook the resorts' culinary journey and take it to new heights.
Taylor Shearman joins LUX* North Male Atoll after nearly a decade of international moves. She began her cooking career by becoming a kitchen apprentice in some of the best restaurants in Australia. Her talent was clear from the beginning and she was offered the opportunity to use her extra time in the kitchen to learn directly from the best chefs about the wonders of many different cuisines. She then moved on to luxury hotels around Turks and Caicos before arriving in the Maldives.
''Chef Taylor brings proven expertise and an insightful connection to the Maldives that will honor the exceptional food status while bringing an original experience to LUX* North Male Atoll's culinary journey'' says General Manager John Rogers.
Guiding and inspiring her team is Taylor's principal motivation. "Cooking is all about transmission. My greatest pleasure is being able to transmit the passion I have for food and for cooking to future generations of great chefs. There is no better place to do this than with a talented team like at LUX* North Male Atoll," says Taylor.
Chef Antonello Manca brings in over 20 years of remarkable experience to LUX* South Ari Atoll. After heading the culinary teams at Kempinski in Amman, Dusit Thani and Paramount Hotel, both in Dubai, he is set to take LUX* South Ari Atoll to even greater culinary heights.
For Antonello, the love for food came at a very young age, and while closely observing his mother's cooking in the kitchen, his passion grew from the age of 14. In his early twenties, he travelled around the world to discover new flavours before he landed his first internship and realised that cooking was for him. With a clear vision he aims to combine innovation with healthy, locally sourced and mindful cooking.
"Working together with nature in a mindful and responsible way is something I wish to develop even further at LUX* South Ari Atoll," says Antonello. "Being a good chef requires a passion not only for food but also encouraging your team to develop by trying new things without being afraid of criticism. Additionally, being on the hunt for innovative ways to further enhance the guests' culinary experience has always been a vital requirement of success for me. No chef works alone, only together we are able to succeed and that mindset is vital."
Chef Antonello will head LUX* South Ari Atoll's culinary team of 110 team members from more than 12 nations. Like Taylor, Antonello loves to explore the underwater world and he is also a certified dive master.