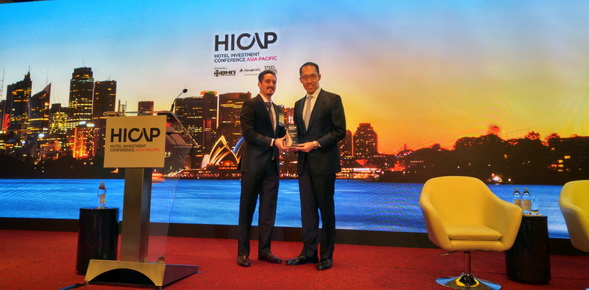 HICAP announces winners of sustainability award
The Hotel Investment Conference Asia Pacific (HICAP) has announced the winners of the HICAP 2016 Sustainable Hotel awards.
Organised and co-hosted by Burba Hotel Network (BHN), Horwarth HTL and Stiles Capital Events, the 27th edition of the annual event will be held from 19 to 20 October at the InterContinental Hong Kong.
Launched at HICAP in 2007, the Sustainable Hotel Awards recognises hotels in the Asia Pacific region that demonstrates exemplary sustainable best practices.
"The institution of the Awards hopes to inspire industry wide commitment to embracing and proliferating sustainable development and operations as standard practice in contribution to the preservation of our global and local environments and cultures," BHN, the organiser, said in a press statement today.
Among this year's winners are the Temple House in Chengdu, China in the category of Sustainable Project Design; Nikoi Island in Riau Province, Indonesia for Sustainable Communities; ITC Grand Chola in Chennai, India and Jetwing Yala in Yala, Sri Lanka for Sustainable Operations.
The Temple House hotel was praised for "seamlessly combining the ground level public and private realms at a strategic corner to the adjacent Chengdu Daci Temple Cultural and Commercial Complex" and "expanding the historic center while becoming an integral part of it."
The Nokoi Island is renowned both for sourcing nearly all construction materials, labor, and operating supplies locally, and its The Island Foundation.
"From an initial focus on establishing a network of learning centers for local children, the centers have expanded into programs for adults including health education, sanitation and arts and crafts," BHN said.
"The Foundation also provides training workshops for teachers that are recognized by the Ministry of Education and lead to obtaining higher salaries."
The ITC Grand Chola, a 600-key hotel with more than 1.6 million square feet of built area, is one of the largest in the Indian subcontinent and the world's largest LEED Platinum-rated hotel.
"Since opening in 2012, energy consumption and waste generation has been reduced annually via installation of all LED lighting, a condensate recovery system, an additional wind turbine, solar heating panels, and a heat pump to reduce diesel use," according to BHN.
The Jetwing Yala, located on the outskirts of the Yala National Park in the deep south of Sri Lanka, was meanwhile a landmark opening in 2014.
"One of the country's largest privately owned solar installations of 300 kilowatts meets 40 percent of the hotel's daily electricity needs," BHN said.
"The plant supplies excess energy at peak back to the national grid, helping to cushion grid fluctuations experienced by local residents. Its heating and cooling is operated by a vapour absorption chiller, run sustainably via steam generated from a biomass boiler using sustainable cinnamon wood procured locally."
HICAP is Asia's largest and longest running hotel investment event, an unmissable gathering for hotel developers, investors, lenders, operators, and other industry executives for information exchange, trend spotting, and deal making. The 26th annual HICAP held in October 2015 in Hong Kong attracted over 800 delegates from around the world.
Visit the HICAP website for additional information.