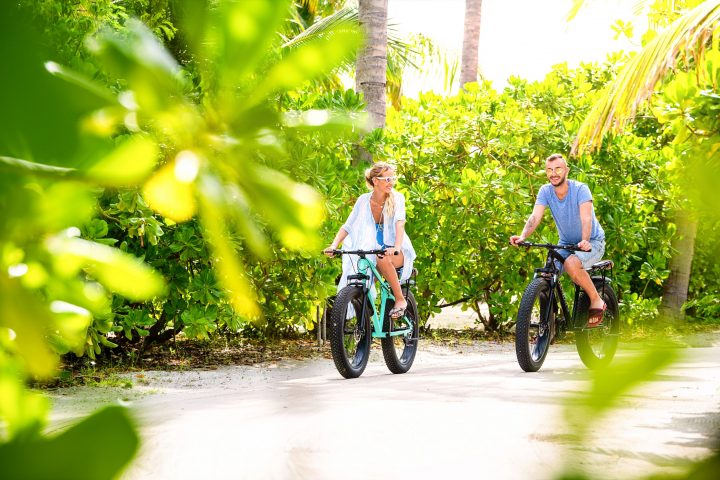 Hideaway Beach Resort and Spa – Recreation in the Tropics
If you love outdoor activities, adventure, fun, and games, a holiday at Hideaway Beach Resort & Spa will not disappoint you. The resort offers a host of fitness and sports options throughout your holidays.  From playing a barefoot beach volleyball game right on the soft white sandy beach, life at Hideaway is made up of many exhilarating experiences curated just for you. Among the vast array of activities to do in the Maldive tropics include gymnasium, beach volleyball, tennis, Padel tennis, football, and golf.  The Sports Complex has table tennis, foosball, a boxing bag, and a half-court basketball range.  In addition to the spa, snorkeling, and diving, the resort offers facilities for water sports ranging from e-surfing, kayaking, kiteboarding, jet skiing, and wakeboarding. Not to mention, the first of its kind in the Maldives, the Floating Aqua Park.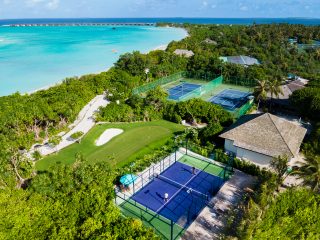 Featured Image: Sports Center, Hideaway Beach Resort 
The Sports Complex
The Sports Complex covers a range of fully equipped activities with a trio of racket sports to challenge your friends and family on the outdoor courts. You no longer have to lose out on your routine while on vacation, whether it be on your golf game, football, or table tennis. Due to its seamless integration of the greatest facets of resort life with essential fitness amenities, the sports complex is the perfect choice for tourists seeking a luxurious Maldives experience while keeping fit.
Gym
Stay fit and energized during your holiday at Hideaway Beach Resort & Spa by visiting the resort's modern gym, which houses everything you need to get in shape and stay in shape in paradise. The gym boasts an unparalleled diversity of top-tier workout equipment. It features everything that health-conscious guests need: treadmills, cardio machines, weightlifting equipment, and more. The resort is further looking to expand its gym to accommodate a multitude of advanced machinery.
Padel Tennis
Hideaway's fully scenic Padel Court is available for beginners and expert players alike. With instructors on hand, the experience launched at a great time as demand for the sport has risen globally over recent years. Padel, which is easy to play, fun, and sociable has recently been recognized as a form of tennis and is loved by many, including famous sporting figures around the world. Set against an idyllic background of the tropical island, the court is fully equipped and open for guests of all ages for both private and group lessons or even a friendly game. Padel is based on tennis and is traditionally played in doubles, two players on each side, on a 20 meters long and 10 meters wide court. A Padel tennis court is smaller than a standard tennis court, which makes rallies easier and makes the sport fun to play for both racket sports enthusiasts and complete newcomers. The sport is less technically challenging than tennis, making it easier to pick up. Guests are able to book private sessions with their butler or can book directly with the coaches.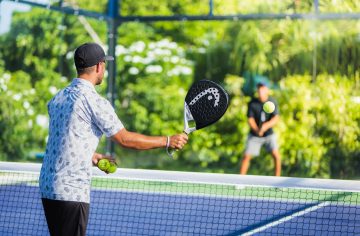 Featured Image: Padel Tennis, Hideaway Beach Resort 
Tennis
Whether you are a beginner or an expert, playing a match amidst swaying palm trees and the inviting tropical weather is a must-do treat while at Hideaway Beach Resort & Spa.  The two professionally surfaced courts are perfectly situated between the island's lush tropical vegetation. The outdoor tennis courts are also lit for night play, allowing guests to improve their game at any time. Tennis rackets, balls, and sports shoes are also provided at the sports complex desk.
Hideaway Beach Resort & Spa's partnership with RTC (Recreational Tennis Coaching), provides highly trained tennis coaches for guests. The RTC tennis program is based on a continuing education concept, allowing those looking to improve their game or those that would like to start their tennis careers, to have a comprehensive and structured program in place while at the resort. With four courses to choose from, plus the option of private lessons there is something for all levels from the complete beginner to the experienced player.
Professional coaching sessions can be booked with the resident tennis professional, upon reservation.
The Golf Centre
At the Hideaway's new Golf Centre is the state-of-art golf simulator and a 5-hole putting green. The Golf Centre also has a pro golf shop that offers a complete line of quality pro-line golf equipment. You will find everything you need from golf apparel, hats, and golf gear. Whether you are left-handed or right-handed and even for kids, the fully stocked shops cover everything. If you need to get a gift for a loved one back home, the shop also provides a variety of souvenirs.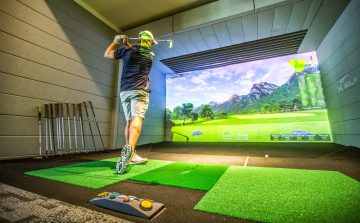 Featured Image: Golf Simulator, Hideaway Beach Resort 
Golf Simulator
Guests can now play and train at golf at their own level, pace, and preference any time of year, rain or shine with the X-Golf branded golf simulator. The facility features two fully equipped cabins to accommodate multiple players at a time.
Visitors can enjoy a game with friends and family, practice by themselves, or even better, get coached by the in-house golf pros. Even if you have never hit a game of golf this is the ideal place to kick-start your golfing journey. The Golf Centre is managed by PGA qualified golf professionals.
The simulator features a multitude of sensors and cameras that analyse data in real-time to help improve a golfer's swing and game. The ball system gathers the balls for you and puts it on the tee and you are ready to go. During the game, it remembers each player's tee height setting so that you feel like your own caddy set the ball for you. This feature can save you precious time and let you concentrate on your game.
Putting Green
Set within the stunning grounds of Hideaway resort is a professionally surfaced putting green which includes a bunker and is 30 yards in length. On the putting green, guests will be able to perfect their putting and enjoy a relaxing game of 5-hole putting golf. It covers chipping, pitching, putting, bunker play and recovery shots. There is a handful of games and pieces of training that can be done on the green while being guided by the golf coach. The short game area where the lessons are conducted can also be used to improve your game by recreating realistic scenarios around the green.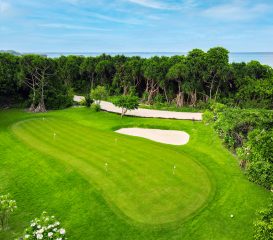 Featured Image: Putting Green, Golf Course, Hideaway Beach Resort and Spa 
Water Sports
Surrounded on all sides by the warm waters of the Indian Ocean, Hideaway Beach Resort & Spa makes an ideal vacation destination for water sports fanatics. A huge range of ocean entertainment is available to guests of the island, from fun family trips on a banana boat to conquering the water with curated experiences by our expert instructors at the Water Sports Center by the talented team at Deep Blue.
The activities include Catamaran Sailing, Windsurfing, Stand-up Paddling, Private Speedboat Hire, Water Skiing, Wakeboarding, Inflatable Fun Tube, Jet Ski, Kiteboarding, and Kayaking. All non-motorized activities are available at no charge for experienced guests.
Unfortunately, there are no surf breaks around Hideaway Beach Resort, but worry not. Hideaway Beach Resort & Spa Maldives offers guests the exciting ocean sport of eSurfing. The eSurf board is motorized and you can surf in any style you like, a gentle ride cutting across the mirror-like surface of the sparkling Maldivian lagoons or chasing thrills that come from sharp turns and speed. Beginners and surfing pros alike will get something from the experience, it is new, exciting, a lot of fun, and perfect for Hideaway where there are no natural surfing waves.
Hideaway is also the home to Maldives' first floating Aqua Park. There are slides, a climbing area, trampolines, a balancing beam, and relaxation zones curated for all ages.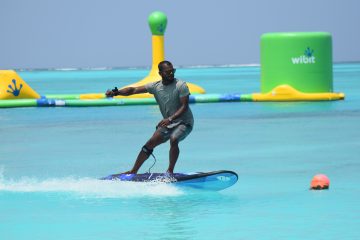 Featured Image: Water Sports, Hideaway Beach Resort 
Diving & Snorkelling
Hideaway is located in North Maldives in the enchanting Haa Alifu Atoll. There are some great dive sites apt for various skill-levels in the area such the awesome Heaven & Hell dive site. Since there are only 2 resorts in the whole atoll, snorkeling and dive sites are less crowded and much more serene, teeming with lots of underwater flora and fauna. Hideaway's double house reef formation is a must see in the resort bucket-list for novice and expert snorkelers and divers.
Learning to dive is an incredible experience that most divers never forget. Not only is it both challenging and rewarding at the same time, but it can also leave you completely breathless – and not in a bad way. The Meridis Dive Center at Hideaway is PADI certified and is equipped with the latest diving gear. The dive team is experienced and multilingual and is there at your bay throughout your session. The dive center offers short-guided excursions as well as PADI dive certifications from basic to master levels.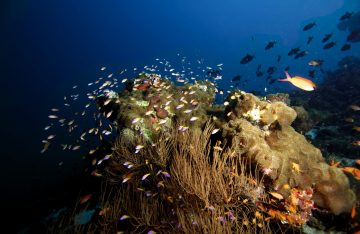 Featured Image: Scuba Diving Reef, Hideaway Beach Resort