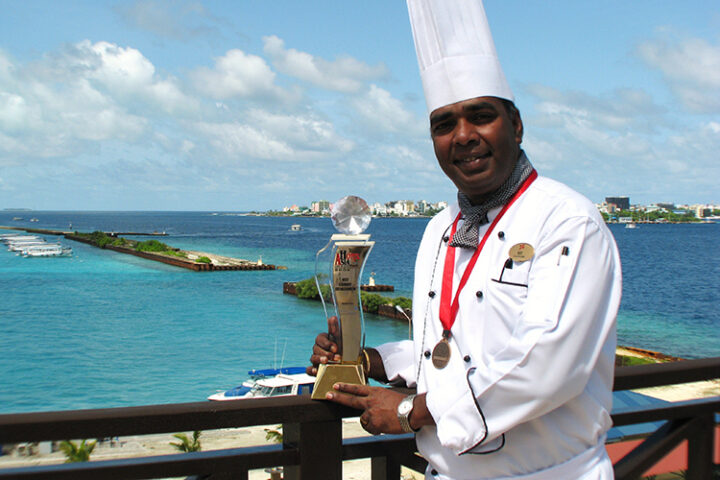 HIH's Executive Chef Ravi: an award-winning chef on his culinary journey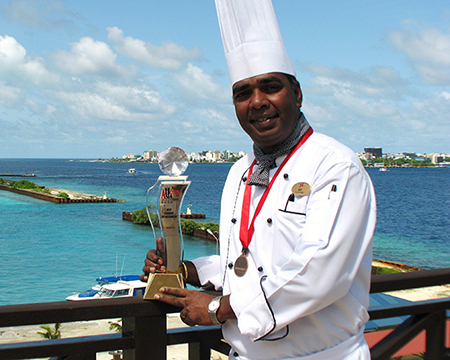 Ravindran, or Chef Ravi as he is fondly known to many, is the Executive Chef at Hulhule' Island Hotel (HIH) and has been so for the past ten years. Chef Ravi joined the HIH team with over twenty years of international culinary experience, by joining the sister company Maldives Inflight Catering eighteen years ago.
Chef Ravi began his career right after he finished his A' Levels, by working as a chef for Taj Group Hotels in Mumbai. "I had always been interested in cooking, helping out my mother at home even," says Chef Ravi, in regard to how he first got into the culinary world. "After I started to work at Taj, I moved all over India working for different hotels in the Group for about six to seven years."
According to Chef Ravi, working in the culinary world opens a lot of doors. "I got the chance to travel to other countries, to work at international companies around the world." Sure enough, the many years he worked in Yemen and London gave him irreplaceable knowledge and insight to the different types of cuisines before he finally settled in Maldives. "I observed the Middle Eastern cuisine heavily reflects their culture. Working both there and in Europe broadened my experiences as well."
"I started to work in Maldives Inflight Catering because it was a new experience, something I'd never done before," says Chef Ravi. Indeed, he was met with new obstacles and dauntingly tight deadlines, for a delay would have meant the flight would be delayed and that was never an option. Chef Ravi overcame these hurdles with fervour, which in the end seasoned him further as a chef. Chef Ravi recalls that the biggest challenge he faced was cooking with the inflight kitchen during the SAARC Summit held in Maldives. "There was a lot of security in respect to the food, as a lot of Heads of States were there that day. We had to prepare great food, to so many important people, in a very short time." Chef Ravi additionally adds how it was worth it in the end though. "We told ourselves when it was done, we did it! It was a success!"
Chef Ravi's transition to HIH came about from his desire to experience new things. When presented the opportunity to manage dual companies (Maldives Inflight Catering and Hulhule' Island Hotel), Chef Ravi couldn't refuse. He managed both for a year, and then fully transferred to HIH as Executive Chef, where he has been ever since.
Chef Ravi's loyalty to the company is unquestionable, and he has worked well along with the rest of the HIH kitchen team to bring various awards to the establishment. Indeed, it has been awarded "Best Culinary Establishment in Maldives" five times by Hotel Asia Culinary Challenge. His additional success of being awarded "Top and Most Outstanding Chefs" three times has made him famous amongst TV producers as well, as a delightful program called Rahathafaathu, meaning 'different tastes' in the local language, showed 60 episodes of his cooking articulated through his team members.
"The secret to success is hard work, and putting your whole heart into it. A guest might say I want this, say a cake, and you'll always have to think to yourself, 'I'll have to produce the most excellent cake ever.' With a mind-set like that, you're bound for success."