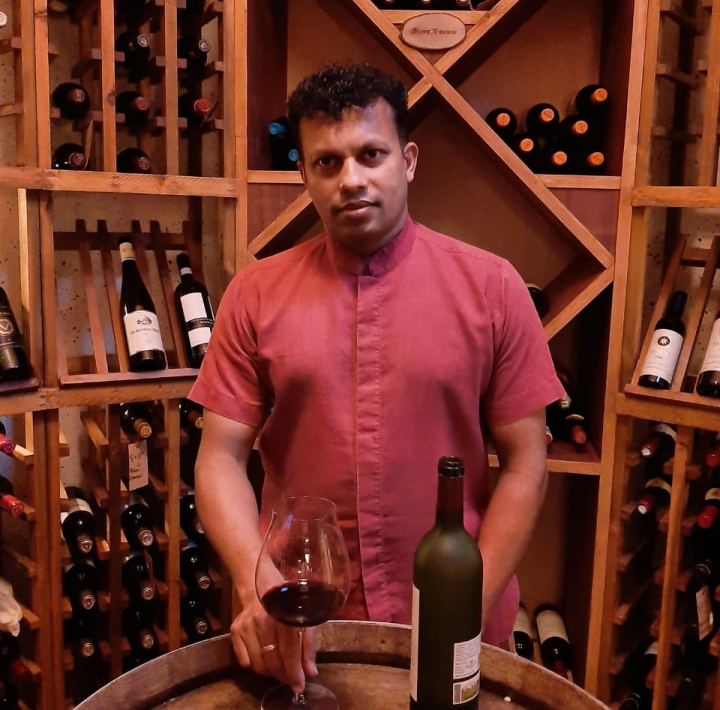 Careers: Rohan Jayawardana, Sommelier at Gili Lankanfushi
Rohan Jayawardana, 42, the sommelier at Gili Lankanfushi Maldives takes us through what it is like to be a sommelier at a resort and takes us on a journey through the wine cellar and its contents.
HM: What is it is like to be a sommelier at the resort?
RJ:  My aim is to see satisfied guests by providing Gili personalised service. As a sommelier, like with any other profession, it requires ongoing dedication, attention to detail, endless practice, and study.
HM: Tell me a bit about yourself and your background, where are you from and where you have worked and how it has shaped you?
RJ: I am from Sri Lanka and have been working in the hospitality industry for about 19 years now. I'm an optimistic person who always sees good things in every situation. Meeting different kinds of people from around the world has helped to hone my skills and expertise in this field.
HM: Why did you decide to become a sommelier and how you came to be in the Maldives?  
RJ: I started working as a bartender and I was surrounded by a lot of talented sommeliers. This is where I found my interest in learning about wines.
HM: What do you love most about the resort you work at?
RJ: The management, the Gili family, and the lovely guests. At Gili Lankanfushi, the management treats their hosts the same way they would like the hosts to treat their guests. They give their trust for us to work at liberty to give the best to our guests – and this makes for a fun working environment.
HM: What does being a sommelier entail?
RJ: For me, being a sommelier requires passion, knowledge, and loving what you do. Yes, it's about serving and recommending wines, but it's also about helping create really memorable moments for our guests.
HM: Can you tell me about your wine cellar and what wines you have on offer including vintages and champagnes. How big is the collection?
RJ: I am proud to say that we have a unique interior that matches our concept. The cellar has been built around an enormous tree trunk, which serves as the table for tastings and dinners. The cellar houses more than 500 labels of wine from numerous regions around the world, and over 10,000 bottles in volume. To really put that in perspective, we are a small hotel – only 45 rooms – so when you break it down, we have more than 200 bottles of wine per guest villa!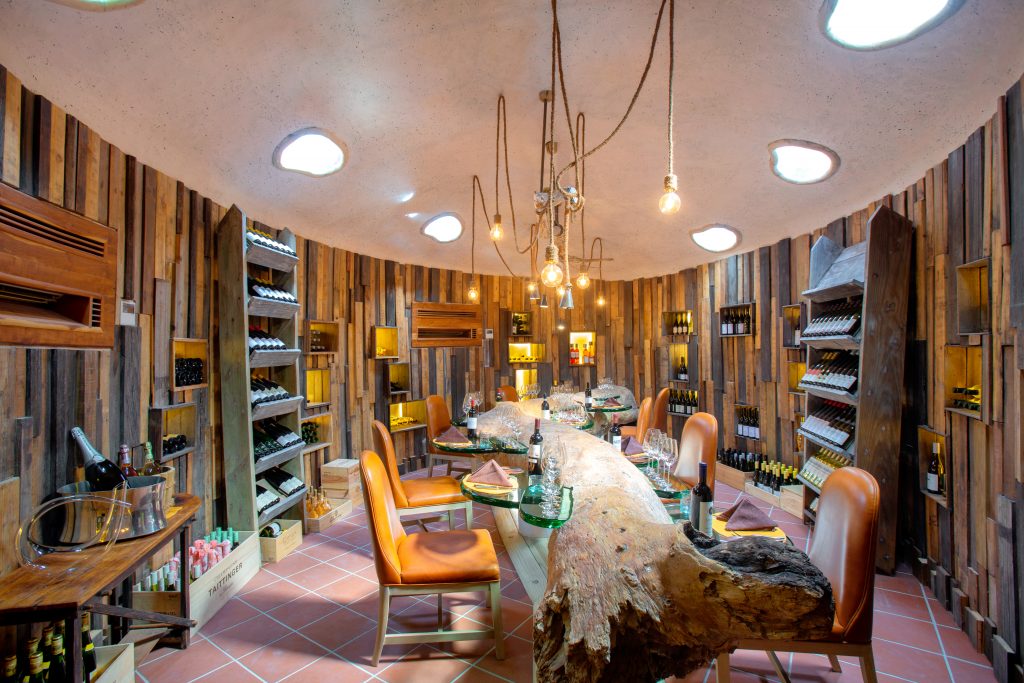 HM: What is important to understand about wine and how do you select the perfect wine for your clients?
RJ: We have a sufficient wine selection to cater to our guests' preferences. I only need a minute or two to get to know our guests, their likes, and what makes for their favourite wines. So far, my charm did not fail to satisfy our guests.
HM: What is the most expensive wine on offer at the resort?
RJ: We have several world-renowned wines on our list, with the most expensive being Château Pétrus.
HM: How do you keep the wines at the right temperature?
RJ: We are lucky to have modern wine cabinets where we store the wines, according to the required temperature. We also keep our underground wine cellar, at an appropriate temperature, and can store many wines there.
HM: Do you do wine tastings?
RJ: The beauty of being a small resort, is that we can really customise our wine tastings. I always try to have guests experience new wines, or labels that they are unfamiliar with – and this is really gratifying, especially for guests who already have some exposure to wines. We offer wine tasting accompanied by assorted international cheeses, or with a selection of our homemade chocolates.
HM: What changes have you seen in the industry during the time you have worked at the resort?
RJ: It's good to see that the wine industry grows over time.  Winemakers and wine owners put their best efforts to provide quality wines. Numerous wine regulations have been changed, especially in the old-world countries, which has resulted in more excitement and interest in wines.
HM: What hobbies do you enjoy when you are not at work?
RJ: Playing cricket and tennis during my free time. There is also no better way to spend a day off, than going for a swim in the beautiful Indian Ocean that surrounds the resort.
HM: What steps did you take to become a sommelier and why did you choose the Maldives to work?
RJ: I took the WSET exams, which is an internationally recognised wine certification, and gained exposure in different wineries around the world. I believe that The Maldives is one of the best high-end travel destinations in the world, and there is a lot of opportunity to grow in your career. I don't like to drive to work, and it's only three minutes walk to my workplace here in Gili Lankanfushi.
HM: What has been your biggest challenge along the way?
RJ: I always believe that challenges are opportunities for your destiny.
HM: What advice would you give to people entering the industry?
RJ: Love what you do.
HM: Tell me about the wine experiences available for guests?
RJ: We have wine tastings and private degustation Wine dinners in the underground wine cellar, where the guest is taken care of by the sommelier. We also have pop-up wine dinners on the beach to commemorate special occasions. On occasions we invite wine makers to the resort, and feature their wines, accompanied by pairing menu – these are always special dinners.
HM: How do you import wines in a pandemic?
RJ: With great difficulty! Jokes aside – we have a great purchasing team at the resort who process all our requirements. At the start of the pandemic, it was incredibly challenging to source for wines, and we had to rely on our existing stock, but with time, things have improved, and the challenges have largely past.
HM: What is the most popular wine?
RJ: I'm happy not to have any "popular wine" because our guests come from all over the world, with different preferences and taste buds. I believe that we have any one of their favourite wines on our list.
HM: Red, white or rose- what is your favourite and why?
RJ: If it's a long day at work, a glass of Grüner Veltliner. If I'm not at work, a bottle of Big Italian Red or two.