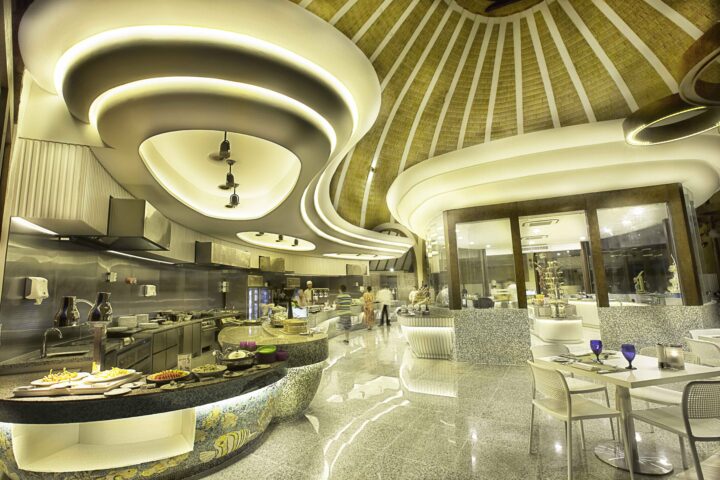 Holiday Inn Resort Kandooma Maldives unveils refurbished Kandooma Café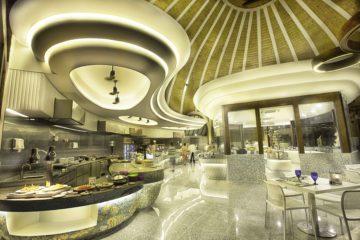 Holiday Inn Resort® Kandooma Maldives has unveiled an interactive buffet restaurant experience at their newly refurbished Kandooma Café.
In an effort to create a unique dining experience for their guests, the restaurant has been redesigned to engage diners while delighting their taste buds.
The café's brand new contemporary interior has been accentuated by beautiful ambient lighting and music installations, as well as lowered post ceilings complete with fans to ensure guest comfort. Granite flooring adds to the sophistication of the café, whilst white wash wood provides a bright resort feel.
Joseph Della Gatta, general manager, Holiday Inn Resort Kandooma Maldives, said: "The resort has undergone a remarkable development of Kandooma Café over a short period of time, and our greatly anticipated re-opening of our flagship dining outlet is a key highlight of this year's projects. We couldn't be happier to be welcoming guests to dine at Kandooma Café as we believe that a big part of any holiday experience is the food we serve."
As for the food itself, Kandooma Café features seven distinct cuisine stations creating a complete culinary experience for guests.
A highlight of the restaurant is the Flare station, where the resort's award-winning chefs showcase their live cooking talents. Here guests can find spiced cuisines from Asian and Middle Eastern countries, whilst those who favour continental gastronomies can find more traditional dishes, including many vegetarian offerings. Elsewhere, guests can stop by the Carving Place to find a perfect roast.
Desserts are displayed in a climate controlled central showcase, featuring a 5ft towering chocolate fountain and Teppanyaki ice cream station.
Kids will not be forgotten as they always have a space in Holiday Inn Resort® Kandooma Maldives with a specially designed kids buffet display, just for kids and our "Kids Stay and Eat Free" menu program.
October also saw the launch of the resort's new Kid's Menu. The new menu lets the young ones choose either a Tasty Bite (burgers, soups, pizzas, etc.) or Go Local dish (sweet corn soup, tuna noodle patties, vegetarian congee, etc.) and select from the dessert and drink choices for their free set meal.
Kandooma Cafe can accommodate 260 persons and is open daily for breakfast to dinner from 6:30am until 10:00pm.
.