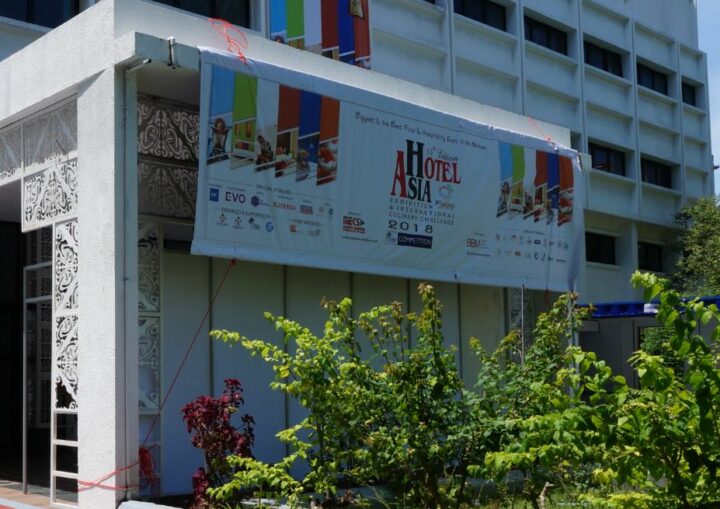 Hotel Asia 2018 set to kick-off tomorrow
The 14th edition of Hotel Asia is set to kick-off tomorrow at Dharubaaruge Exhibition Hall. The International Culinary challenge 2018 will take place from 9th to 12th October with the Hotel Asia Exhibition starting on the 10th. The culinary challenge will feature a certified judging panel from the World Association of Chefs Society (WACS). This year's challenge has received over 600 entries from 60 resorts.
Since its inception, the high-profile tradeshow stands as one of the largest and leading exhibitions that showcases top brands who have excelled in the hospitality industry.
In an event held today, the organisers of the event, Maldives Exhibition & Conference Services (Pvt) Limited (MECS) and main sponsor Bestbuy Maldives invited members of the press to a peek behind the preparations of the event.
"We are utilising every available inch of the venue to host the 115 parties participating this year," said Husnie Rauf, General Manager, MECS. "Hotel Asia was created to be a one-stop all-encompassing event where any start-up can network with exhibitors from the whole of the hotel, F&B and hospitality industries under one roof."
Bestbuy Maldives has been the longstanding sponsor since the event's inception. Director and CEO Mohamed Mazloom stated, "Ever since the beginning of Hotel Asia, Bestbuy Maldives has been a part of this innovative and industry defining event. In our eyes, Hotel Asia has been a vital ingredient of the recipe that has made the hospitality industry of the Maldives as prominent as it is today."
Ali Afrah Hassan, Head of Marketing at BBM said, "We are using this platform not only as an opportunity to market our products but also to inform our customers how best to use them. The International Culinary Challenge is designed so that the talent here can go on and represent the Maldives in international competitions," he stated.
This year's culinary challenge will introduce a Barista challenge in order to further the country's expertise in the field of coffee and hope to send contenders out to compete in international Barista challenges in the future.
Today's press event was closed with a tour of the venue where the preparations for the exhibition were underway. "We want the Maldivian public to know that such events don't just pop up," said Husnie. "This year's event is over a year in planning and even though we had a few hiccups along the way, we are back stronger and are ready to kick-off the event tomorrow." The venue was a hive of activity with MESC and various exhibitors hard at work preparing the stalls for tomorrow's event launch.