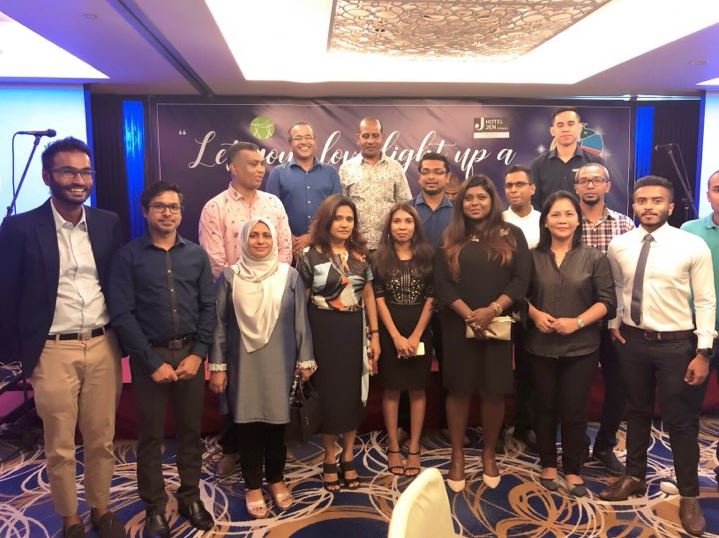 Hotel Jen partners with Cancer Society of Maldives to host Annual Fundraising Gala Dinner
Cancer Society and Hotel Jen have hosted a fundraising gala dinner at the hotel's ballroom on 19 October 2018, completing another successful fundraising event in conjunction with the Pink breast cancer awareness month. The colourful evening of fine cuisines featured an international buffet spread with success stories of survivors and other Cancer Society initiatives and achievement highlights for the year.
The "let your love light up a life" themed Gala dinner event, which raised more than MVR 177,940.00 also culminated with a live music performance by the famous Detune Band with the launching of the Cancer Awareness song "Aafeshumakun" (a new beginning), raffle draw and recognition awarding for the supporters of Cancer society.
As part of the event, the Cancer society of Maldives offered a number of sponsorship and group packages for purchases, VIP tickets and general admission tickets. The funds raised by the Gala Dinner is to be used in running the society and assisting those in need of screening and medication in the Maldives.
This is the second year Hotel Jen is supporting this activity. "We encourage all to join these activities and events to help raise awareness and funds for the cancer society to do the necessary awareness session and screenings in the atolls and islands of Maldives for the locals as cancer awareness plays a vital role in our lives and communities these days" said Mr Rahim Flynn, General Manager of Hotel Jen Malé.
"Staff of Hotel Jen are passionate about societal concerns and Cancer society being one of the associations where we have continued to help for the past years makes me proud" added Ms Rhoda Maceda, Director of Human Resources. "We will continue to support by helping the Cancer Society of Maldives in future as well as participating in its activities."
According to the company, Shangri-La Hotels and Resorts remains committed to operating in an economically, socially and environmentally responsible manner whilst balancing the interests of diverse stakeholders. In striving to be a leader in corporate citizenship and sustainable development, a corporate-level CSR committee drives the company's initiatives in the strategic areas of stakeholder relations, environment, health and safety, supply chain and employees. These focus areas are unified under the umbrella brand of "Sustainability", together with Shangri-La's core CSR projects "Embrace" and "Sanctuary".