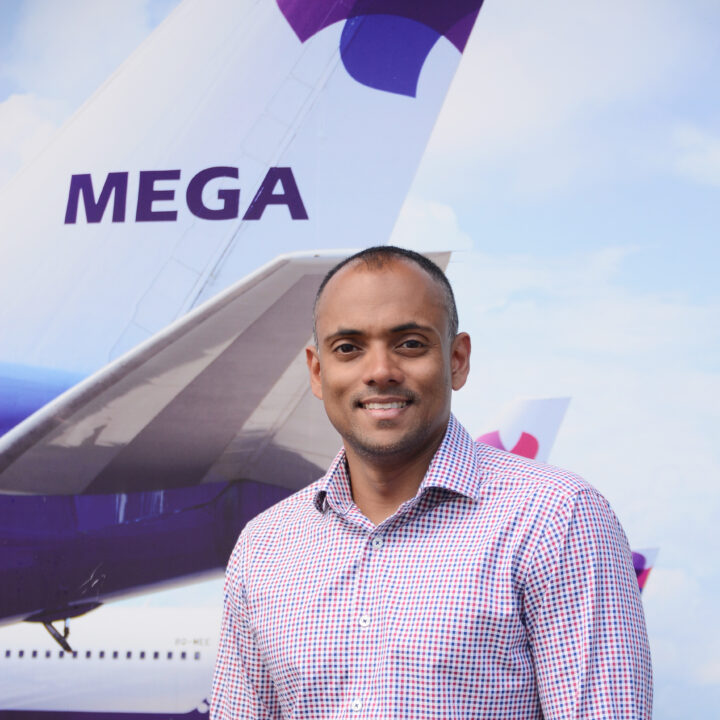 Mifzal Ahmed, Co-founder and Vice-President, Strategy and Business Development-MEGA Maldives Airlines
You started out linking the Maldives to China and Hong Kong. We suppose you saw, rightly, a lot of potential in them. But the decrease in Chinese arrivals this year was enough to prompt lay-offs at your company. How do you see the Chinese market at the moment? Do you think it has peaked?
One of the things that I have in common with my MEGA co-founder George Weinmann is that straight after our respective Masters degrees, we moved to China and lived there for many years. This was around 2001, and even then, we could see the tremendous potential that awaited the entire world as this economic giant awoke. Fast forward almost a decade, and when we started talking about starting MEGA, neither of us had any doubt that Chinese tourists would want to come to Maldives. However, we must admit that even we were a little surprised to see the numbers grow from just about 80,000 to over 350,000 by 2014.
While the market has slowed down in the last two years, what many people do not realize is that this decline is very much a Maldivian phenomenon. If you look at Chinese arrivals into many of our competitors, such as Bali, Malaysia, Sri Lanka or Thailand, these figures are up by over 30%. The good news therefore is that we feel with the right marketing, promotion and collaboration between airlines, tour operators and resorts, we can certainly get it back on the growth path.
As for the lay-offs, we have hired back almost 80% of the staff that were made redundant due to a myriad of factors which included the delay in launching our new destinations, including to India. We aim to be hiring additional staff in the near future as we expand our route network.
You're looking to exploit other routes in the coming days, most notably Delhi, Dhaka and Colombo. Some of these routes will pit you against more established carriers. What will give Mega an edge over competitors?
 One of the biggest advantages MEGA Maldives Airlines has over other carries is our direct non-stop services to other destinations. Passengers are able to board the aircraft and disembark at their final destination without having to transit. Apart from the convenience of having non-stop services, airfare on MEGA flights are also reasonably affordable especially so in price sensitive markets.
Ultimately though, most things that we do can be replicated by other airlines. However, the one thing that they cannot do is replicate the uniquely Maldivian service. As readers of this Magazine would know, the Maldivian resort industry has managed to build its award winning reputation on the great mix of foreign expertise and Maldivian hospitality. The aim of MEGA is to replicate this in the sky. Clearly we may not have a beautiful lagoon or a white sandy beach to look out on, but we are confident that the service we provide cannot be easily replicated by foreign airlines. We know the Maldives inside out, and it is that which will make us unique.You have recently participated in ITB backed Indian tourism exhibition Bharat International Tourism Bazaar (BITB) and you've engaged with some Indian travel and tour operators. What are your thoughts on the Indian market? Do you think there's room for growth?
According to our view, India has huge untapped potential. There has never been non-stop scheduled flights between Male' and Delhi in the past. Both cities being Capital Cities, we saw it as an opportunity to provide a service no one else had provided prior to our arrival.
India alone could increase its contributions to Maldives tourism enormously within the next five years, if there were appropriate air connectivity between major population centers in India, and Male'. MEGA Maldives Airlines recently held a Launch Event in New Delhi to commemorate the commencement of flights between Delhi and Male'. We entertained over 400 guests at the event, representing the travel and trade industry of Delhi. There is a lot of interest and buzz in the Indian market at the moment because of our non-stop services and we hope the momentum will continue towards our next launch which is Mumbai. So there is definitely space for growth, and that's the reason why we had planned to start flights to two of the biggest cities in India, Delhi and Mumbai.
You've mentioned that you see the Maldives becoming an alternative hub for Indian Ocean destinations such as Seychelles and Mauritius. Could you talk about this a bit? What sort of role do you see Mega playing in such a context?
The history of these beautiful islands of ours abound with examples of travellers coming to the Maldives due to its strategic location. We see no reason why this should not also be the case with aviation in the 21st century. In particular, there are many routes, such as between South-East Asia and the Middle East, or China or India to East-Africa, where Maldives lies on a natural flight path. Even flights from Europe to Australia can work through a mini-hub in the Maldives. While we will never really challenge the Middle-Eastern Hubs for size, the Maldives certainly offers a unique stop-off point, similar perhaps to Iceland on the North Atlantic routes. With the new significant infrastructure developments taking place, especially at the airport, we believe the Maldives can take advantage of this very well. MEGA's role in such a mini-hub would be to provided that much needed connectivity, once again with Maldivian hospitality at its heart.
Travellers from South East Asia, North Asia and Australasia are on the rise. Do you see these markets as having potential and can we expect Mega to service these regions in the future?
MEGA already travels to Malaysia and over the course of our short history, we have initiated flights to Korea as well as Japan (via China). We believe that with sufficient marketing, this will continue. We are also very keen on other destinations in South-East Asia as well as Australia, but the main thing stopping us putting those connections in are the lack of a Air Services Agreement (ASA) with these two countries. As soon as these can be negotiated, MEGA will not be far behind. The thing is, as a private airline, we are risk-takers and we like to go and build markets from areas that others are perhaps not looking at.