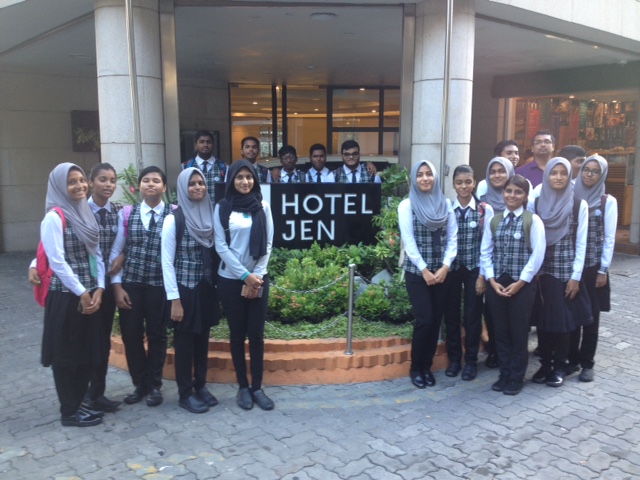 Hotel Jen conducts study tours for hospitality and tourism students
Hotel Jen welcomed several groups of hospitality and tourism students from Ahmadhiyya International School, Kalaafaanu School and Maldives National University for a private tour of the hotel, both front and back of the house, in conjunction with World Tourism Day from September 27 till mid-October 2015.
The students had a valuable interaction session with the hotel's senior management staff. Selvarathinam Thangavel, Hotel Jen's training manager, welcomed the visiting students and the lecturers and, introduced them to the hotel's senior management staff, who ran a series of valuable informative sessions introducing respective areas of responsibility and what a day at work inside Hotel Jen is all about.
Thangavel briefed the students on Hotel Jen's pride in and commitment to giving back to the local community in various ways; such as through CSR activities and, Awareness and, youth projects, including internship programmes, which serve as vital exposure and "hands-on- experience" that boosts chances when seeking employment.
Thangavel added a note of appreciation and thanks to the lecturers of Ahmadhiyya School, Kalaafaanu School and Maldives National University for organising the trip and, giving Hotel Jen the opportunity to share its knowledge.
Appointed staff from the Human resource Department, under the guidance of Thangavel, led the visiting students on a personal tour of the hotel, from the lobby, to the outlets, guestrooms, spa and then to all areas not seen by guests, such as the kitchens, linen rooms, workshops ,staff areas, offices, and so on.
The tour ended with a stop of Hotel Jen's rooftop Restaurant, Azur and the highest dining outlet in the Maldives. The visiting students and lecturers were taken aback by the amazing feel of the restaurant and terrace overlooking the infinity pool and the million-dollar view, as always with everyone else the students had a ball of a time with selfies.
The students and lecturers were treated to refreshments with Jen's hospitality at Lime Restaurant, the hotel's all-day dining restaurant. The schools' lecturers showed their appreciation by expressing how much the students enjoyed the trip and how it opened their eyes to not only what Hotel Jen is all about on the inside, but also what it takes to keep it going as the leading hotel in Malé, at the mention of which all the students cheered.