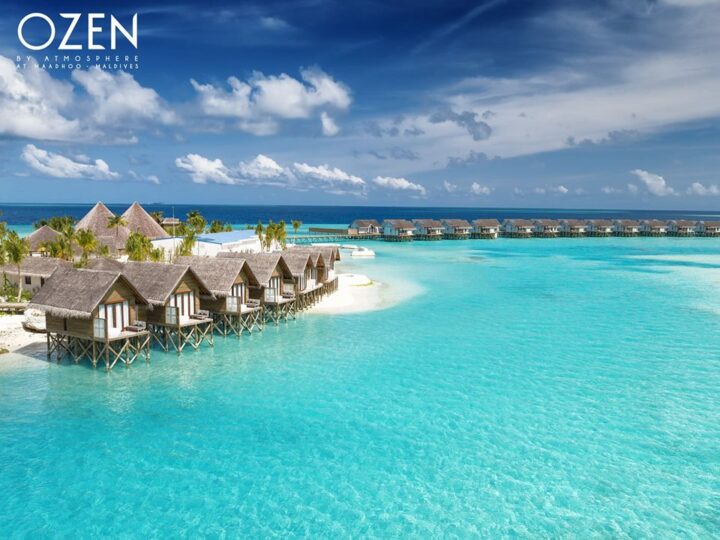 Hotel Review: Atmosphere's all inclusive paradise in Ozen Maadhoo
A 45-minute ride into hues of the setting sun, this curious traveler found herself heading to Atmosphere's latest gem – OZEN Maadhoo. As someone who'd spent plenty of weekends picnicking on the gorgeous Maadhoo Finolhu I wanted to see what had been done with the island since its development into a luxury all inclusive resort, and like the typical local, worried that it would have been changed too much too soon, and lost its splendor.
Greeted at the Jetty by resort staff with the traditional blowing of the 'Sangu' we were instantly transported into a world of long ago, like royalty being beckoned. Being a laidback person myself, I wasn't quite sure I was ready for the lavishness that was bound to follow.After saying quick hello's to the resort's General Manager Mr. Venkata Giri, I was whisked away to my Villa, quickly guided through my room with its warm and 'earthy' palette accentuated by the vibrant hues of the Indian Ocean, the large open air bathroom and my private lap pool by my Butler Arafat.  But as today's urban traveler knows, true luxury is the value of the experience offered, and not simply the modern aesthetic of one's accommodations.
OZEN Maadhoo meets this need by offering a rather aptly named Atmosphere Indulgence Luxury All-Inclusive Plan to all of its guests which include complimentary champagne or non-alcoholic sparkling wine on arrival, high-end amenities, a fully stocked mini bar, full board meals, one spa treatment or dive, kids club, non motorized water sports and a range of activities. It is everything you could dream of – and there's no worry of bill shock at the end of a stress-free holiday.Strolling about, I discovered that much of the original vegetation had been left intact and the magic of Maadhoo Finolhu remained as an island enhanced by Ozen's lavish touch.  If each island had a destiny, it felt like it had been met and raised a few bars.By nightfall I found myself seated right in the middle of a glass dome gazing into the plethora of marine flora and fauna swimming and wafting about, in anticipation of a delectable seven course meal with beverage pairings from the grand Minus 6 Meters or M6m – one of the only underwater restaurants in the Maldives. As I bit into a fragrant Lobster Thermidor and the combined flavors of Mornay, Purple Potatoes and Wild Rice accompaniment burst into my mouth, I wondered how they planned to top such perfection for the rest of my stay.Full to the brim, the need for a digestif had me wandering over to the Joie De Vivre, a beautiful, hip bar that lives up to its name, set over a stunning pool featuring overwater lounge beds to drape yourself across. It had all the right vibes to live up to its name, a feeling embodied to the core by the Resort's Resident DJ, Robyn Gold who spun a fusion of deep house tunes into the ambience of a night filled with starry skies and dancing palms without missing a beat.
I'm a morning soul, and breakfast is by far my favorite meal of the day so by 0900 hours I was ready to be impressed by the buffet at The Palms. Suffice to say I was thoroughly satisfied, especially because I was discovering that everywhere in Maadhoo one was able to eat whilst gazing over turquoise waters, combining my two favorite things in the world – food and sea!Right at sundown, a 'Feyli'' (the traditional Maldivian sarong) was delivered to my villa along with an invitation to join the Management Cocktail Party followed by an Indian Ocean themed BBQ Dinner at the Palms. Having attended and hosted a few cocktail gatherings in the Hospitality business, I was prepared for a night of tedious small talk. Far from it –  the evening was brilliantly entertaining filled with games, magic tricks and outstanding displays of flair bartending!Dinner was hosted by the Reservations and Revenue Manager Mr. Joseph Castillo Dy and the Assistant Reservations Manager Ms. Diana Podador, with whom I shamelessly stuffed myself from the fresh grilled seafood selection to an array of tiny cakes, delicious churros and chocolate dipped berries – all marvelously decadent.The next morning, I rose with the sun, super stoked for my dive with the charming Dive Manager Mr. David Martin.  We headed to Ran Thila and were treated to the gentle artistry of a trio of Mobula Rays as we explored schools of pretty fish and vibrant coral. Upon our ascent, we were greeted with a breakfast spread, and I can now successfully claim ranks as a spoilt diver who simply must be greeted with steaming coffee as she hands over her fins – any less will not do!As if the pampering hadn't been enough already, I headed to ELENA Spa where I had a chat with the lovely Spa Director Ms. Sasimavol, over a cup of surprisingly restorative purple tea, before heading for my Swedish Massage Treatment with my therapist Ms.Sirapat.The moment when you head into the treatment rooms is one to be savored, as the curtains draw to a scene of absolute bliss.  Something about gazing into a spectrum of salty blues, combined with the hypnotic movements of shimmering fish observed through the glass windows on the floors, transports one into a state of meditative calm as gentle hands provide a healing touch.
My weekend wrapped up with dinner at the beautiful overwater Traditions Restaurant, at Traditions Indo Ceylon on the north wing. Having grown up in South East Asia, I've enjoyed a variety of Indian-esque food served a hundred ways but the chefs at OZEN nevertheless managed to delight my taste buds from a savory cocktail called 'Curry Soul' to an outstanding Tandoori platter before finishing off with delicate Gulab Jamuns served on a bed of Hibiscus Jelly.And so I headed home, my soul sated but for a nagging, lingering need to return. As every brand new resort does, OZEN must have startup kinks to work on, but its flawless service ensures that any struggles are beyond one's notice. It harmoniously wove nostalgia with exhilarating newness – the classic beauty of a Maldivian isle with first class hospitality.For even as I write these words, I cannot but help wish that I was back in the sensual elegance of my room, dipping my toes into my pool, all my worries seemingly oceans away.