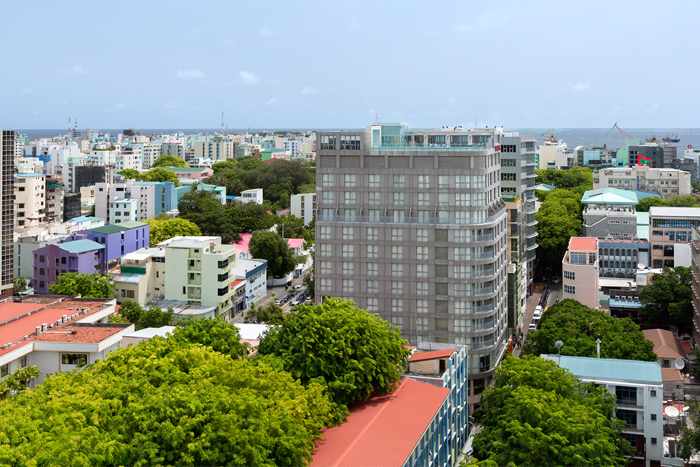 Hotel Review: Hotel Jen
One man's experience of the city's sleekest hotel
Nashiu Zahir
I received a call a few days ago from a Marie Estember, the communications coordinator at the newly rebranded Hotel Jen. She sounded distinctly Filipino, and there was a certain conviviality in her tone. She briefly introduced herself and asked me to text her my email address, which I did. Nothing happened for a couple of days and then, on Saturday, I received an email inviting my wife and I to a 'sleep over' at Hotel Jen the next day. The invitation was colourful, droll; they had even spelt January with an E. Is this all part of the new persona that the hotel wished to project?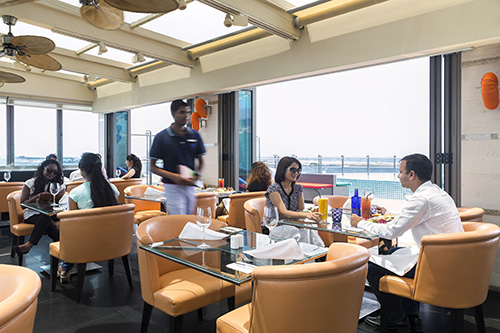 We arrived at the hotel at half past two; the invitation said '2pm or thereabouts'. At the hotel's renovated reception, underneath what appeared to be a curling, turquoise J, I was initially hesitant to introduce myself. "Hi, I'm here for the sleep over," sounded a bit ridiculous as I ran it through in my head. But I need not have worried. Marie turned out to be right at the counter herself and greeted us warmly, telling us that they were waiting for other media personnel (who were, like me, also invited to the 'sleep over') to turn up. We were swiftly checked in by the reception staff, who gave us the room keys in a small J inscribed wallet, and were asked to settle in and come down for the media tour at three. "It won't take up too much time," said Marie showing us into the lift. "This is a small hotel, so fifteen minutes max."
Our room was on the tenth floor. We found it at the end of a narrow, thickly carpeted corridor, with a small, colourful panel of seahorses embedded by the room number. Had it been there earlier? I had stayed at the hotel a couple of times in its previous incarnations but I couldn't recall. The key card did not work though. But a couple of staff in blue-green uniforms turned up; I mistook them for security guards because of their badges (turns out these are nametags, part of the new Jen uniform). "Having a hard time getting in eh?" one of them, a Maldivian, said smiling and we agreed. He opened the door with his master key and said he will bring in some people to sort out the lock. "You might have to be moved to a different room if this doesn't work out," he said breezily. Our interaction had none of the stiffness that you might expect of a business hotel. It was relaxed, friendly. This was Jen.
The room was spotless and cosy, there weren't any noticeable physical changes. The mini-bar had two bottles of water and a complimentary fruit container, the latter all peeled and ready to eat. A nice, thoughtful touch. (I learnt later from Marie that they did away with the expensive mini-bar content because they wanted guests to have the space to use them as fridges; to stash any food they brought into the hotel – a token of the active, economical, and possibly 'Jen' mind-set the hotel wanted to cater to). There was also a balcony, and a stretch of sea was visible from between buildings that were crowding the waterfront.
Leaving my wife to relax in the room,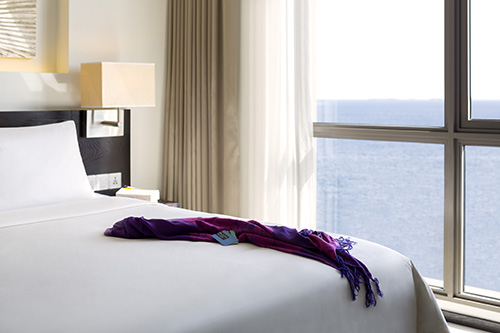 I went downstairs for the tour with my fellow media personnel. While in the reception I tried to spot the alterations. The old Panini café was blocked off (it is undergoing some renovation and will be opened as a more accessible place, even for smokers I later learnt). There was a mobile charging station with compartments for mobile phones by the counter. Marie highlighted other changes during the tour; the concierge area was replaced by seats for guests, and the lobby had a water dispenser which provided water infused with refreshing flavours. Touch-points, Marie called them. Points of interaction between the brand and clients. The staff were more genial; they called me by the first name. "This doesn't mean that we're compromising on service," Marie emphasised.
The tour, conducted by Marie and the hotel's Director of Sales, Aminath Hudha, covered the Lime Restaurant, whose new touch-points included free coffee and snack-box-to-go after breakfast, whereby a small basket of various pastries are provided by the restaurant,
for guests to help themselves to. Next up was the ballroom, which can accommodate up to 200 guests in various seating arrangements. We were then taken to the spa, operated by the International Serena Spa brand. It gives locals and work permit holders 30 percent off for treatments. The tour concluded upstairs at Azur, the rooftop restaurant with a spectacular view of the sea and nearby islands.
I went back to my room and found staff still trying to fix the lock. Inside, my wife was ordering food via in-room dining, which Marie had recommended. I decided to join in. The in-room dining menu was another touch-point; the items were few, which made for easy choosing. I opted for a nasi goreng, and she had Jen's Fried Chicken.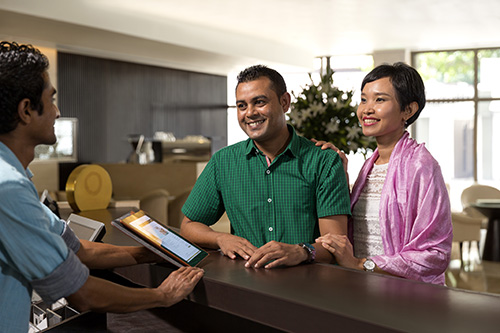 We sat on the bed watching videos with Jen's high speed internet. Our meals did not take long to turn up. The fried chicken was delicious, not gratuitously oily, and the skin was very crunchy. The nasi goreng was even better; the rice was placed on a strip of banana leaf, and was accompanied by a spicy sambol, prawn crackers and a piece of fried chicken. It reminded me of nasi gorengs I'd had in Bali; they had captured that delicate taste. The chef had to be interviewed.
Later that night, after moving to a different room, we were invited to dine at Azur which was having a barbecue seafood buffet. The restaurant's windows were open to disperse the smoke, letting in the cool night breeze. I had grilled prawns, pasta with tuna, and some lamb. My wife had the same but with corn. We were given a delicious side of tomato soup. While we dined, a local musician, Ayyube, brightened the already animated air with his acoustic renditions of popular English and Dhivehi songs. It was as glorious an evening as can be had in this city, I felt. Perhaps that was the Jen feeling.
Sharam, Jen's Assistant Event's Manager, joined us by the poolside later, where I was having a smoke. He knew my wife and we talked about the changes Jen had brought for the staff. "It's definitely funkier and more fun," he said. "Most of the staff are quite young, we feel we're able to express ourselves better now. Also Jen is not intimidating or standoffish, people are welcome here and we try to convey that through our interactions." The new uniforms were a hit with the staff, he mentioned, more comfortable, and indicative of the approachability that Jen wanted to convey. We chatted a bit about other things and then decided it was time for bed.
In the morning, after a great night's sleep and a quick shower, we went for breakfast. It was a lavish affair at Lime. There was a great array of food, catering to a variety of palates, including noodles and rice and curries and dumplings in addition to the regular breakfast fare. Cheese platters and baked goods lined the tables. Lime had an Indian theme going, it being the Indian Republic Day. Even the staff was in costume. Marie had told me that the hotel celebrates national days of countries with whom they have working relationships, including those that have close relations with the Maldives. A new touch-point. Anyway, I opted for my usual muesli, but I tried some scrumptious dumplings that my wife brought to the table.
Just before checkout I finally got a chance to sit with the executive chef, James Francis, a Malaysian with a deep knowledge of western cuisine. He had worked abroad in the UK, at Rosette awarded restaurants, and came with a fresh approach to cuisine. "I like to experiment," he said. "But I do it within certain boundaries, I may tweak flavours, try new presentations, but I keep the fundamentals solid, making my dishes as authentic as possible." I mentioned the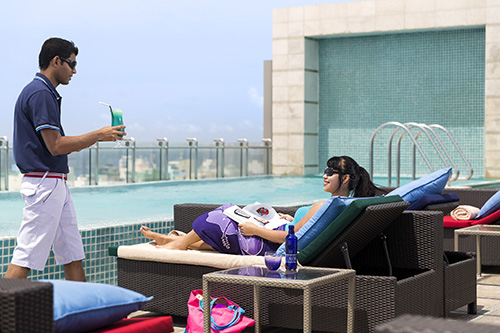 stellar nasi goreng and he was visibly pleased. "My father used to cook very well," he said. "He'd make dishes that are popular with the different ethnicities in Malaysia and he'd get the flavours spot on." It appeared that James had inherited the skill.
There were going to be changes to the menus in both Lime and Azur, James informed me. New menus are expected to come out in March. But he would be keeping the Japanese dishes that are popular with guests at Azur.
I thanked James for his time and proceed to the lobby to check out. It took only a few seconds, if that. The receptionist greeted me in Dhivehi, casually, but not disrespectfully and said he hoped to see me again. Likewise, I said. That was the conclusion of my Jen experience. But I hardly felt that it was the end.