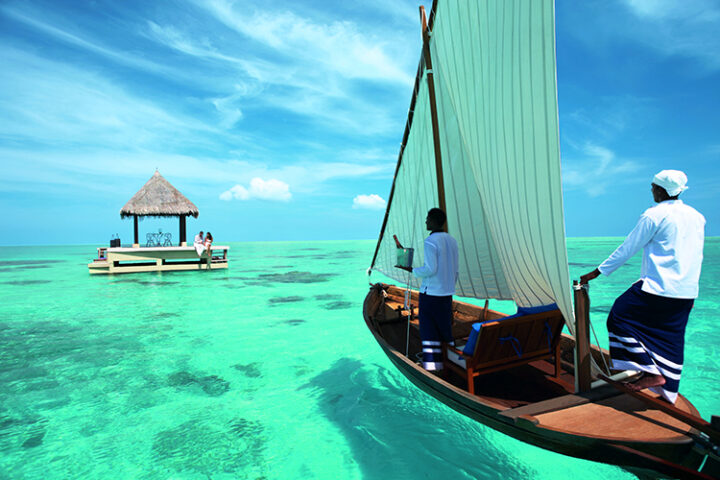 Hotel Review: Taj Exotica Resort & Spa – Sentient Luxury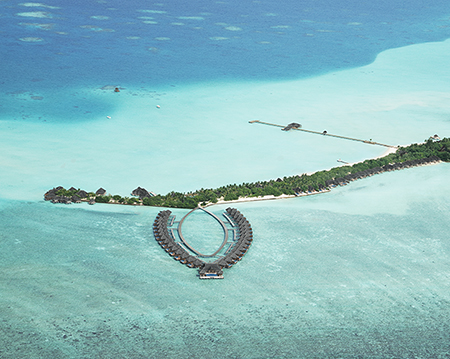 The brand impresses itself the moment you climb aboard its transfer vessel; blue and cream striped fabric  adorn the seats, and you're given a life vest and a bottle of Perrier. A selection of magazines rest in a pouch by your legs. Not that you would want to read because the short journey from the airport to the resort is magnificent by day; the variegated shades of the sea, the raw blue sky, and as you approach the island, its vast crystalline lagoon, among the largest in the country, bedazzles those who behold it, a truly remarkable sight.
You are greeted at the jetty by smiling staff and whisked away on a buggy to the reception. It is airy, with beige tiles and dark wood columns, and staff arrive with a cold towel and a welcome drink in an opaque, ornate glass. Sitting by the coffee table – which is a curiosity on its own, made up of wooden panels that stick out at angles – you hear the ocean and the bustle of activity in the area. A comforting space.
"I would describe it as a 'luxury chic' resort," says general manager Ranjit Phillipose. "In the sense that it is obviously luxurious, with all the amenities and facilities you would expect of an upscale destination. It's luxurious also in the service that we give. At the same time it has a good mix of what is local and what is chic, stylish."
In spite of being a small island, Taj affords guests a high degree of privacy. "We have just 64 rooms," says Phillipose. "At any given time the maximum number of guests we can have is about 120 to 130. But despite that it gives you a very cosy feeling. Even during periods of high occupancy, you don't bump into a lot of people. The beaches are still very secluded. So you have a sense of the whole island being your own."
Taj has also retained much of the flora around the island; the main path which winds through the resort is shaded by a canopy formed by indigenous trees. "The way we have managed to keep the flora of the island lends a very natural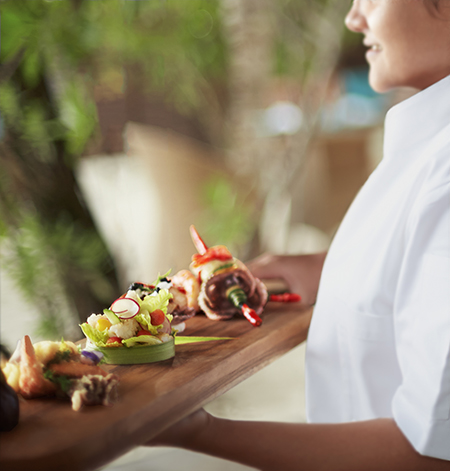 look to the place," says Phillipose. There are little corners tucked away across the island, intimate places among the vegetation, which Phillipose believes are very conducive for romance. "They have that intimacy," he explains. "They are aware of their surroundings, of being in the Maldives, because there is that beautiful sparkling water all around. Other than being 'luxury chic' I would also say that the island is great for romance."
The uniqueness of Taj, Phillipose  maintains, comes from a combination of its natural endowments, its genial, high performing staff and its cuisine. "When you put these three together, you have a place that is absolutely distinct from other hotels," he says.
Taj's distinctive touches are also reflected in its rooms. The premium beach villas and suites are luxurious, with wooden floors and plunge pools on the outside. Their décor is airy, welcoming. Warm and neutral tones dominate. Some of these villas come with beds that face the sea; the first thing that greets you when you wake up is the sight of Taj's lavish lagoon. The villas feature outdoor showers and guests are treated to a selection of Molton Brown products. The water villas too are spacious, meticulously crafted, and afford guests splendid views of the ocean and uninhibited access to the sea.
The award winning Jiva Grande Spa at the resort  is another distinctive touch point, providing an array of uniquely Indian therapies for singles and couples in various, well equipped massage rooms. Couples can indulge in romantic mud therapies at its Alepa room, perhaps the highlight of the spa, where they cover each other in mud and lounge on chairs by the sea, taking in the soothing surrounds, waiting for the mud to dry. The spa's products are proudly organic, devoid of any chemicals.
The resort's approach to dining is summed up by Phillipose thus: anything, anytime. Its Deep End restaurant has received many accolades locally and internationally, while the more laid  back  24 Degrees revels in a cornucopia of Asian, Mediterranean, Middle Eastern European flavours. "Our menus are extensive and cover fares from numerous cuisines," explains Phillipose. "Because it's not as though guests can go somewhere else if they are not happy with the selection we offer. Most guests stay with us quite a while, a week or two weeks, so we want to ensure that they do not have to repeat a dish, unless they really want to."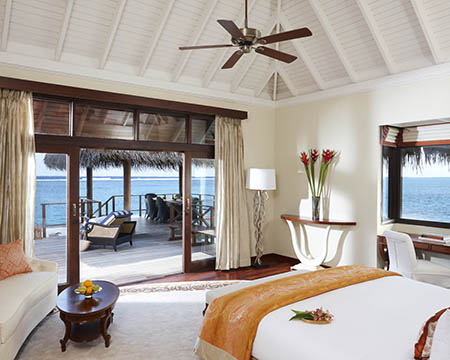 The cuisine at Taj is not confined to what is on the menus. "If guests happen to want something that's not offered, our chefs will be more than pleased to make it for them," says Phillipose. "Most of our food is customised quite often. We take great pride in our food, sourcing the best ingredients from all over the world because we believe that every bite should be a delight." The resort also holds various dinner functions such as full moon beach barbecues with live music and theme nights ,  and offer a many secluded locations for private dining on the beach, in a tree top, on over-water pavilions and the ultimate romantic dinner destination – the Ocean Pavilion. Located in the heart of the lagoon, the smallest restaurant in the world is reached by a five minute boat ride from the resort .
The resort is also a stickler for authenticity of its dishes. "Everything we do is about authenticity," asserts Phillipose. "We have chefs from different countries to make different cuisines; Thai chefs for Thai cuisine, Chinese chefs for Chinese fare, and our Indian chefs prepare Indian food. That's how it is. When we do Western fare, like grills and so forth, we have chefs who've been particularly trained in those areas. So authenticity matters a great deal. It also comes into play in how you source the ingredients, to get the flavours right, to have authentic meals, you have to have the right ingredients."
Another key point that distinguishes Taj is its concern for nature. In 2014 the resort was awarded the prestigious Gold certification by Earth Check Australia, who monitored the resort's contribution towards environmental sustainability, observing such areas as recycling, waste management and energy consumption. Taj are active volunteers for the Olive Ridley Project (www.oliveridleyproject.org), rescuing turtles that have been trapped in discarded fishing nets, so called ghost nets, and removing and disposing of ghost nets they find in the ocean near the resort: Taj also runs a coral propagation project where guests can sponsor and plant coral frames, helping to increase the coral coverage and marine biodiversity near the resort. "We've now planted almost 150 coral frames." says Phillipose with a note of pride. Guests can track the progress of their coral frames using a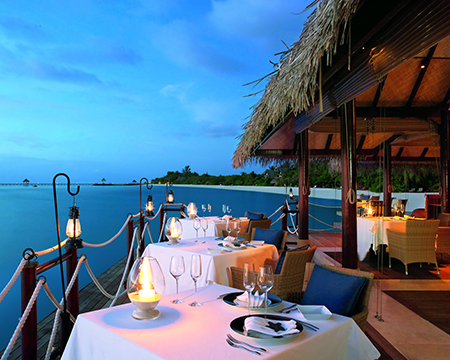 dedicated website  (www.reefrecharge.com).
Taj Exotica is therefore not simply a luxurious destination for upscale guests. It has a self-consciousness, an awareness of its place in the fragile eco-system of the Maldives. It is a resort not willing to simply rest on its laurels – even in the past couple of years it has garnered several awards, both from international parties such as Conde Nast Traveller, Trip Advisor and from local ones like MATATO, the Maldives Association of Tour Agents and Tour Operators. This resort is committed to moving forward with a visionary outlook, blazing a path of excellence for others to follow.