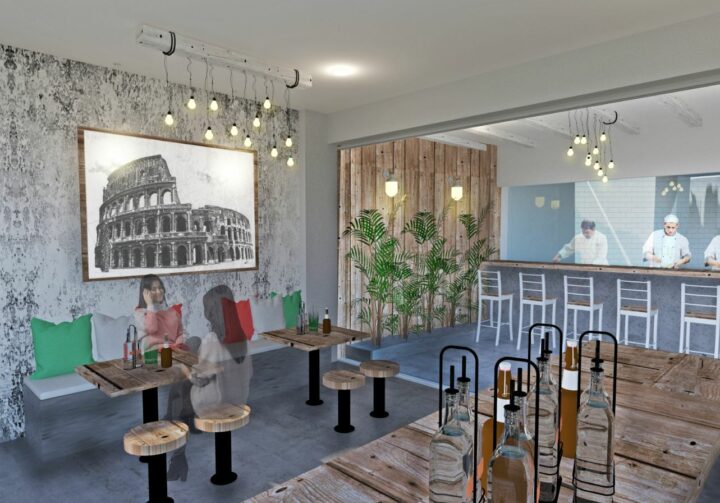 A quick glance at Taste of Italy, an authentic Italian experience in Malé
The countdown is on for a state-of-the-art authentic Italian Restaurant. "Taste of Italy" is a brand owned by Bison Travel Maldives, in association with International Chef Giovanni De Ambrosis. The restaurant is set to open in mid-August at M. Bageechaa, Keneree Magu in the heart of Malé City.
The restaurant is curated and managed by Chef Giovanni, on behalf of Bison Group who is currently the Corporate Chef of Cocoon Maldives. Chef Giovanni will be managing the restaurant in Malé as well as keeping his Corporate Chef title for the Cocoon Resorts. They have an upcoming resort set to be opened by December 2018, You & Me by Cocoon.
Giovanni is an outstanding chef with an accomplished portfolio of global restaurant set-ups and consultation experience at Russia, Zanzibar, Switzerland, China and UAE. He is the Ambassador of Italian Taste since 2014.The Concept of Taste of Italy revolves around authentic Italian cuisine with their own production of fresh traditional pasta, mozzarella cheese and pizza. Most of the ingredients needed for traditional Italian cuisine such as olive oil, tomatoes as well as La Cagliata (similar to curd) used in the production of mozzarella cheese will be imported from Naples, Italy.Taste of Italy believed in choosing the right ingredients in order to bring out the most authentic flavour in their dishes. Important herbs like basil will be homegrown at their restaurant garden. Their menu consists of a scrupulous handpicked selection of Italian dishes from different regions of Italy."The basic idea is to introduce Maldivians to Italian food for them to experience how authentic Italian food actually tastes like in parts of Italy. What we are intending to do is to maintain the same quality and standards which we have in our luxury resorts. That is the experience we want our customers to have," says Mohamed Abdul Majeed (Monni), Managing Director of Bison Travels Maldives.
Bona Fide Pizza
Taste of Italy contemplates on producing authentic pizza embracing the traditional art form of making pizza. Taste of Italy has a fully customised Italian Artisan Stone Pizza Oven weighing two tons. Unlike the conventional gas or electric ovens, this oven is heated with genuine Italian beech wood, used as firewood in order to keep it at their favourable temperature and to enhance the flavour of their traditional pizza. Once the restaurant opens, they have plans for pizza delivery service around Malé.
Mozzarella Cheese Lab
Mozzarella cheese is an incredible element found in Italian cuisine. The Taste of Italy comes with a fully equipped dairy laboratory designated for the production of mozzarella cheese. This laboratory has the capacity of producing 600 kilograms of mozzarella cheese per hour. This will be first of its kind in the Maldives.
Taste of Italy Coffee
Taste of Italy has its own brand of coffee, processed and roasted in Italy. For their blends, they use high-quality products in order to obtain a fragrant coffee with a full and harmonious taste with an intense and persistent cream. The coffee blend consists of 80% Arabica and 20% Robusta. Their coffee will be widely available for large retailers and resorts. It is available in the form of beans, capsules or pods.What's unique about this restaurant is their customers are beyond their diners. "Whatever we produce like coffee, pasta or cheese we will be concentrating on selling at a wholesale level, especially to the resorts. The idea is to provide freshly produced quality items to the resorts instead of importing from far away," says Chef Giovanni.As per Chef Giovanni, since there are plenty of challenges in getting fresh cheese down to the Maldives, with that difficulty, they were inspired to start their own dairy lab in the Maldives, where they could supply an authentic, fresh, quality product in a shorter amount of time.
The interior design of the restaurant approaches a modern Italian style with Artisan Wooden Counters and furniture by an Italian Designer custom-made for Taste of Italy. The restaurant is designed with a layout kitchen along with a separate mozzarella lab on the ground floor. Passersby will be able to enjoy the view of fresh mozzarella production. The first floor consists of the pizza kitchen and the main kitchen. The restaurant has room for almost 100 covers.
This impressive, casual dining restaurant with a simple à la carte menu will be opened form 0800 hours till 0000hrs. Their breakfast hours are from 0800 hours till 1100 hours. Live music performances and featured sporting events will be held on planned occasions.Apart from Chef Giovanni, the incredible team behind this venture includes Executive Chef Marino Giuseppe, another interesting Italian chef with the vast global experiences. He is a chef dedicated to creating quality, authentic Italian cuisine. He will be working along with Chef Fatima, a Moroccan-Italian chef, an experienced Pizza Chef.An Italian, Casario will join the team and will be responsible for the production of Mozzarella Cheese."Our Chefs are not ordinary chefs, they are well experienced Italian Chefs, carefully selected for the team and we want to give an opportunity for the people to meet them," adds Monni. According to him, their idea is to open their products to customers as well as to create awareness regarding authentic Italian food. We will begin Italian culinary classes to train chefs on Italian cuisines which will give them opportunities to advance their careers as professionals.
We will also have classes targeted for adults and children who are interested in learning the Italian way of cooking. With Chef Giuseppe's culinary education background and the experiences of Chef Giovanni, this is going to be a great learning opportunity for the community in the Maldives to learn about traditional Italian cuisines and to enjoy the wonderful taste of it.