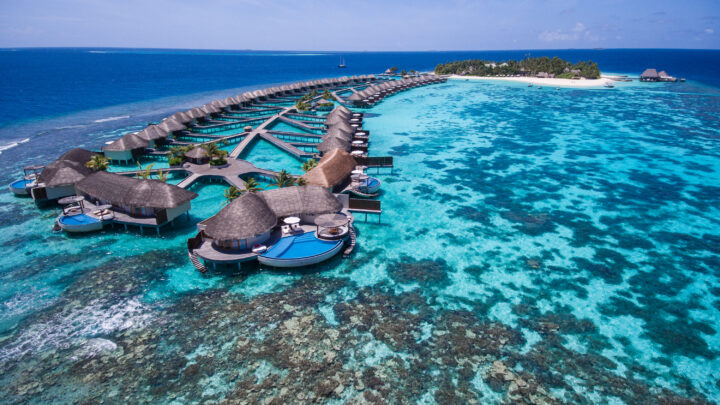 Hotel Review: W Maldives
When you're with W they really put an effort to take care of you: something I observe when I arrive at the seaplane terminal. A representative comes up to me, verifies my identity and ushers me into the W lounge. It's a swanky, tech-friendly place, outfitted with a Ferguson Hill sound system, Bose surround sound speakers and iPads that conveniently display hotel information. A range of drinks and snacks are on offer: Rauch juices, fresh fruit, candies. Checking in is swift and easy and it takes place here as I'm enjoying the complimentary wifi, munching a marshmallow and nursing a strawberry fraise.
It takes about 20 minutes to get there. If you're not accustomed to flying above the Maldivian archipelago, expect to be floored by the spectacle unfolding below.
I meet Anna Karas, W's marketing communications manager at the jetty. She shows me around the island; it's small with 78 rooms, 50 of which are over water. The reception's called 'the living room', the rooms are 'escapes'; W is all about being creative and standing out although some other properties have taken a similar approach to nomenclature over the years.
All this time we're within earshot of music; something that W is big on, it frequently collaborates with international artists, curates its music (mostly light, effervescent house music from what I hear) and has in-house DJs performing every day, even at breakfast. Music is everywhere, the island is dotted with speaker systems that infuse the property with feel-good beats.
During our tour, Anna also shows me the work of street artist Alec Monopoly, whose hyper-vivid murals adorn the wall of a boutique.
I retreat to my room to relax after an early start. It is large with plum coloured walls, beige flooring, flashes of red on the bed and bedside sofa. The glow in the dark ropes that dangle by either side of the bed are idiosyncrasies in line with W's quirky persona. A Bose audio deck with a surround sound system is part of the deal; the system even plays CDs, which is kind of quaint. And it delivers whether you're playing acid house or classical. You can listen to your music even out on the deck by the private pool, or in the cute old-school living area up on the roof.
W Maldives is the hotel chain's first retreat and spa property and in the afternoon I pay a visit to the spa. It's an overwater facility close to my beach escape. The AWAY Spa, as it's called, exudes a kind of simple elegance with its airy reception and sail-like canopies, the sort that's now in vogue but wasn't when W started ten years ago.
I'm early for my treatment but it's nice waiting at the reception; a spa attendant fixes me something cool and refreshing and before long I'm being led to one of the treatment rooms by my Balinese masseuse Rija.
The room is equipped with a sauna and after a few minutes spent unclogging my pores I'm ready for the main event. Time becomes a mysterious quantity when your body's being worked over by an expert; your focus is directed elsewhere, to those bodily bits that the masseuse is concentrating on. There is music, wind and strings, and it becomes part of the experience without being intrusive. And it ends all too quickly with the deep ring of a gong.
After a quick shower, it's time to meet Anna for dinner. She's booked us a table at Fish, W's signature restaurant. We sit by the sea and go over the menu in the light of a funky FollowMe lamp. Anna makes a few suggestions and I go along with them.
First is an assortment of nigiri; duck, eel, prawns, tuna. Then come the oysters, served on ice with lemons. We slurp them down. The main course is a made-to-share 'table top grill' of grilled fish, lobster thermidor, grilled prawns and Singapore-style calamari. While everything is impressive in its own right, the calamari especially, nothing rivals the lobster: its flesh mingles beautifully with brie, creating a luscious substance that we savour, bite after joyous bite.
We finish off the meal with a peculiar desert dubbed the 24-hour lemon: a lemon is cooked for 24 hours and its pulp removed and replaced with a tangy sorbet. It's the perfect dessert to follow an evening of seafood; light, crisp and citrusy with a smidge of bitterness.
I catch up with W's director of cuisine Ilias Kafalis to have a chat. Kafalis is something of a celebrity back home in Greece where he was a Top Chef participant. He's been involved in the culinary arts for close to two decades and shows no sign of stopping. He speaks animatedly about his craft. "Our food is a combination of Asian and Mediterranean cuisines," he says. "We get a lot of spices and a lot of great seafood in this region and we play to our strengths. It's about making food exciting."
The meat, Kafalis reveals, comes from Australia, particularly Tasmania. When it comes to produce, W 'goes seasonal', sometimes getting veggies from Thailand, sometimes from Sri Lanka. "We do source fruits like watermelon locally when we can, though," explains Kafalis. "All our fish and lobster are locally sourced. It's not just to ensure freshness but also to support local fishermen and communities."
Guest aren't restricted to menus, however. Kafalis is only too happy to accommodate special requests, creating special menus for individual clients. "It's about surprising them, to deliver an intimate service and create a new experience for them," he beams. "That's the W way."
Can W keep it up? It's been ten years, and the hotel shows no signs of relenting. General Manager Anton Birnbaum believes that it has to keep on innovating and reinventing itself. "We're good as long as others are trying to emulate us," he says. "That means we're doing it right. But we need to stay a few steps ahead, to ensure that we're in the lead."