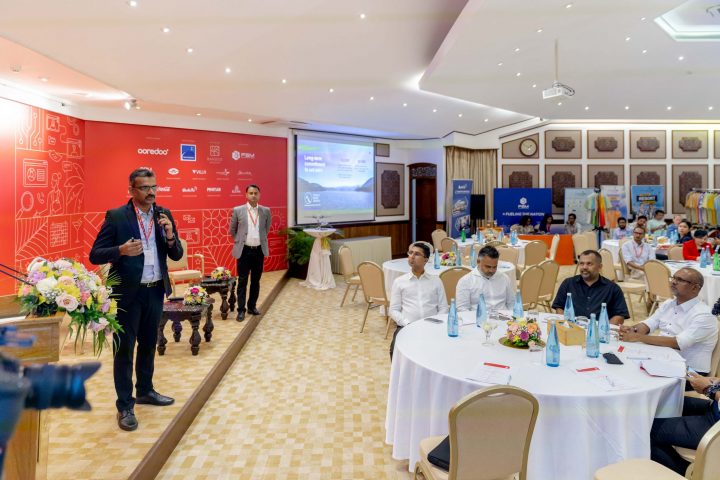 Hotelier Maldives GM Forum 2023: Grundfos, Far Horizon showcase energy optimisation solutions for 'Energising Tomorrow'
The Hotelier Maldives General Managers (GM) Forum 2023, held at Bandos Maldives resort on October 19, 2023, was a platform for the hospitality industry leaders and experts to share their insights and experiences on the latest trends and challenges in the sector. Among the speakers at the event were Eedham Rasheed, Executive Director at Islanders Group; Deenadayalan Krishnasamy, Head of Aftermarket Sales at Grundfos; and Saurav Ghosh, Senior Manager Export Business at Grundfos. They jointly delivered a presentation titled, 'Energising Tomorrow', which highlighted the innovative solutions offered by Grundfos and Far Horizon to address the energy and water challenges faced by the Maldives and other island nations.
Grundfos is one of the world's leading pump and water solutions companies, with a presence in over 56 countries and a turnover of over $4 billion. Grundfos is known for its energy efficiency solutions, renewable energy adoption, and global sustainability engagement. Grundfos has a long-term commitment to net-zero, which means that by 2030, it aims to reduce its own carbon footprint by 50% and achieve carbon neutrality across its entire value chain by 2050.
Grundfos provides energy optimisation services to help its customers reduce their energy consumption and costs, as well as their environmental impact. Energy optimisation is a must for several reasons, such as:
Increasing energy demand and prices
Rising carbon emissions and climate change
Regulatory requirements and incentives
Customer expectations and preferences
Grundfos offers a range of solutions to optimise the energy performance of pumps and water systems, such as:
Grundfos unique Grinder Pump for Waste/Sewage Water: This pump can handle any type of waste water, including solids, fibres, and grease, without clogging or jamming. It also reduces the energy consumption by up to 50% compared to conventional pumps.
Waste Water Systems: Grundfos provides complete solutions for waste water management, including collection, transport, treatment, and reuse. Grundfos waste water systems are designed to minimise energy use, operational costs, and environmental impact.
Grundfos GO: This is a mobile app that allows users to monitor and control their Grundfos pumps remotely using their smartphones or tablets. Grundfos GO enables users to access real-time data, adjust settings, perform diagnostics, and receive alerts and notifications.
Hydro Multi E & MPC: Application optimised solutions; these are intelligent pressure boosting systems that deliver constant water pressure and flow in various applications, such as hotels, resorts, hospitals, schools, etc., and are equipped with high-efficiency pumps, variable speed drives, sensors, and controllers that ensure optimal performance and energy savings.
Far Horizon is a subsidiary of Islanders Group, which is one of the largest conglomerates in the Maldives with interests in tourism, aviation, logistics, trading, and real estate. Far Horizon was established in 2011 with a vision to provide sustainable water solutions for island nations. Far Horizon provides:
Desalination Plants: Far Horizon designs, installs, operates, and maintains desalination plants that produce fresh water from seawater using reverse osmosis technology. Far Horizon desalination plants are energy-efficient, reliable, and cost-effective.
Sewerage Treatment Plants: Far Horizon provides sewerage treatment plants that treat waste water from domestic and commercial sources using biological processes. The treated water can be reused for irrigation, landscaping, flushing, etc.
Freshwater Production Bottling: Far Horizon produces bottled drinking water from desalinated seawater under the brand name 'Islanders'. The bottling plant uses state-of-the-art technology and quality standards to ensure the purity and safety of the water.
Air to Water Production: Far Horizon offers air to water production units that generate fresh water from atmospheric moisture using condensation technology. These units can produce up to 5,000 liters of water per day without any external water source or power supply.
Far Horizon and Grundfos also provide energy efficiency check and audit, carbon emissions check and audit, water conservation and waste reduction services to help their customers improve their environmental performance and reduce their operational costs.
The presentation by Eedham Rasheed, Deenadayalan Krishnasamy, and Saurav Ghosh showcased how Grundfos and Far Horizon are working together to provide innovative solutions for energy efficiency. The presentation also demonstrated how these solutions can help the hospitality industry achieve its sustainability goals and enhance its competitiveness.
The Hotelier Maldives GM Forum 2023, which is the most anticipated event for hoteliers in the Maldives, was held at Bandos Maldives resort on October 19, 2023. The forum attracted over 100 hoteliers from various resorts and hotels in the Maldives. This year's forum was sponsored by several leading companies in the hospitality sector, such as Ooredoo Maldives, Fuel Supplies Maldives, Far Horizon, Bestbuy Maldives, Manta Air, Coca-Cola Maldives, Alia Investments, Villa Hakatha, Swimsol, Souvenir Marine, and more.