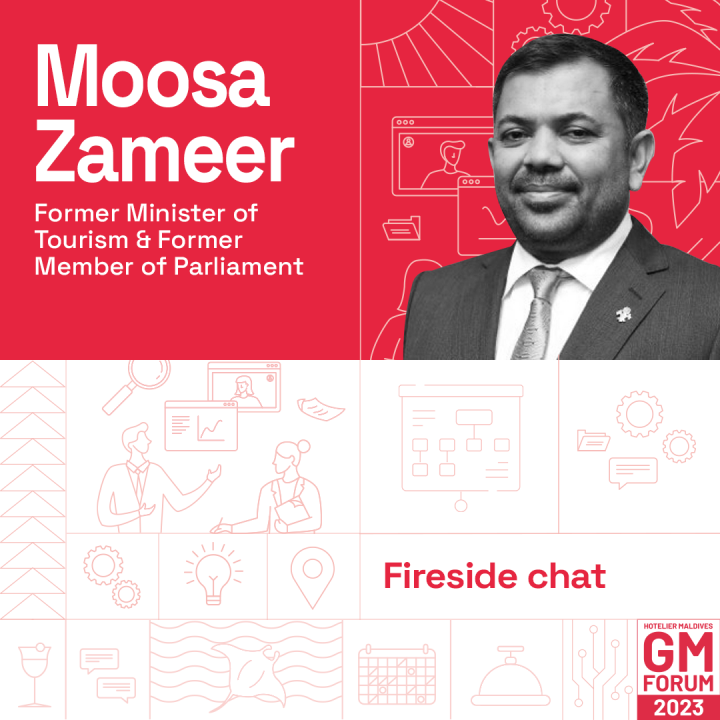 Hotelier Maldives GM Forum 2023: Industry expert Moosa Zameer to engage in fireside chat on tourism trends
The Hotelier Maldives General Managers (GM) Forum 2023, set to take place at Bandos Maldives on October 19, is set to feature an enlightening fireside chat with Moosa Zameer, former Minister of Tourism and a renowned tourism expert. He will engage in an engaging conversation, delving into current trends, challenges, and opportunities in the Maldives' tourism and hospitality industry.
The fireside chat, which will be led by Sarah Walker Kerr, Vice President – Communications at Atmosphere Core, is expected to last for approximately 30 minutes. During this conversation, Moosa Zameer, who served as the Minister of Tourism from 2015 to 2018, will offer a comprehensive assessment of the current state of the tourism industry in the Maldives, considering the global economic downturn, inflationary pressures, and high debt levels that have been affecting the sector and the Maldivian economy as a whole.
Zameer, a former member of parliament, will share his extensive knowledge and insights into the crucial topic of Maldives' tourism and discuss both the challenges and opportunities facing the industry. He will also address the recent changes in government and their potential impact on tourism, particularly concerning the Maldives' relationship with key source markets.
The Hotelier Maldives GM Forum 2023 promises to provide a platform for industry leaders, experts, and professionals to explore, discuss, and dissect the latest trends and challenges within the Maldivian hospitality sector. The inclusion of Moosa Zameer in this insightful fireside chat is expected to contribute significantly to the ongoing dialogue regarding the future of tourism in the Maldives.
The Hotelier Maldives GM Forum 2023, which is the most anticipated event for hoteliers in the Maldives, will be held at Bandos Maldives resort on October 19, 2023. The forum is expected to attract over 100 hoteliers from various resorts and hotels in the Maldives. This year's forum is sponsored by several leading companies in the hospitality sector, such as Ooredoo Maldives, Fuel Supplies Maldives, Far Horizon, Bestbuy Maldives, Manta Air, Coca-Cola Maldives, Alia Investments, Villa Hakatha, Swimsol, Souvenir Marine, and more.