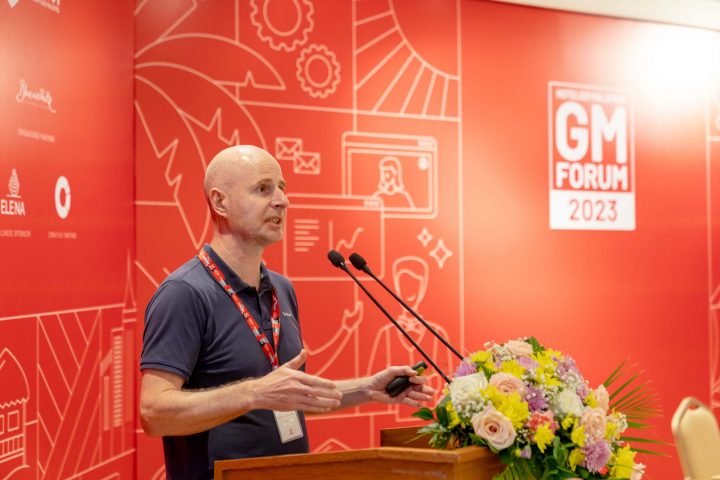 Hotelier Maldives GM Forum 2023: Swimsol highlights energy transition in Maldives' tourism industry
On October 19, Martin Putschek, the Managing Director of Swimsol, delivered a presentation at the Hotelier Maldives General Managers (GM) Forum 2023, which was held at Bandos Maldives resort. The presentation focused on how Swimsol's innovative solar solutions can help the Maldivian resorts reduce their dependence on diesel and lower their carbon footprint, while saving money and supporting the local economy and environment.
The problem: Diesel dependency and carbon emissions
Martin began his presentation by highlighting the problem that many Maldivian resorts face: the high consumption of diesel for electricity generation. He said that a typical Maldivian resort uses more than 600 million litres of diesel per year, which is equivalent to filling up 240 Olympic-sized swimming pools. This not only costs a lot of money, but also contributes to the Maldives' high CO2 emissions per capita, which are on par with Switzerland.
He also pointed out that the Maldives is one of the most vulnerable countries to the effects of climate change, such as sea level rise and coral bleaching. Therefore, it is imperative for the resorts to switch to cleaner and more sustainable sources of energy.
The solution: Solar power
Martin then introduced Swimsol's solution: floating solar. He explained that the Maldives has an ideal condition for solar power generation, as it gets around 9 hours of sun per day on average. However, the limited land area and the need to preserve the natural beauty of the islands pose a challenge for installing large-scale solar systems on land.
That's why Swimsol developed its patented SolarSea technology, which allows floating solar platforms to be installed at least 1 km off the coast of the island, where they are barely visible from the shore. The platforms are designed to withstand harsh weather conditions and saltwater corrosion, and are connected to the island's grid via underwater cables.
Martin said that Swimsol's solutions have been tested and tried in over 40 resorts across the Maldives, and have proven to be reliable and efficient. He showed some examples of Swimsol's projects.
The benefits: Cost savings, environmental protection and social impact
Martin then outlined the benefits of Swimsol's solar solutions for the resorts, the environment and the society. He said that by switching to solar power, resorts can:
Cut their diesel consumption by up to 50% during daytime hours, and up to 100% with battery storage systems
Save up to 400,000 liters of diesel annually, which translates to saving up to $13 million over the lifetime of the system
Reduce their CO2 emissions by up to 1,000 tons annually, which is equivalent to planting over 40,000 trees
Enhance their green image and attract more eco-conscious guests
He also said that Swimsol's SolarSea platforms have a positive impact on the marine ecosystem, as they create artificial reefs that attract fish and other marine life. He showed photos of colourful fish swimming under and around the platforms, and said that Swimsol monitors and studies the biodiversity of its sites regularly.
Moreover, Martin said that Swimsol offers employment opportunities to many Maldivians, as its installation team and site managers are mostly locals. He said that Swimsol trains and empowers its staff to become skilled solar technicians, who can maintain and operate the systems independently.
The Hotelier Maldives GM Forum 2023, which is the most anticipated event for hoteliers in the Maldives, was held at Bandos Maldives resort on October 19, 2023. The forum attracted over 100 hoteliers from various resorts and hotels in the Maldives. This year's forum was sponsored by several leading companies in the hospitality sector, such as Ooredoo Maldives, Fuel Supplies Maldives, Far Horizon, Bestbuy Maldives, Manta Air, Coca-Cola Maldives, Alia Investments, Villa Hakatha, Swimsol, Souvenir Marine, and more.