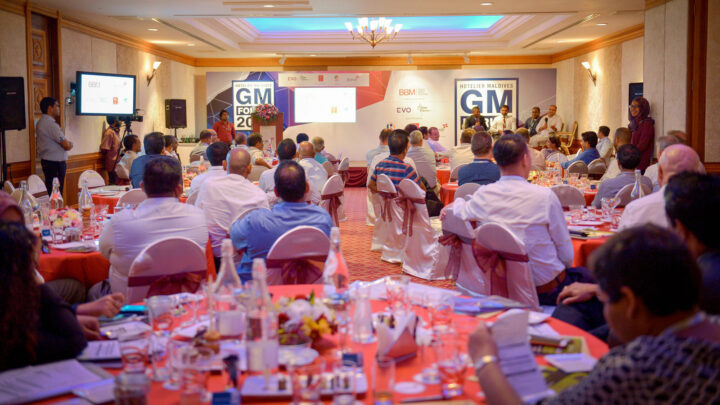 Hotelier Maldives holds GM Forum 2016
Hotelier Maldives' GM Forum 2016 was held on 25th May 2016 at Hulhule Island Hotel. The event saw the attendance of 20 general managers and over 52 other delegates including resort owners, government officials and key businessmen.
The half day event began with a networking lunch where attendees mingled with their peers. After lunch the chairman of the Maldives Association for Tourism Industry (MATI) M U Maniku delivered the opening remarks. He welcomed the opportunity to speak and commented on the achievements of the local tourism industry. He also highlighted issues that must be tackled to move forward.
This was followed by the first keynote speech by David Feinberg, CEO of Crown and Champa Resorts, who explored the role of general managers in resorts. "It is difficult work, and often frustrating, but it is our passion," he remarked.
The first panel – Why a GM Forum? – was moderated by David Feinberg and saw Steven Phillips (GM, Gili Lankanfushi), Ahmed Nazeer (MATI General Secretary and Advisory Panel Member GM Forum 2016) and Qaisar Naseem (GM, Paradise Island Resort & Spa). All agreed that the forum was necessary and a step in the right direction. Audience members highlighted a need to collaborate and share best practices in dealing with issues that are common to all resorts.
The second keynote speech was delivered by Jurgen Ortelee, director of Enterprise Sales, IDeaS. In his presentation Ortelee showed how the Maldives had fallen behind in Rev Par (revenue divided by number of rooms) in comparison to French Polynesia, another island nation. He moderated the panel on revenue management, which saw Ahmed Suhail (Reservations and Revenue Manager, Universal Enterprises) and Eric Delfosse (Revenue Manager, One&Only Reethi Rah) as panellists. Panellists discussed misconceptions surrounding revenue management, and the importance of pricing. "Compete in results," encouraged Ortelee. "Not in rates or occupancy."
The penultimate panel was on legal and compliance related operational challenges. It was moderated by Mohamed Fizan (Partner, Shah Hussain and Co.) and on the panel were Iyaz Waheed (General Manager Statutory Compliance, Universal Enterprises Pte Ltd), Vaibhav Garg (Director Talent and Culture, Mercure Koodoo Maldives & Pullman Maamutaa Maldives) and Mazlaan Rasheed (Senior Partner, Mazlan and Murad Associates Attorneys-At-Law). The panel discussed issues concerning quotas for expatriate workers, employment ratios, minimising conflict in the workplace among others. "Compliance to an act is non-negotiable," Garg said. "We have to follow the rules and regulations as required. What is needed from the management, from a human resources perspective, is communication, in terms of clearly defined policies or contracts."
The final panel on competitiveness of established resorts was led by William Harley Fleming of JA Resorts and Hotels LLC. It saw panellists Jean-Luc Naret (GM, One&Only Reethi Rah), Renato Chizzola (GM, Chavel Blanc Randheli) and Jason Cruse (GM, Kurumba Maldives). Panellists highlighted the importance of fostering and creating new talent. People are at the core of the holiday experience, making emotional connections with guests. "People don't come back for the island," Jean-Luc said. "They will come back for the people."
In his closing remarks, Managing Editor of Hotelier Maldives, Mohamed Mamduh thanked everyone who had turned out, making special note of the guest of honour M U Maniku, who had changed his personal schedule to turn up to the event. He thanked the keynote speakers and panellists and the sponsors of the event, Platinum Sponsor Bestbuy Maldives (BBM), Gold Sponsor Evo and Hassan Marine, Silver Sponsor and Telecom Partner Dhiraagu, Silver Sponsor Ranjanas Ceramic and Event Partner Hulhule Island Hotel (HIH).
Minister of Tourism Moosa Zameer who was in attendance said: "As we look to increase the number of tourists from 1.5 million it is heartening to hear of the experiences of those engaged in the industry. It will also be of tremendous help to us at the policy level. The information we received today would have taken many months of research. It was a lively event and I very much appreciate the invitation."
GM Renato Chizzola said: "I have been very honoured to be a part of this forum especially being part of the panel. What impressed me most today was the presence of the minister and several other key people in the Maldives. Also the fact that not only high-end property GMs participated but talented people from all levels of hospitality in the Maldives pleases me greatly. By discussing opportunities among all of us and with the assistance of the various institutions and the ministry, our global goal of maintaining the Maldives' position and elevating our standards can be achieved with greater ease. I believe it is very important for these high level people to hear what the people who manage the resorts have to say. We have a voice that is honest. I personally have a voice that is focussed on the growth of this country and its people and the desire to enhance the knowledge, experience and standards of our industry. It is imperative to have a forum where we are free to discuss opportunities."