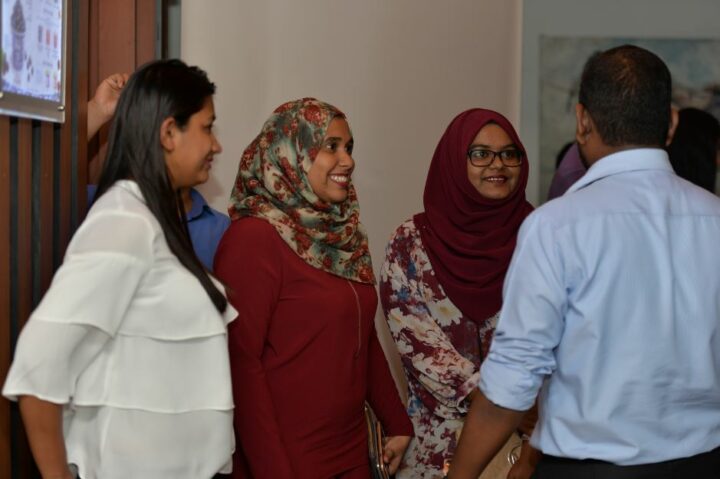 Hotelier Maldives becomes monthly, as Perspective launches an all-new Supplier Directory
Hotelier Maldives, a dedicated bi-monthly publication for hospitality professionals in the Maldives, has been relaunched as a monthly magazine, as Perspective Pvt Ltd – the publisher of the magazine – launches an all-new Hotelier Maldives Supplier Directory. Hotelier Maldives will be published as a monthly magazine starting January 2018, as the first issue of the Supplier Directory is set to be published mid-2018. The magazine was launched at a function held at City Garden restaurant for its advertisers and business partners.
"The idea behind Hotelier Maldives is to bridge hotel industry professionals with hotel suppliers in the country and abroad," says Aminath Ali, Head of Operations at Perspective. "Lack of a dedicated directory of hotel suppliers has proven to be an issue. We are taking this to the next level with the launch of the Hotelier Maldives Supplier Directory, introducing an all-new platform to connect hoteliers with potential suppliers."
The Supplier Directory, which will be distributed free-of-charge to all hotels and resorts in the country, will be a comprehensive listing of suppliers catering to all hotel-related categories. Listings will also be provided free on the print edition, while an online platform is in the making, which will enable hoteliers to reach out to potential suppliers with ease."We have already been receiving requests from suppliers to list their products on our platforms," says Aminath. "The option is readily available on our print edition and website, but the Supplier Directory will become the ultimate guide for the hotel industry business. It will be a complete guide to all goods and services required by hotels and resorts."Since 2014, Hotelier Maldives has published 24 issues, featuring 700+ advertisements, 200+ product reviews, 24+ GM interviews, 120+ interviews, 600+ news articles, 50+ feature articles and 70+ advertorials. With the launch of the magazine as a monthly publication, Hotelier Maldives will be able to double its content and fulfil its target of educating and assisting the industry in making informed decisions.
"By becoming a monthly publication, Hotelier Maldives will be able to enhance the effectiveness of advertisements," says Aminath. "We are also offering lower advertisement rates and more curated options for our clients."
As the only circulation-audited media in the country, the magazine reaches a comprehensive and loyal audience. Readership of Hotelier Maldives consists of key decision makers including senior and middle management hospitality executives, developers and investors, travel industry professionals, hotel suppliers and logistical service providers.