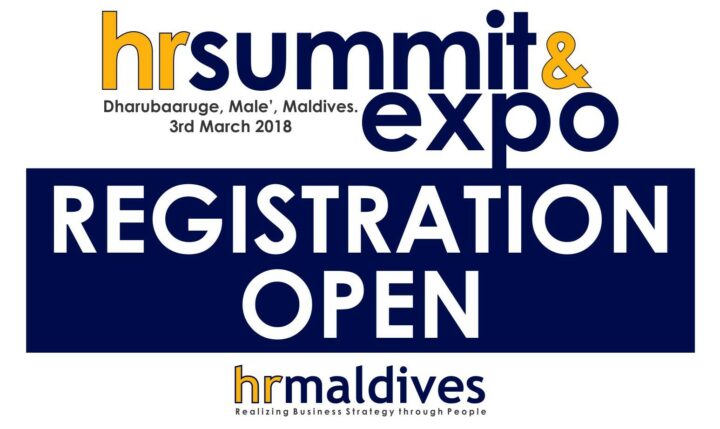 HR Maldives opens registration for HR Summit & Expo 2018
HR Maldives opens registration for HR Summit & Expo 2018, the first-ever workforce management exhibition in the Maldives. The HR Summit 2018 is to be held at Dharubaruge, on March 3, 2018.
The HR Summit is an annual event designed to bring together business executives, HR directors and other HR professionals from a broad spectrum of industries for a one-day conference, according to the organiser. At the summit, delegates will discuss challenges and best practices not only within the field of HR, but also with regards to overall company strategy, culture, and direction and how it will play a pivotal role in the future business.
According to the organiser, the summit will be held in two parts; a multi-streamed, conference and a free exhibition. The conference will include practical case studies, innovative and interactive presentations and discussion forums delivered by business gurus, C-suite executives, and HR leaders. "The exhibition is free to attend and open to all relevant HR-related professionals, as the exhibitors will cover numerous facets of human resources," says HR Maldives on its website.
"Our exhibitors are industry experts and solution providers who truly know what is happening in the world of HR and business – and they have the insights and answers to all your operational questions, including; Recruitment and Talent Acquisition, HR Technology, Insurance Firms, Corporate Services, Management Consulting, Investment and Retirement Services, Outsourcing, Performance Management Training and Development, Workforce Analytics, Planning and Management, and Testing and Surveys."
The HR Summit consists of keynote speeches and panel discussions from industry experts and leaders from the Maldives and internationally recognised organisations, according to HR Maldives. Registrations will close on February 20.
HR Maldives is a specialist HR services business which works in partnership to deliver corporate business objectives through well mapped out and executed human asset strategies. To learn more about HR Maldives, please visit hrmaldives.com/hr-summit-expo.