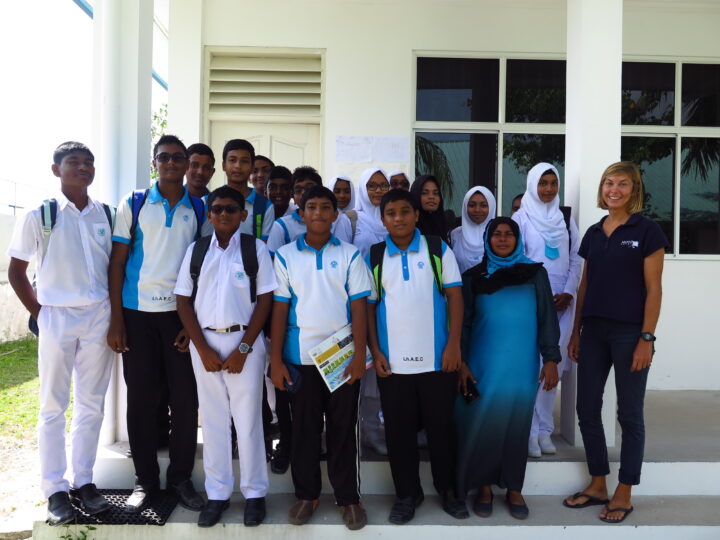 Hurawalhi holds 'marine debris' awareness classes
Hurawalhi Maldives, as part of its Community Outreach Programme, has held special activities in neighbouring Hinnavaru Island of Lhaviyani Atoll to increase awareness on protecting the environment. The programme, carried out in collaboration with Manta Trust's Educational Outreach Program, was intended to share knowledge about the marine environment and importance of conservation.
The programme, targeting students of Lhaviyani Atoll Education Centre, was facilitated by Lisa Bauer – the Resident Marine Biologist at Hurawalhi Maldives. Her educational session was themed around 'marine debris', and saw the participation of 17 pupils, aged between 14 and 17, finding out about the harmful effects of littering and debris.
"With my educational session on marine debris, I hoped to inspire the students and make them more aware of their own actions and daily routines and how they impact their very own environment," she told Hotelier Maldives. "I firmly believe that we should teach the young generation not to repeat the same mistakes we made and to provide them with options to make it better.
"Ocean pollution is an issue which grows each day, with tons of plastic and other waste items entering the environment. It is everyone's problem. The government, the tourism sector and NGOs should work together to find solutions and stop plastic waste polluting this beautiful country."
Hurawalhi Maldives is committed to implementing eco-friendly policies and striving for a healthy environment for guests, employees and local communities, with the Marine Biology Center playing an important role in Community Outreach Programmes that focus on the protection of the marine environment.
Bauer believes that marine debris does not only pose a threat to the natural beauty of the Maldives, but also causes huge health implications to the people. She said: "Marine animals get easily entangled in floating debris. Plastic degrades into smaller particles (microplastics) which enter the food chain and eventually end up on our own plates, as contaminated seafood!"
Highlighting the fact that our daily choices can have significant implications on the state of the natural environment, Bauer helped the pupils understand that not only is debris an eyesore, but its impacts are much greater: it damages habitats, entangles wildlife, harms marine life that mistakenly ingest the trash thinking it's food, and is hazardous to human health and costly to our economies.
"The Maldives is a small island nation with pristine beauty and diverse coral reef ecosystems. We have to do our part to protect it. Therefore, only sustainable tourism that implements eco-friendly policies like reduction of single use plastic, waste management and recycling, waste water treatment and renewable energy can make a difference in the long run," she added.
The session, which was carried out in collaboration with Lhaviyani Atoll Education Centre, was followed by a drawing competition themed around the damages of plastic to the oceans and marine life. Guests at Hurawalhi Maldives are offered the chance to participate in environment conservation efforts, including the opportunity to adopt a turtle to support the Olive Ridley Project, and to visit the Sea Turtle Rehabilitation Centre on Naifaru Island to support local NGO Naifaru Juvenile.