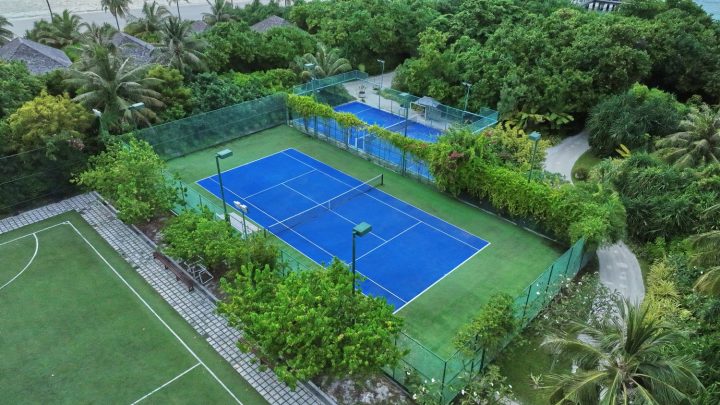 Hurawalhi, Kudadoo Maldives Private Island partner with LUX Tennis
In collaboration with LUX Tennis, a company that connects current and former tennis and padel professionals with top-tier luxury resorts, Hurawalhi Maldives and Kudadoo Maldives Private Island's offers an exclusive tennis and padel programme aimed at enhancing guests' game development in a stunning beachfront setting.
This partnership with LUX Tennis provides personalised and high-quality coaching, practice regimens, and enjoyable tennis and padel-related events. These offerings are designed to motivate and engage guests of all ages and skill levels, encouraging them to improve their tennis and padel skills during their vacation.
Whether you prefer a private one-on-one lesson, a group session led by an experienced ATP/WTA-level coach, or participation in dynamic clinics, games, exhibitions, or tournaments, LUX Tennis has all your tennis and padel needs covered. Guests can anticipate professional coaching and a variety of tailored packages suitable for players of all skill levels. This programme caters to discerning travellers, delivering a seamless blend of sports and relaxation against the backdrop of the idyllic Maldivian scenery.
Dumitru Fosnea, a 32-year-old professional tennis player from Italy with a FITP ranking of 2.6, has a diverse background in the tennis world. He previously served as a successful LUX Tennis Professional at Pullman Almar Timi Ama Resort & Spa in Italy and has now taken on the role of LUX Tennis Professional at Hurawalhi Island Resort in the Maldives and Kudadoo Maldives Private Island. He also has coaching experience from his time at the Patricio Checkpoint Tennis Academy, catering to luxury European resorts.
Dumitru's involvement extends to officiating at prestigious tournaments, including the Kremlin Cup and the Davis Cup. He has officiated matches involving renowned players like Andrey Rublev, Daniil Medvedev, Karen Khachanov, Daria Kasatkina, Vitaliya Diatchenko, Aslan Karatsev, and others.
With PTR certifications and a solid educational background in economics and management from Belgorod State University in Russia, Dumitru excels in both teaching and management within the tennis world.
Founded in 2017 and currently present in more than 35 properties worldwide, LUX Tennis specialises in providing personalised tennis management for their luxury resort partners. Managed by Joan Soler (Founder & CEO) and Tony Rajaobelina (Co-Founder & COO), LUX Tennis is overseeing a repertoire of former and current ATP/ WTA level tennis professionals, coaching private clients, VIP's and celebrities, individually and at luxury resorts globally. In-depth knowledge, education, performance improvement and fun are being perfectly mixed and matched for tennis lovers globally, whether they are on holidays at luxury destinations or at their private residence.
For more information on Hurawalhi and Kuadoo, please visit hurawalhi.com and kudadoo.com, or contact reservations@hurawalhi.com and reservations@kudadoo.com.