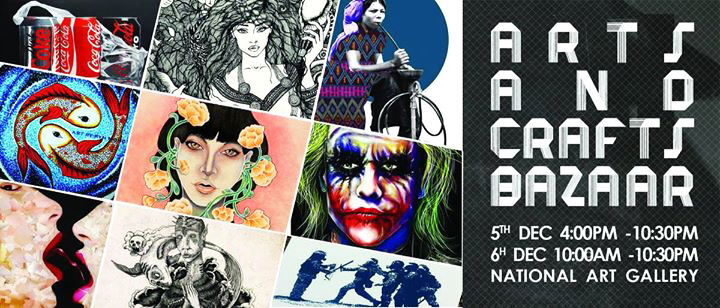 Second Arts and Crafts Bazaar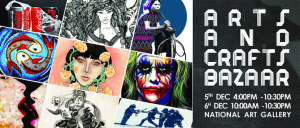 Arts and Crafts Bazaar is a mini art festival held to celebrate, showcase, encourage and to provide learning opportunities through talks, demonstration workshops by local professionals to the public and fellow artists. The purpose of this event is to provide the local artists and craftsmen a platform to showcase their work and to market their products.
The event is organized in partnership with the National Centre for the Arts, DOAV and sponsored by Medianet, RedBull and Dusit Thani Resort Maldives. Initially launched as a two-day event weekend at the National Art Gallery from 5 – 6 December, the event was extended by one more day to 7th due to  popular demand.
Arts and Crafts Bazaar 2014 is the second of its kind, the first being in December 2013. Mariyam Shany, known as 'Manje' among the artist community in Male, is the organizer and host of this bazaar that so many individuals look forward to. She expresses astonishment over the feedback she received, for the general belief is that Maldivians do not care much for creative work and only depend on what is readily available. She says, "We actually decided to make this an annual event after the feedback we had from our participating vendors last year. Many of them came up to me and said, 'Okay, you need to do this more often' because they see this as a good platform for them. They also enjoy meeting other artists and the public is really enthusiastic about their work as well and is willing to buy their products."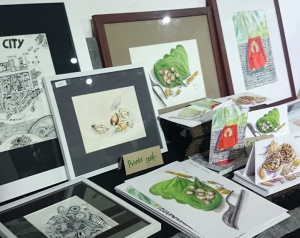 The bazaar has artists of all ages, the youngest vendor being 13 and the oldest over 40. And age isn't the only variation as the talent comprised of artists, craftsmen, jewellers, bakers, musicians and many more. The products on sale also included handmade bags, soft toys, purses, and all sorts of baked goods to name a few.
All the vendors were thrilled at this opportunity as it gave them a lot of exposure. A local craftsmen from Dhon Moosa explained, "We really appreciate this opportunity. We are also very thankful that the organiser initiated and made such an event possible"
Mariyam Shany, the organizer and host says that they plan to make this an even bigger event next year. She hopes to expand perhaps at a bigger location and is looking forward to bringing international artists as well, if possible. She says, "You see so much creativity when you come here, which makes me really hopeful about the creative turn Maldives has in store for us in the future."