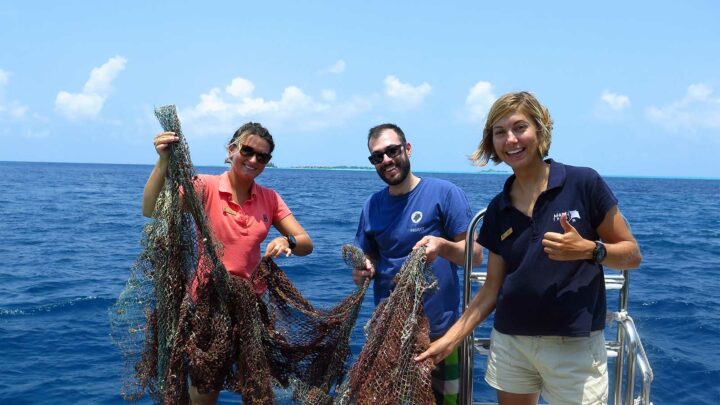 Hurawalhi hosts special turtle excursions with ORP Founder Martin Stelfox
Martin Stelfox, founder and CEO of the Olive Ridley Project (ORP), has held special programmes for guests at Hurawalhi Island Resort. During a four-day visit to the resort, Martin joined guests on two Turtle Tour snorkelling excursions and shared information about sea turtles.
During the visit hosted by Hurawalhi Maldives, guests and team members received a lot of interesting information about sea turtles and about threats these magnificent animals are exposed to, the resort said.
During the two Turtle Tour snorkelling excursions, Martin and Lisa Bauer –the Resident Marine Biologist at Hurawalhi Maldives – took guests to three different snorkel sites that are known to have resident populations of sea turtles – Kuredu Caves (a.k.a. Turtle Airport), Kuredu Lagoon and Komandoo House Reef.
The Turtle Tours were charity events and it was with great pleasure to be able to make a generous donation to the Olive Ridley Project that will surely be beneficial to the organisation's conservations and protection projects across the Indian Ocean, the resort said.During the stay, Martin also dived at two of Lhaviyani Atoll's famous dive sites, Kuredu Express and Kuredu Caves; the divers spotted a whopping 16 green sea turtles! At Caves, the group even met two familiar turtles, Clio and Sapphire, following an invitation from Prodivers.
At the weekly Prodivers' Divers Night in Coco Bar, Martin also gave a talk on sea turtle biology and the mission of the Olive Ridley Project. He later joined the excursion to the Turtle Sanctuary at Naifaru Island to visit the four Olive ridley sea turtles that had to be transferred to Naifaru for rehabilitation after being rescued by Hurawalhi and Prodivers.
The team also removed a ghost net from the nearby Latheef dive site, preventing the reef from being further damaged and marine life being entrapped.