Spectra X Stream – With a passion to protect what matters most
The risks that today's businesses face, both internally and externally, have become increasingly complex. Helping to protect your investment in people, infrastructure, inventory and information is a much greater challenge than ever before.
Organized to deliver optimal service, Spectra X Stream (SXS) focuses on the integration and engineering of end-to-end security solutions for today's most complex security challenges. Building on its decade of success, the company recently partnered with Tyco, world's largest pure-play security solutions provider, helping to protect investment in people, infrastructure, inventory and information, with the expertise and the experience to customize and install an integrated security solution and the technical support to offer a custom solution, seamlessly integrated with the existing systems.
By integrating electronic security, access control, video surveillance, IP solutions, Intrusion systems, duress and perimeter protection systems with a single source, SXS provides a 360° view through ONE user interface resulting significant savings in time, resources and money.
Enterprise-wide protection from a single source: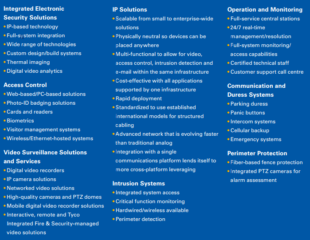 Keeping pace with advances in technology, SXS has ambitious plans to expand and refine its services for a wide range of clientele. The company is presently branching out with plans to provide solutions to the medical and corporate sector with patient tracking and asset tracking technology.
The company's new partnership with Tyco will further improve the quality of its unrivalled services with over 1,200 offices worldwide in 40 countries on six continents helping more than 95% of the fortune 500 and thus saving lives, improving businesses and protecting where people live and work.