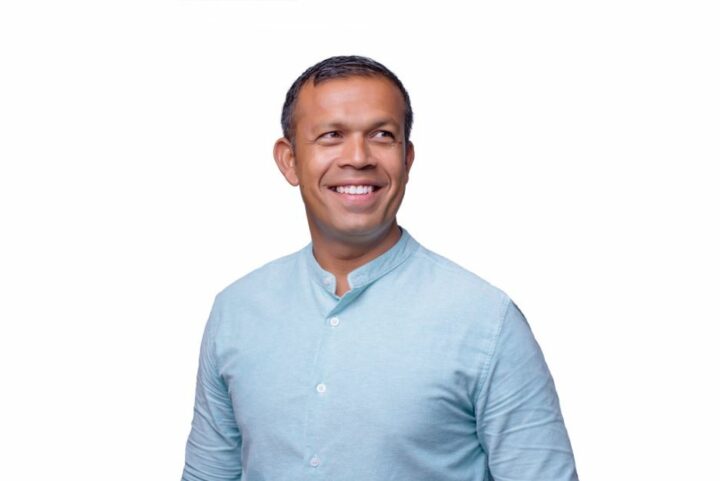 Careers: Hussain Waheed, Airport Manager at One&Only Reethi Rah
Hussain Waheed, a tall, broad-shouldered man in his early forties, is in an immaculate white shirt with his resort's silver logo buttoned above the breast pocket. He greets me enthusiastically and we enter Shell Beans where he walks up to the counter and starts talking to the waiter, Moustafa. It's as though Moustafa is a friend he's not seen in a long while.
From Moustafa's reaction, it's clear that this sort of interaction is not unusual on Hussain's part. Perhaps this natural gregariousness is what makes Hussain precisely the right man for his job.
We take a table upstairs on the balcony and after our drinks arrive, Hussain reveals how he got into hospitality. He's from a large family from the northernmost atoll of the Maldives. His elder brother worked for Sonu (of Soneva fame) at Six Senses and was doing quite well for himself. Hussain's decision to make a foray into the industry was in large part due to his brother's success.
He mentions something curious: he believes his time as bandleader at Ahmadiyya School was crucial in moulding him into a person who was ready to take on the hospitality industry. "You learn respect," he says. "You learn to take care of your instruments, they are like your assets. You learn how to groom yourself, which is important because as an airport rep, you're the first point of contact between guests and the resort. You learn teamwork and how to deal with your superiors."So Hussain was prepared, in a sense, when he applied at Universal's Nakacha Fushi (present-day Huvafenfushi) in 1998 as a receptionist. Impressed with his performance, the resort's FOM arranged a training for him at an upscale sister property, Full Moon. He trained for three months, learning, among other things, how to handle and entertain VIP guests.After a brief spell at Full Moon, he joined Voyages Maldives as an airport rep and was swiftly promoted to a supervisory post. While Hussain was at the airport, the HR director of the soon-to-open Kanuhura Resort scoped him out and approached him.
"This person would talk to me a lot," Hussain says. "Then one day, she asked me 'what would it take for you to quit your job and join us?' and I half-jokingly said 'twice my current salary'.
Soon, I was asked to come for an interview. When I went in, I found a lot of people waiting in line to be interviewed. But when the HR director saw me, she ushered me into the office and handed me a contract to sign. Imagine my disbelief. I said it was happening too fast, that I had to give my employers three months' notice. She asked me to take my time.
In the end, he joined the team at Kanuhura and was instrumental in its pre-opening. Initially, he handled a lot of HR and travel-related affairs for staff; his experience at Voyages proved useful for this. "I found out that the resort had no contracts with any of the major airlines operating here at the time," he recalls. "So I set to work obtaining them. They saved us a lot of money in the long run."Then Hussain was asked by Kanuhura's owner, Ibrahim Mohamed Didi, to buy a ticket for him and his family. Hussain managed to get a discount on the ticket and Didi was very surprised and pleased. He put Hussain in charge of managing his personal travels. "I learnt a lot from Mr Didi," says Hussain, a note of reverence creeping into his voice. "How to handle important guests, how to deal with millionaires, all this I learnt from him. Didi would always introduce me to his big clients."
It was an important step for Hussain in terms of advancing his career. Didi made an even bigger impression on him when the Boxing Day tsunami struck in 2004. "He was a rock," says Hussain. "He told me his house was open to guests and that I could do as I wished without thinking of the cost involved. All he wanted from me was to ensure that the guests were taken care of, no matter what the cost. He had this genuine concern for guests, his hospitality was straight from the heart."
A much less sombre experience, one that Hussain speaks highly of, is a roadshow where he got to represent Kanuhura in the early 2000s. "It was in the US," he says. "The roadshow took place in four major cities: Los Angeles, San Francisco, Chicago and New York."
It was like an all-expenses-paid holiday and Hussain was absolutely thrilled. He took a lot of souvenirs and brochures about the Maldives and he recalls that the country was practically unheard of in that part of the globe. "But people were very interested all the same," he says. "They'd always ask for souvenirs."
Once, in New York, he was approached by a very famous singer who complimented him on his sarong and asked him if he had an extra. He told her he did and she arranged to meet him at his hotel that evening to pick it up.
"I made a package for her, putting in one each of every kind of souvenir that I had, and waited breathlessly for her to show up," he says. "My superior was very pleased with me because she was someone he'd wanted to impress. And now we had her attention. She arrived right on the dot. That's something I noticed about Americans, they don't keep you waiting. Anyway, I got to have coffee with her before she left. And I was on WireImage."
The trip was a roaring success for Hussain and Kanuhura. As a result, he was asked to participate in the ITB Fair in Berlin but Hussain had to bow out because he had family commitments.Later, in 2005, he joined One&Only Reethi Rah, bidding adieu to Kanuhura. He'd been advised by Didi to make the move; it was an emotional moment. However, it didn't take long for Hussain to find his bearings at Reethi Rah. He believes that the resort sets the standard when it comes to service."A lot of it is because of the owner, Moho, whose positive energy has made a huge impact on the resort," explains Hussain.
Hussain once again found himself endeared to the management, receiving numerous awards in recognition of his services. He believes the secret of his success boils down to two things: the team spirit of his colleagues and the hospitality he receives from his wife Azlifa. "Hospitality begins at home," he says, eyes twinkling. "But in all seriousness, she works tirelessly, spurred by genuine affection, and she delivers every single day."
The management of One&Only, too, holds a special place in Hussain's heart. "They are incredibly appreciative when you do good work," he says, noting that they hosted a surprise dinner for his family recently. "It's these little acts that leave a big impression on you and make you want to give them all you've got."
Looking back on his career, Hussain seems content, like a man who's achieved most of his life goals. He's not all done, however. "I really want to improve the quality of customer service here," he says. "I see myself working after retirement, maybe as a consultant, educating people, building them up. I want to see them take customer service to an entirely new level."