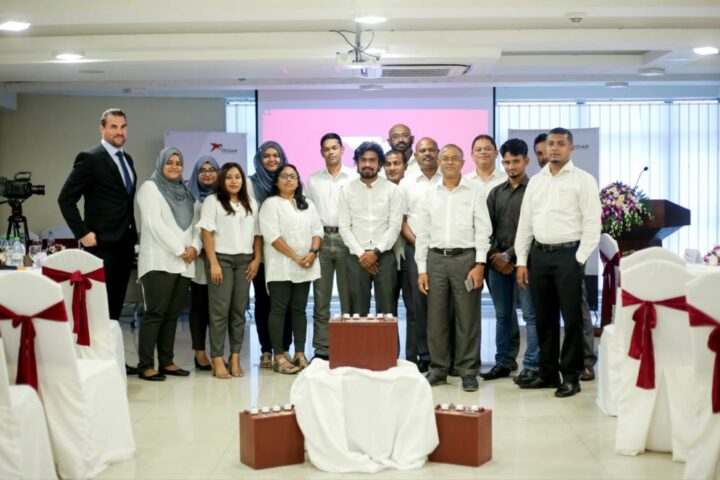 ILAA Maldives hosts Trojan Deep Cycle Batteries technical training seminar
ILAA Maldives, the sole Authorised Dealer for the Trojan Battery Company in the Maldives has held a training seminar on Trojan Deep Cycle Batteries. The event was held with the aim of educating customers on how to safely and efficiently use the product while finding solutions for the unique needs and challenges of individual customers.
The seminar was conducted by Strategic Business Development Manager of Trojan Battery Company, Andreas Paul. Andreas went into technical details on battery fundamentals with focus on lead acid batteries, how the batteries need to be charged for best efficiency, proper storage and maintenance, battery safety and influencing factors on battery performance and longevity.
Andreas also introduced the AGM battery. Trials of this battery will start in the Maldives very soon on buggies used extensively and in selected resorts.
Further, information was shared on the revolutionary TRILLIUM (Trojan Intelligent Lithium Battery) developed by Trojan Battery Company for solar, which has surpassed all expectations.
Trojan Battery Company was founded in 1925 in the United States and is today, the world's largest manufacturer of deep cycle batteries. According to Andreas, Trojan deals with trusted authorised dealers exclusively, so as to provide the end user with the best possible service.
ILAA Maldives Pvt Ltd was founded in August 1991 and caters to the resort and construction industry and in addition provides after sales services with trained technicians and currently staffs over thirty professionals highly experienced in their fields.
The seminar was attended by various companies operating electric buggies in the country and proved to be a resounding success, answering the users' questions and providing them with vital information about battery usage. The attendees expressed a great deal of interest in the event and commented that they would like to see more such events in the near future.