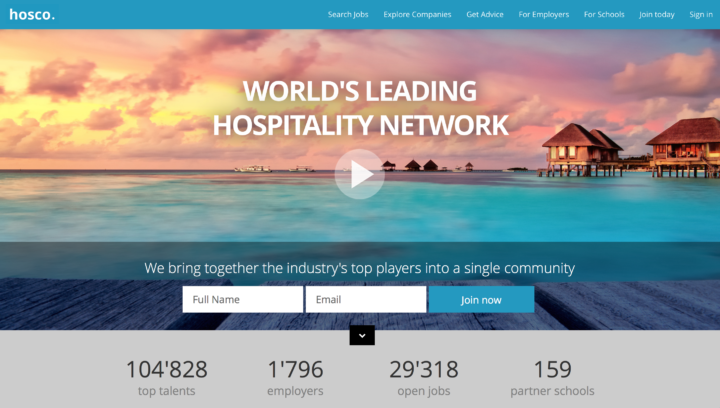 Improving your hotel recruitment in remote destinations
Hiring qualified candidates to work in remote resorts can be challenging. For starters, it's likely that the entire recruitment process will take place via phone or Skype, and you will not even meet a new hire until he or she shows up to work. But even before the interviews, your hotel must reach the right audience with job postings if you expect any level of success. How can you guarantee that the opportunities at your property are being seen by qualified candidates? We've come up with 3 ways to improve your recruitment in the Maldives.
1. Post jobs on specialised job boards
There are so many places to post jobs today – from brand websites to job boards to social networks and beyond… But how can you ensure your job postings are getting in front of the most qualified candidates? Specialised platforms like hosco, the world's leading hospitality network, can help you target the right audience.
hosco is a global community with over 100'000 members, 1'750 employers, and 150 partner schools. The unique combination of audiences has allowed the platform to develop into a trusted source for talent recruitment and employer branding. "It is great to have a platform focused on hospitality needs and hosco does just that," says HR Director of Cheval Blanc Randheli, Ahmed Faiz. "We started using hosco not too long ago, and I am happy with the response rate from more potential candidates; it is even better than expected."
hosco welcomes approximately 2'000 new talents every week, but what sets the platform apart from other professional communities is the emphasises on quality over quantity. With a unique preselection process that requires prospective members to have a hospitality education or at least 2 years of work experience within the industry, hosco guarantees you access to qualified hires.
"Constance Hotels and Resorts has been working with hosco for the past 2 years in order to recruit top ranked hotel school trainees to work in our exclusive 5 stars' hotels and resorts," says Sonia Gordon-Gentil, Talent Acquisition Manager for the group. "We have always been satisfied with their efficiency and friendly service and we have recruited high caliber team members for our hotels. hosco's innovative approach has led to a long lasting collaboration and we highly recommend their services".2. Share your brand story
How do you attract future employees to apply for positions at your resort? It's important to share your story and give attention to your company culture. When you are bringing talents to the Maldives from other destinations, there is a significant investment in on-boarding, so it is beneficial to strive for long-term hires and decrease turnover as much as possible.
Developing a recruitment strategy that communicates the DNA of your company from the first moment will help to make the process more efficient by attracting talents who will fit into the culture and will thrive in your organisation.
You can showcase your property with visual elements, but it is also valuable to share what sets your hotel apart. Investing in employee testimonials can be especially powerful, as your current employees are often your best ambassadors. Explaining the opportunities for empowerment or advancement are most convincingly told by those who have experienced the same. Your employees expressing why they love working at your property will be considered more reliable and trustworthy instead of someone simply out to "sell" a job.
(Read more: Hiring and Retaining Employees in Hospitality: Why Company Culture Matters)
3. Adopt a proactive hiring approach
Proactive hiring means looking for candidates that may not have considered a career change yet and reaching out to them rather than waiting for applications to your openings. Job networks are great places for recruiters to find talents since you can examine a potential hire's career history and reach out to the candidate directly.
Filtering potentials using your own criteria, such as work permits, experience, or education, can help you reach the types of candidates that you need more accurately. These filtering tools also save recruiters time in hiring efforts, and – as we know in business – time is money.
hosco offers exclusive branding and recruitment services to hotels in order for you to secure the best talents in the industry. Check out hosco today or contact Ziad Chalhoub (ziad@hosco.com) for more information on how hosco can help you find your next recruits.