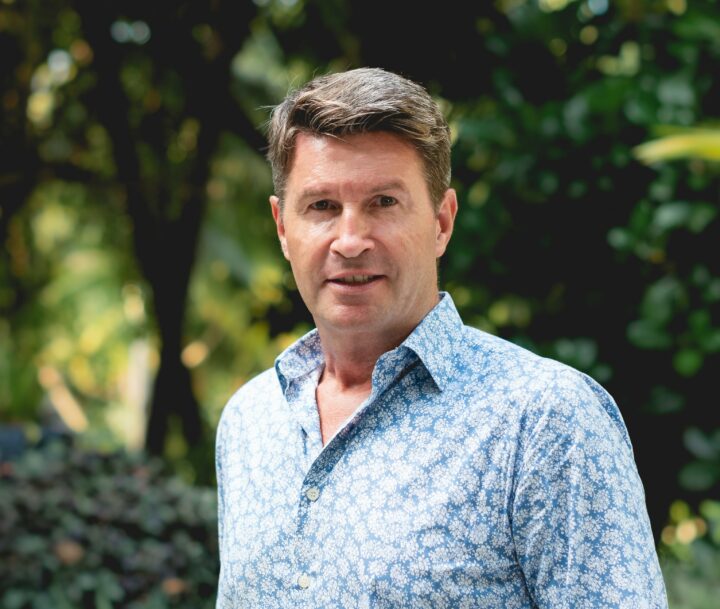 Jan Tibaldi, General Manager, One&Only Reethi Rah Maldives
Jan Tibaldi comes from a family of hoteliers with extensive experience in the industry. Now, at the helm of One&Only Reethi Rah Maldives, Jan shed the light on his origins, his accomplishments in a career spanning over 30 years and how One&Only Reethi Rah Maldives stands out among others in a country that is seeing massive developments in the industry.
Hotelier Maldives: Could you tell us a bit about your beginnings and what influenced you to take on a career in the hospitality industry?
Jan Tibaldi: I was brought up within the hospitality industry, I am a fourth generation hotelier. My siblings were born in different countries thanks to my dad's job assignments. Wherever our dad moved we were right behind him tagging along. One of my dad's business partners knew me from a very young age and inquired which career path I wanted to take. I told him – hospitality is what I want to do.
He advised me to call him when I had finished my education and when I am ready to embark into the field of hospitality! After my studies, I wanted to learn all about food preparation, so I decided to do a culinary apprenticeship, followed by a fine dining restaurant service course before I left Switzerland. It was in 1989 when I called up my dad's business partner and he invited me to join him in a luxury resort opening in Palm Beach, Florida. That is where I started my career.
HM: Can you describe your career journey and most significant experiences?
JT: The most important and significant experience would definitely be my first assignment as Assistant Food & Beverage Director in Palm Beach. Since it was a new resort, I gained first-hand experience starting from the construction and development to the preopening and opening of a luxury resort.
It was a tough but insightful tenure followed by some additional studies at Cornell University in upstate New York.
I then moved to Thailand to work in both resort and city hotel environments before moving to Croatia to partake in build-up works after the war. Brazil, US, Barbados, Mauritius, the Maldives, Anguilla, India and China were further professional stations and stages in my life where I was able to join some of the most luxurious hotels and resorts. I then decided to re-join One&Only Resorts after nearly 13 years and here we are now at One&Only Reethi Rah.
HM: One&Only Reethi Rah has, and still maintains, a reputation for providing guests with unparalleled luxury, privacy, style and truly unique experiences. What is the secret behind this achievement?
JT: One&Only Resorts are designed as hallmarks of excellence, as ultra-luxury resorts located in spectacular destinations around the world. Each award-winning resort offers guests a distinctive style and personality inspired by its local culture. As part of the One&Only collection, One&Only Reethi Rah Maldives offers guests an unrivalled level of exclusivity, once-in-a-lifetime experiences and a lively energy that is unparalleled to anywhere else.
The secret behind our achievement is our people, who are our greatest assets, constantly delivering genuine and warm service with a smile that guests love. We also listen to our guests–this is important to ensure there is something new and exciting for every guest, especially our repeaters, which keeps us ahead of our competitors. The "Reethi Rah way" provides an unmatched and unforgettable experience-proactive and imaginative in style, yet meticulous in detail–services that are always delivered from the heart and utterly personal.
HM: Compared to other resorts in the country, what is the most unique aspect of One&Only Reethi Rah?
JT: The Maldives unique archipelago of small islands in the Indian Ocean is made up of a multi-cultural spirit, where you can't help but feel at home when you step foot on one of the islands. This is exactly what we pursue here at One&Only Reethi Rah–a unique home away from home. Nowhere else in the Maldives is there a resort with such extensive space and exclusivity.
One&Only Reethi Rah is an iconic resort and throughout the years, it has redefined ultra-luxury in the Maldives. Home to some of the most exceptional, spacious villas in the Indian Ocean, all detached, expansive and luxurious. We ensure couples and families alike leave with magical stories to be told!
HM: With a number of new openings coming up, how do you plan to maintain your status in the industry?
JT: In recent years, luxury travellers are now searching for unique and memorable experiences and not just a beautiful holiday destination. With numerous new resorts and brands opening in the Maldives, the luxury traveller will be selecting their destination based on one-of-a-kind experiences and tailored experiences which cannot be easily replicated elsewhere.
I believe luxury travel is epitomised by exceptional service, attention to detail and knowing your guests' preferences in order to create unforgettable memories. One&Only Reethi Rah is constantly innovating, and this shows in our guests coming back to stay with us. More than 60 per cent of our guests are repeaters and there is always one thing that they say–they keep on coming back to One&Only Reethi Rah because of the people and the continuous innovations.
HM: From your experience, what does it take to be a good General Manager?
JT: Our colleagues are our greatest assets; we have a lot of colleagues that have been here for many years and their feedback is so substantial. Therefore, we've initiated our 'creativity meetings'–where I speak directly to the team about what they would do differently and how they can improve.
A general manager needs to motivate the whole team to have passionate and committed people who create memorable experiences and everlasting memories for our guests. This consistent commitment keeps us ahead of our competition.  As a general manager, I aim to put myself in my guests' shoes, to better understand their needs. I learnt that, by treating people the way I would like to be treated and paying attention to detail, makes a huge difference.
HM: What are your thoughts on the current situation of the industry and developments that are happening in the country, for instance, the new resorts and airports springing up all over the country?
JT: Several international brands have entered into the market, increasing the number of resorts in operation to more than 130. We see the desire for one-of-a-kind experiences increasing, with travellers' expectations for exploration and unique experiences developing.
With such a constant development, I think authenticity is becoming a rare commodity, so offering authentic experiences is the essence of Maldives travel. At One&Only Reethi Rah, we believe rare localised experiences can add authenticity to our guests' Maldivian experience. In addition, supporting local communities and environmental initiatives allows us to add to the overall guest experience.
HM: What would be your advice for youngsters who aspire for a successful career in the industry?
JT: For those starting a career in the luxury hospitality industry, I would recommend building up a unique set of skills and experience starting with an internship in your chosen field. One&Only Reethi Rah offers a dedicated 'Dharivaru programme'—a one-year long programme for young graduates to experience working in a variety of roles before specialising in their chosen profession. This is a fantastic starting point and a proactive way to realise their career path while gaining valuable experience working in the industry!