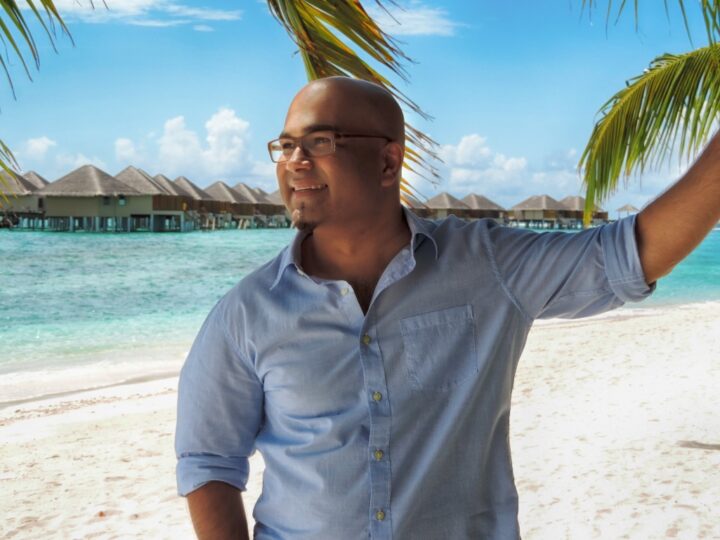 Indy Dodanwala
Nashiu Zahir
Indy Dodanwala, the present General Manager of Adaaran Prestige Vadoo found his calling in the hospitality industry after traveling half way across the world. He hails from Kandy, Sri Lanka and is a citizen of the United States of America. "I grew up in Sri Lanka," he says. "I completed my high school there and left the country when I was 19 years old." Young and possessing an adventurous spirit, he travelled around Canada for two years. "The Canadian Government had a programme at that time where they issued visitor visas," he says. "So I went there, did some backpacking and several jobs. I was a busboy, a waiter, a bartender; I did all kinds of work."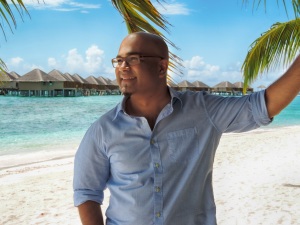 It was through his experience in Canada that Indy became interested in the hospitality industry. "It's an exciting industry where if you get in, you can find work in any part of the world," he says. Wishing to pursue higher studies in the field, he went to Melbourne, Australia, where he completed a four year degree programme in Hospitality Management. Through his college he also received an internship at the Hilton in Melbourne. There he was shuffled between departments which helped him gain a holistic understanding of how the business operated.
He got his first front desk job at Bayview Resorts, a chain of hotels in Melbourne. "I was a front desk clerk and they really liked me," he says. "I started moving from department to department and soon I was helping out with the whole operation."
While in Melbourne Indy decided that it was time for him to move on to bigger things. "I had my degree and I had a good idea of the industry," he says.  "I wanted to be a General Manager." He expressed his wish to one of his professors who suggested that he become familiar with food and beverage operations first.
Indy then went to California, United States to get an associate's degree in food and beverage. During this time, he became a technical assistant to one of his professors. It so happened that one of Indy's seminars was attended by an Indian businessman, Patel, who had several hotels in Santa Cruz, California. "He came up to me and said 'Indy, we've got an 85 room, semi-luxury hotel, why don't you come and run the property for us?  Dodanwala recalls. "That was my first General Manager position. That's how I got into management."
Indy managed the hotel for three years before he got the opportunity to manage the Intercontinental in San Francisco, an airport hotel with over 250 rooms. He managed it for a couple of years, when he got an additional property – Four Points by Sheraton – under his belt. "I was managing more than 350 rooms and close to 800 employees at the time," he says. "At the time I was the youngest dual property GM in San Francisco."
He then moved to Santa Barbara, California, where he began managing another Intercontinental hotel for Evolution Hospitality, a management company that oversaw several major brands like Hilton, Marriott, and Intercontinental. "They gave me three more hotels to help out with," Indy says. A  Hilton Marriott and a Candlewood suite.   "So I was based at one property and was helping out with three more. It was a big operation, Close to 700 rooms." But soon, Indy decided it was time for him to move closer to home. "I had my parents in this part of the world," he says. "So I called a couple of people to send my resume down, and the rest is history. I'm here now."
The cultural gap between USA and the Maldives is vast, but it translates well into hospitality. Indy was struck by the "natural kindness" of the people here. He describes them as "vibrant," willing to work and climb up the corporate ladder. "In the States, people are able to separate their work from their life," he says. "But in a resort context it's different, you live here. Also there is a huge connection between employees and the upper management. You don't see that to this degree in the States."
He has a very hands-on approach to work, believing that understanding the strengths and weaknesses of his employees to be crucial in bringing out the best in them. "Engage and create," he says of his philosophy. "If I don't understand my employees, I won't be able to delegate effectively." He believes that it is necessary to provide the tools for young people to move up the ladder and take on bigger responsibilities. "If we don't encourage our bench to move up through the ranks, we're going to be in a vacuum. So to avoid that you need to engage with and understand your employees, which you won't if you sit behind closed doors."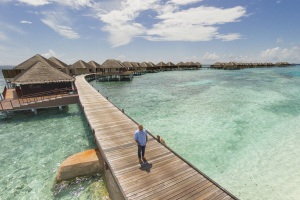 He holds regular interactions between him and his junior managers. "We want leaders to be born and to take up the reins. I give enough freedom and flexibility to my employees to come up and work with a good idea. 'Don't be afraid to test' is a maxim I hold dear. Also I believe that 'none of us is better than all of us'. It's my personal motto."
Indy sees Maldivians as being full of potential. He also believes that there is scope for Maldives to keep on growing as a top class tourist destination. "We already have several of the major brands," he says. "And there is room for more. The beauty of the islands, its topography, its people, the service culture and ambience has already created a world class reputation for the country." He thinks that strategically marketing the destination to North America could enhance growth. Moreover, he does not feel that the growth of budget hotels in the country is a threat to luxury tourism. "Being an exclusively luxury destination would mean not tapping our potential to the greatest extent, it would also mean not optimising our revenue," he says. "I firmly believe that luxury and budget tourism could go hand in hand."