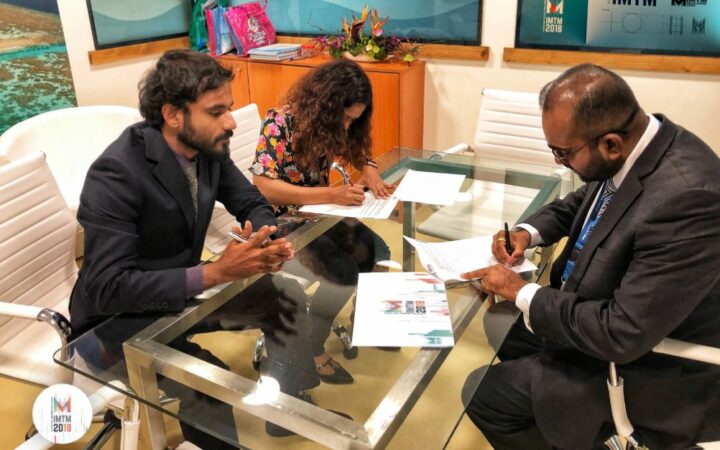 International Maldives Travel Market 2018 officially launched at ITB Berlin 2018
IMTM Pvt Ltd, in association with Adaaran Resorts, has officially launched the International Maldives Travel Market 2018 (IMTM 2018) at ITB Berlin 2018. The event is set to be held at Adaaran Select Hudhuranfushi Resort, Maldives from June 23 to 24, 2018.
IMTM 2018 is set to be the first international travel and trade fair to be held at a resort in the Maldives. It is designed to accommodate close to 50 exhibitors' representative from 20 countries spread throughout 5 continents. Furthermore, it is also set to be able to accommodate 200 participants from the local tourism industry, according to the organiser.
"We are hosting an International Travel and Trade Fair in the Maldives that seeks to provide a cost-effective internal platform which can garner a major collective industry presence consisting of all 3 sectors (Resorts/Hotels, Liveaboards and Guesthouses) for international buyers to meet with," says Mohamed Farshath, the Managing Director of IMTM Pvt Ltd.
Conventionally, Maldives has been promoted in trade and travel fairs and exhibitions – overseas – through the participation of industry stakeholders. However, findings by IMTM Pvt Ltd indicated that "most of the Maldivian tourism stakeholders do not attend International Travel and Trade Fairs as a major collective.
Major trade fairs such as ITB Berlin (Germany), ATM (Arabian Travel Market) and World Travel Market (WTM) (UK) are the only three exceptions which consist of a widespread industry presence year after year with participation numbers exceeding 100. "Even then, high costs of participation do not ensure a proportional representation between Resorts, Liveaboards and Guesthouses," adds Farshath.
According to the organisers, one of the key aspects of IMTM 2018 is the provision of a semi-formal setting by hosting the exhibition in a pristine tropical resort in the Maldives, thus allowing exhibitors and delegates to indulge in a true Maldivian holiday experience before, during and after the official exhibition dates.
Registration for exhibitors is now open for IMTM 2018 with the deadline set for April 6, 2018. For inquiries and registration details, you may also contact Rafil Mohamed via rafil@imtmonline.com / info@imtmonline.com.