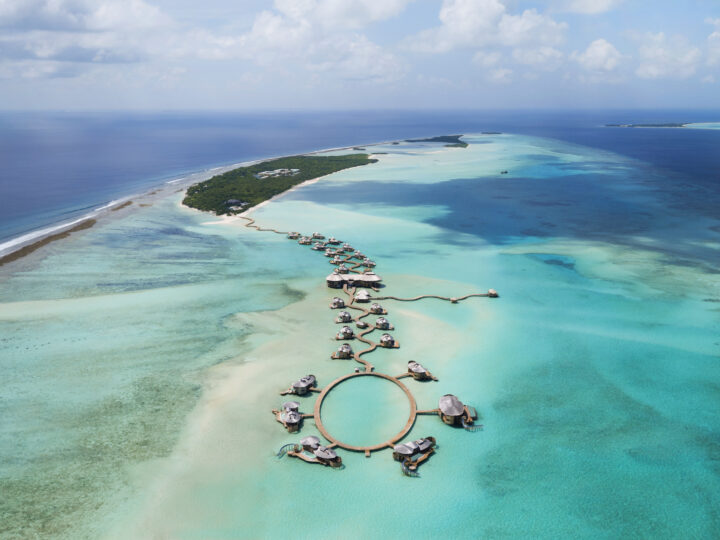 IPNLF trains Soneva Jani staff on sustainable communication
The international pole & line foundation (IPNLF) visited the staff at Soneva Jani in February to conduct sessions on sustainable communication under their Responsible Tourism Initiative. The programme focused on coaching staff on carrying out sustainable communication, concerning the fishing practices in the Maldivian EEZ (Exclusive Economic Zone). More specifically, these communications aim at enlightening the guests and staffs about the value of one-by-one tuna fishing methods. Hence, the idea behind the programme is to build awareness through a less conventional and a more entertaining approach.
On behalf of the IPNLF team, Dr Shiham Adam, director for Science & Maldives and Ibrahim Nadheeh, Fisheries Research Officer at IPNL, visited Soneva Jani to conduct the sessions. They were also joined by Eleanor Butler the resident marine biologist at Soneva Jani.IPNLF aims to free the Maldivian EEZ of any kind of harmful practices that can have a negative impact on the sustainability of marine resources. In turn, they are highly keen on promoting pro sustainability methods such as pole and line fishing. Over the past years, they have been initiating various campaigns and programmes to promote this cause.
The responsible tourism initiative by IPNLF concerns three main strategies including awareness:  out-reach programmes aimed at enhancing staff and guest understanding of the importance of sustainable fishing methods through unique approaches, experience: promote global understanding of sustainable fisheries and responsible seafood choices by enhancing guest experience by connecting to the resort environments and sustainable sourcing: supporting the local growth of local and international recognition of sustainable fisheries by increasing the procurement of seafood from local sustainable fisheries.
According to IPNLF, it can be said that only a few of the tourists are aware of the sustainable fishing practices and their importance. Therefore, as tourism is the biggest industry in the country, tourist awareness can lead to responsible tourism and also have a positive impact on the promotion of sustainable fisheries.
The International Pole & Line Foundation (IPNLF) works to develop, support and promote socially and environmentally responsible pole-and-line and hand line tuna fisheries around the world. IPNLF's ambition is to contribute to thriving coastal fisheries, including the people, communities, businesses and seas connected with them.