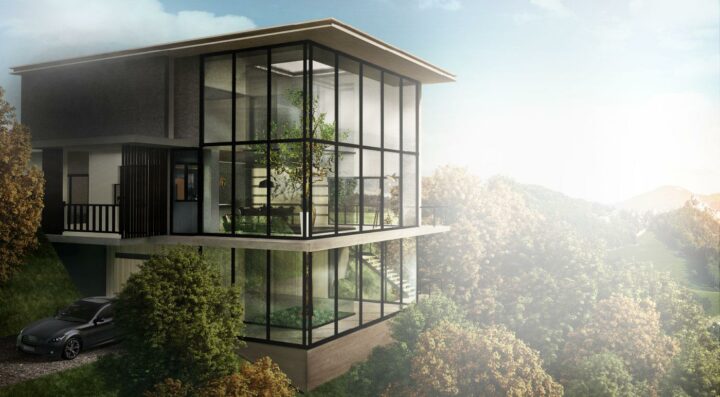 iQUE by V-Kool: Architecture Window Films
Over the last decade, the role of glass in buildings has evolved tremendously. Where glass was previously restricted to only small areas, constant innovations have resulted in the increased usage of glass as a key building material. Today, glass is the prominent building material and this trend is on the rise.
With concerns of increasing energy demand required to cool and light up buildings; the clear solution needed is to reduce significant amounts of the building's heat from the sun, maximize daylight harvesting and achieve savings in energy bills. In seizing this opportunity, PMO PRIVATE LIMITED diversified in 2013, introducing iQUE MALDIVES (IQM) as the Master Franchisee and sole distributor for iQUE films in Maldives. Since then iQUE has been slowly penetrating the architectural market for solar control window films.
iQUE is engineered and endorsed by V-KOOL. Established in 1991 in the United States, V-Kool has established a leading premium brand position in the automotive retrofit market for window film globally, V-KOOL is now dedicating its expertise in window coating products and services for the architectural market. iQUE offers an extensive range of applied films for the architectural market. From virtually clear films capable of rejecting high amounts of the sun's heat without changing the appearance of existing glass, to safety and security films able to counter hazards commonly associated with shattered glass.
iQUE by V-KOOL is a brand owned by Eastman Chemical Company. IQUE is a specialist architectural window film brand that offers leading technology for solar heat control. The core of IQUE window films spectrally-selective infra-red heat-rejection performance is its XIR Technology, a proprietary sputtering process developed in Silicon Valley, USA.
Eastman is a global specialty chemical company that produces a broad range of products found in items people use every day. With a portfolio of specialty businesses, Eastman works with customers to deliver innovative products and solutions while maintaining a commitment to safety and sustainability. Its market-driven approach takes advantage of world-class technology platforms and leading positions in attractive end-markets such as transportation, building and construction, and consumables. Eastman focuses on creating consistent, superior value for all of its stakeholders. As a globally diverse company, Eastman serves customers in approximately 100 countries and had revenues of approximately $9.6 billion in the year 2015. The company is headquartered in Kingsport, Tennessee, USA and employs approximately 15,0000 people around the world.
The iQUE Safety & Security films have gone through the Bomb Blast Mitigation Test, conducted by the America Bureau of Shipping Consulting (of the ABS Group) with the assistance of the Canadian Explosives Research Laboratory (CERL) and Defense Research Establishment Suffield (DRES). Favorable test results have demonstrated that iQUE Safety and Security films are effective in mitigating glass fragment hazards when subjected to blast loads.
The films have met the stringent US General Services Administration (GSA) testing requirements under Category C of the GSA Building Classification, achieving a GSA condition of 3B or better, which means that glass pieces shattered from the blast land no further than 3 meters from a window coated with iQUE Safety and Security films.
Why iQUE ™?
When it comes to top grade and high performance window film, iQUE ™ leads the pack in features and qualities designed to achieve not only solar heat and glare control but also aesthetics to transform your window glass into intelligent components of your home, office or business. 
Glare Control
Offers more than 60% rejection of solar energy.
Delivers glare control while allowing the ideal level of daylight to brighten your space.
Heat Control
98% infra-red and 99% ultra-violet rejection
Effectively lowers the interior temperature of any room it protects, keeping it cool and comfortable even during the hottest summer days.
Aesthetic Appeal
Lowest ever visible light reflectivity.
Maintains the natural transparency and light transmission of window glass while offering unparalleled protection from the sun.
Privacy Protection
Lower visibility coupled with high performance heat and glare control with variants offering darker hues.
Safeguards you from the sun and helps you achieve the level of privacy you desire.
Energy Efficiency
With heat control and daylight harvesting features, it helps you cut down on your air-conditioning and lighting bills, thus lowering the carbon footprint that you generate.
iQUE blocks off over 50% of total solar energy gain through windows while allowing more daylight than tinted or reflective films. As a result, home and building occupants will be able to reduce the use of interior lighting and reducing the necessity for artificial lighting indirectly reduces electricity cost.
Safety & Security
Mitigates the danger through its cutting edge, shatter-resistant and impact-resistant technology, making it safer for modern buildings to feature larger panel glass windows.
UV Protection
Presents up to 99% ultra-violet rejection, iQUE film application 
Prevents harmful UV rays from penetrating indoors. 
Protects you from sunburn or other UV-induced skin damage.  
iQUE has won a multitude of awards, including the Consumer and Best Buy Award in 1994, Most Preferred interior decor brand in 2006 at China and the Singapore Green Building Product in 2010. 
---
iQUE clients include: Absolute Hideaways Pvt. Ltd. Cathay Pacific Office, H Beach Tower, Adaaran Vadoo Guest Gym (Unique Resorts Pvt. Ltd) ADK General Trading, Coastline Investment Pvt. Ltd. Constance Halaveli, Hurawalhi Island Resort, Kurumba Resort, Maldives Ports Limited, MWSC, UNFPA, UN, UNICEF Maldives, World Bank Country Office, MACL- Duty Free, Singapore Airlines Office in Airport complex, Mookai Hotel, Soneva Jani Resort.

For a meeting and a price quote for installation are welcome you to discover more at our showroom, located on the 8th floor, Beach Tower Boduthakhurufaanu Magu, Male', Maldives.
Email : bishar@pmo.mv
Tel :  +960 331 3328