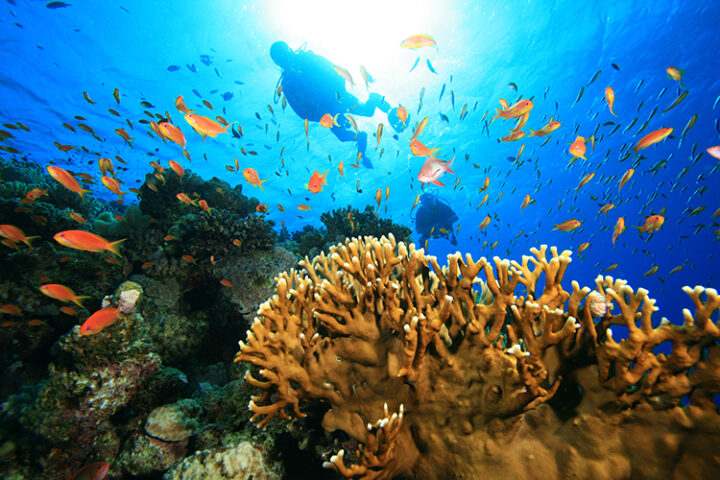 IUCN and MRC call for industry stakeholders to commence coral bleaching monitoring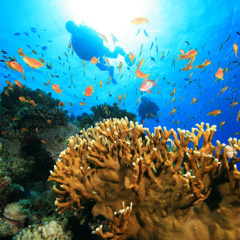 The International Union for the Conservation of Nature (IUCN) Maldives and the Maldives Marine Research Centre (MRC) are jointly calling for environment stakeholders in the country to contribute data towards a nationwide attempt to monitor the El Niño conditions that are currently arising, and the subsequent coral bleaching phenomenon that is being observed throughout the Maldives.
Dr Ameer Abdulla, Head of the Coral Reef Ecosystems and Resilience, IUCN Global Marine Program and Dr Shiham Adam, Director General of the Maldives Marine Research Centre have published the following report:
Global climate models forecast El Nino conditions to intensify to "strong" this year. NOAA (National Oceanographic and Atmospheric Administration) forecasts that 2015 will be the warmest year on record and this of course has severe implications to coral reef systems. Globally, mass bleaching events typically start in the Pacific, head to the Indian Ocean, then Atlantic and Caribbean. Following the bleaching reported in the Pacific earlier this year, sites around the Indian Ocean are now also reporting bleaching.
Coral bleaching is a response to stress, often related to above-normal temperatures. During this process, the coral expels its symbiotic algae known as 'zooxanthellae'. These symbionts provide energy and pigmentation (colour) to the coral. When the coral expels them, it becomes weak and susceptible to disease, mortality and overgrowth by algae. The coral also becomes white, because the calcium carbonate skeleton of the coral becomes visible through its translucent tissue. If the stress remains for long enough the coral will die, but if the stress is reduced then the coral can assimilate zooxanthellae again and survive.
The Maldives Archipelago has been experiencing higher than normal temperatures that started mid-April.  This is exacerbated by the calm conditions characteristic of the transition between the Southwest "Halhangu" and Northeast "Iruvai" monsoons which reduces wind mixing and cool water upwelling. The low cloud cover and delay in rainfall have also contributed to elevated temperatures. These temperature anomalies have spiked to as much as 2 degrees centigrade and in some areas have lasted for more than a few weeks which has led to localised and mass bleaching of reefs.
Indeed, reports are coming in of mass bleaching of reefs in many places in the Maldives. In an effort to better understand the severity and extent, we are requesting your help to assess this event at national scale. These data are fundamental to differentiate between vulnerable and resilient areas and prioritise management and conservation efforts to areas that are vulnerable.  In reefs that are bleached, it is critical to reduce local stressors such as nutrient input through sewage effluent, sedimentation from sand pumping, or overfishing, especially, herbivores.
For data to be useful in a national level assessment, data collection needs to be standardised through a commonly applied methodology. As part of the official National Coral Reef Monitoring Framework, a protocol has been developed and this includes a standardised and easily applied methodology, a data sheet, and an online reporting database.
To start your coral bleaching monitoring please proceed to coral database (https://coraldatabase.gov.mv) and follow the steps below:
1. Click 'Log in as a guest' and click the Help button (top right) to retrieve the coral database manual
2. Register the organisation from the start-up page (Resort/Dive Centre etc. – page 14 of the manual)
3. You will receive an email from the administrator confirming registration
4. Register as a new user from the start-up page (page 13 of the manual)
5. You will receive an email from the administrator confirming registration
6. Go to 'General tools' and 'text search' and type in 'Protocol Instructions and Dataforms' and download the bleaching protocol
7. Start entering data by going to 'User tools' / 'Add protocol data' (pages 16 & 17)
The data that are collected will be analysed once the bleaching event is complete. Results and conclusions will be sent to you and your name and your institution formally acknowledged on any technical outputs that are developed.
Report ends.
For further details, please contact either ameer.abdulla@iucn.org or info@mrc.gov.mv or visit either the IUCN website or the MRC website.