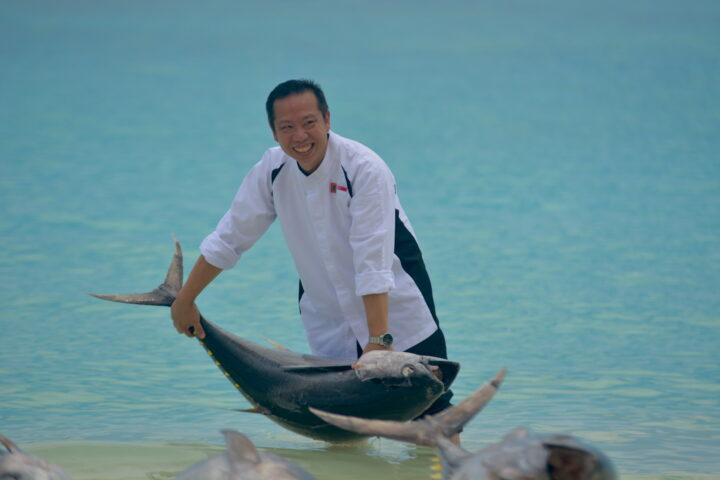 (Jack) Tiang Toh Huat, the Advisory Executive Chef at Summer Island Maldives
Jack Tiang, the Advisory Executive Chef at Summer Island Maldives, is at the top of his field. In October, he competed among the best in the business at the 2016 Global Gourmet Chef Par Excellence World Culinaire Competition and was selected among the world's top 50 outstanding chefs.
Hotelier Maldives sat down with Tiang to sample his winning dishes and to talk about his culinary journey and aspirations for the future.
"It feels great to be recognised among the best, to be a global chef and to meet with great people," he says.
Tiang's winning dishes blend the local with the international in both method and flavour to represent global tourism. The appetizer is a combination of watermelon and goat cheese, light and fresh and perfect for lunch on a hot day. He uses fresh herbs found on the island and comes up with dishes that are fresh, healthy, and ideal for the tropical climate. He shuns oil and starch.
The main course is a tuna dish called Blue Ocean Marine. Fresh Maldivian tuna is lightly seared with a blow torch, topped with Japanese seaweed, and rolled with a filling of reef fish and prawn tarter. Tiang uses molecular cooking to create an egg white roulade topped with a log of beetroot. The dish is served with a sautéed mix of yellow peppers, black eyed peas and carrots with a side of thyme-infused puree of fresh tomatoes.To accompany the tuna, he whips up an orange sauce that blends surprisingly well with the tuna.
Dubbed 'Sand and Sea', Tiang's dessert combines local flavours with international cuisine. Banana mousse cream puffs are topped with coconut infused macarons, served with caramel sauce, homemade ice cream with a combination of shaved coconut and brown sugar to represent sand.
Tiang is no stranger to Asian palettes. He was born and raised in Singapore. At the age of 21, his love of food took him to Shangri-La, where he moved up from Chef de Partie to Chef de Cuisine in just two years.
The highlights of his career so far include judging a culinary competition in Taiwan and working at the Conrad Singapore as well as the Singapore Turf Club, where he served government officials and ministers.
His love of nature and food has taken him across the globe, working in restaurants in Korea, Japan and Siberia. He also spent two years in Italy mastering the country's world-famous cuisines. Tiang's Spanish influences come from two years spent in Ibiza working at the Café del Mar.
His love for fresh ingredients brought him to the Maldives. "I like to eat spicy food, so it's good that I'm here in the Maldives," he laughs.
Tiang just completed one year at Summer Island and helped the resort win the award for Outstanding Dining Venue at the Global Gourmet Chef Par Excellence World Culinaire 2016.
After traveling the world, perfecting his craft, and joining the elite, Tiang has a very important task he wants to complete, one that will sit alongside his many impressive accomplishments.
"I want to teach my little boy how to cook," he says.