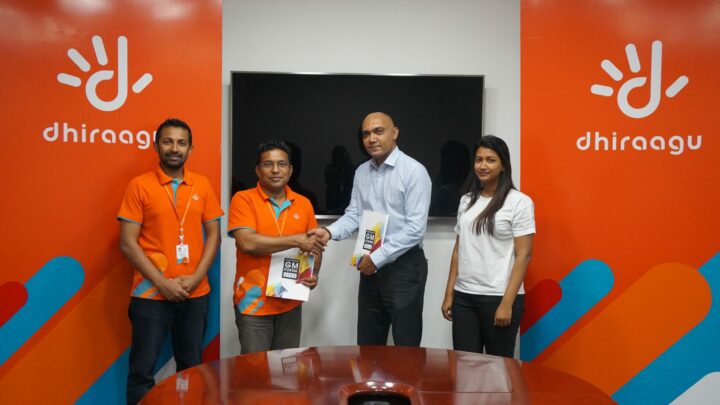 Dhiraagu Confirmed as Title Sponsor of Hotelier Maldives GM Forum 2018
Telecommunications service provider Dhiraagu has signed the title sponsor agreement with Perspective Pvt Ltd, the publishers of Hotelier Maldives and organiser of the annual GM Forum; branding the event 'Dhiraagu Presents Hotelier Maldives GM Forum 2018.'
The third edition of the GM Forum will take place on 18th April 2018 at the first resort to open in the country, Kurumba Maldives. Over 150 delegates are expected to attend this years 'Forum with prominent speakers and other industry professionals making presentations and participating in panel discussions on the most pertinent issues in the Maldives tourism and hospitality industry. Confirmed speakers include Ibrahim 'Bandhu' Saleem, a founding member of Cyprea Group and Chairman of Solarelle Insurance; and Daniel Welk, the Vice President Operations, Luxury and Lifestyle, Asia Pacific, Hilton.
The title sponsorship agreement was signed by Ahmed Maumoon, Director, Business Development at Dhiraagu, and Mohamed Mamduh, Managing Director, Perspective Pvt Ltd.
Inaugurated in 2016, the Hotelier Maldives GM Forum 2018 is the only dedicated forum taking place in the country for resort general managers. Providing over 50 GMs a forum to discuss the unique challenges they face on a day to day basis, and to learn from the best practice of their peers in a mutually supportive environment.
The Platinum sponsors for GM Forum 2018 are HRS, Kohler, SNS, MWSC and Allied Insurance, with Precor Inc as Silver Sponsor.
Dhiraagu Presents Hotelier Maldives GM Forum  2018 will be a day-long event followed by a networking event at the end, also taking place at Kurumba Maldives.