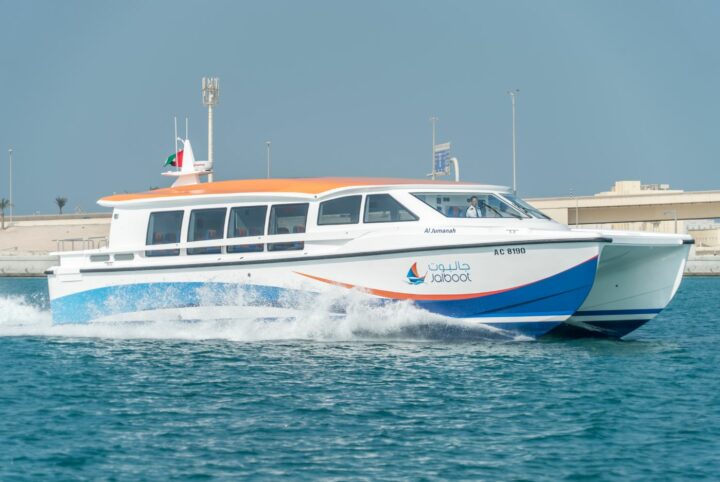 Jalboot Maldives to manage the first-ever international berth yacht marina at CROSSROADS Maldives
Jalboot Holdings LLC, initially established in 2013 by Emirates Consortium LLC in the cosmopolitan capital of UAE, is an outstanding collective contributor of vessel design, construction and operation of sightseeing and premium passenger ferry services. From its initial standpoint, the company has made its mark at the top tier of the marine transport service industry today. It has expanded globally, furthering its roots to its subsidiary in the Maldives.
Jalboot Maldives has partnered with Singha Estate to provide upscale water transport and solutions for The Marina @ CROSSROADS Maldives. CROSSROADS Maldives, anticipated to open in Q3 2019 is a first for the Maldives, being the first ever-widespread tourism project with multi-island interlaced leisure and entertainment resorts. CROSSROADS Maldives with their other partner properties spread across Emboodhoo Lagoon targets to attract leisure travellers and family markets worldwide.
Jalboot Maldives will manage the luxurious berth yacht marina at CROSSROADS Maldives, with a fully equipped team of dockmasters, commercial divers and sales associates amongst other manpower. These comprehensively trained individuals will be able to provide a full range of water transport solutions in addition to other support facilities.
Amongst the transport solutions that Jalboot will deliver are, round-trip ferry transportation services to and from Velana International Airport, Malé, and other neighbouring islands, a yacht chartering service, in addition to innovative electric Dhoni boats providing inter-lagoon services.
As the Senior Operations Manager Shameem Mohamed Ismail said, "Jalboot is all about passenger convenience and their safety". All their vessels are RINA (the Royal Institution of Naval Architects) classified vessels, which is an important KPI (Key Performance Indicator) for sea fare cruises.
To adhere to these standards, the vessels are equipped with life jackets for each passenger, emergency exits and a committed life raft on board in case of unforeseen circumstances such as weather hindrances. They have highly efficient fire detectors and mitigation equipment, digitalised distress signals, emergency DSC (Digital Selective Calling) transmitters and EPIRB (Emergency Position Indicating Radio Beacon) floating emergency beacons inclusively.
Their power in coming to a full halt while propelling at full speed is additionally amongst its unique features. The vessels are never kept on idle, thus it does not generate excessive carbon that could be harmful to the environment. Employees are additionally trained for oil spillages, their policy being to safely dispose of any excess oil collected at the vessel's Oil Collector Ring.
Designed by a renowned German firm, the most iconic feature of the Jalboot vessels is the one resembling a catamaran. Having done feasibility studies in the waters of the Maldives, the design is adapted specifically with the intention of providing stability and comfort whilst experiencing the rides. From its hull, its engines, its interior and the glass panels; all the parts of these vessels are selected with precision.
Even when seated at the very back, the design enables the clients to enjoy the view of the ocean. Recognition worthy features of the vessels include water jet propulsion, which is the replacement of conventional propellers known to contribute to the long term damages incurred by the fragile ecosystem of the Maldives.
Thriving with highly trained locals attributing to 99 per cent of their team, Jalboot Maldives seeks to create job opportunities as much as possible within the local community. With six projects in the pipeline amongst which a partnership with OZEN by Atmosphere at Maadhoo, that will commence at the end of July, Jalboot has plans to expand in the Maldives.
Shameem Mohamed Ismail further highlighted, "With the presence of the first international marina in the Maldives, more will definitely strive to come up, hence managing another potential marina by Jalboot is likely a part of its expansion plans."
Due to the company's exceptional brand recognition, expectations are very high from their clients. However, Jalboot plans to deliver effectively with their primary objective being to provide and design accordingly to the client's specifications that make them stand out from the rest of the market holders in the marine transport service industry.