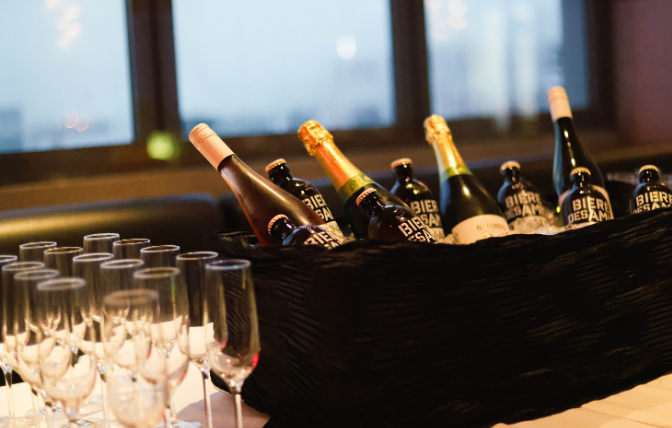 JEN Maldives Malé by Shangri-La unveils Azur Restaurant's new menu with SIMDI Beverages
JEN Maldives, Malé, by Shangri-La, unveiled its much-anticipated new Azur Restaurant menu in an exclusive collaboration with SIMDI Beverages on 4th October 2023. This memorable evening was an ode to culinary artistry, celebrated during an elegant non-alcoholic wine-pairing dinner.
The evening commenced with a gracious reception, where guests were welcomed with the Non-Alcoholic Natuero Sparkling Muscat and a selection of delectable canapés, featuring an exquisite display of charcuterie to delight the palate before the main dinner.
The dinner commenced with a four-course set menu designed to complement the enchanting trio of Natureo Sparkling Muscat, Natureo Garnacha Syrah, and Natureo Syrah Cabernet Sauvignon. To ensure perfection in every sip and bite, a seasoned sommelier expertly paired each wine with its respective dish, to enhance the dining experience for all the guests.
The revamped Azur Menu now boasts an expansive selection of delectable Indian, Chinese, and Western cuisines, to cater for both local palates and international guests. Additionally, the menu introduces a tantalizing array of desserts, meticulously crafted to perfection by the skilled patisserie team at JEN Maldives, Malé, by Shangri-La.
Located on the hotel's rooftop, Azur Restaurant offers a captivating setting that marries culinary excellence with unparalleled views. Guests are invited to explore a world of gastronomic delight, where options range from delectable à la carte meals to indulgent high teas. For those seeking to mark special occasions, Azur offers thoughtfully curated set menus for a memorable experience. JEN Maldives, Malé, by Shangri-La, invites you to savor the extraordinary at Azur Restaurant, where culinary artistry and stunning scenery converge to redefine the art of dining.