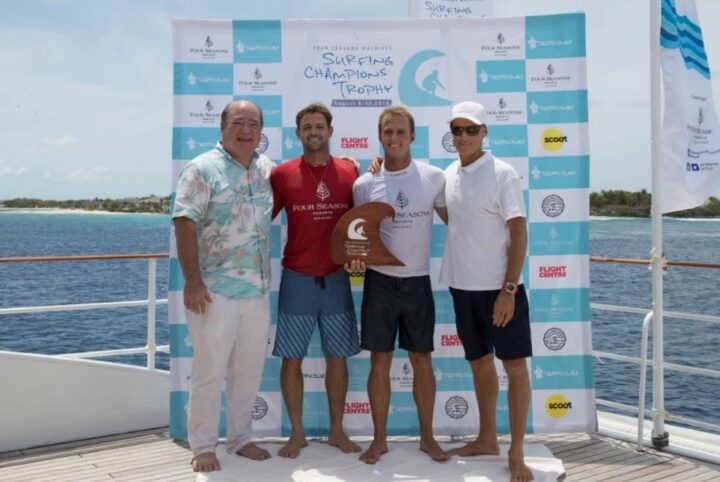 Josh Kerr secures Four Seasons Maldives Surfing Champions Trophy, scoring a perfect 10 on final heat
In the thrilling final day of action at the pumping surf of Sultans, Josh Kerr has taken the 2018 Four Seasons Maldives Surfing Champions Trophy with an impressive perfect ten point ride on the last heat of the finals. Kerr had won two of the three divisions on his way to the Grand Finale matchup with Alejo Muniz of Brazil.Day three of competition saw the best conditions of the event so far, with perfect clean four to six-foot waves at Sultans, giving surfers opportunities for airs, turns and long draining barrels. It was fitting that the Final was the heat of the event with both Kerr and Muniz trading off perfect waves, both finding epic barrels on the inside section."This was such an incredible event to be a part of," Kerr said. "The waves just got better every day up until now where they are totally pumping – I never thought I'd get so barrelled here in the Maldives. I got to surf a heat with every competitor these last few days, which was really cool. Everyone was in great spirits and brought something different to the event. It was so cool to surf with Alejo today, the surfing he was doing was amazing. The concept of this event is really cool, I like surfing different boards these days so I guess this is the perfect event for me – I'm stoked to be coming back next year but probably not as much as my family, they love it here." For his efforts, Kerr will be asked to return to the event and defend his title in 2019.
"This has been one of the best days of my life," Muniz said. "Although I got second three times in this event, I couldn't be happier to have been in those Finals with some of my idols. It's going to be tough competing on the QS after this experience."The luxury of the Resort and the pumping surf has made this the trip of a lifetime. Josh has always been one of my favourite surfers so it was cool to have a Final with him – we were both just trading barrels – it was unreal. I'm really pumped up to head back to the QS, but like I said, it will be tough after this."Unique in many ways, the Surfing Champions Trophy determines a surfer's heat time based on their age, and tests skill across three different divisions: single-fin, twin-fin, and triple-fin thruster.  Places are granted to surfing's elite by invitation-only, who then battle it out for both 'surfing inner-circle' kudos and US$25,000 prize winnings.
As ever, the event was held onboard Four Seasons Explorer – the Maldives' ultimate surf vessel. Fans can get up close to the action with onboard VIP passes, while the 'surf tour' experience continues with shoulder-rubbing events back at Four Seasons Kuda Huraa, which plays host to the contest's competitors, judges and Tropicsurf partners.