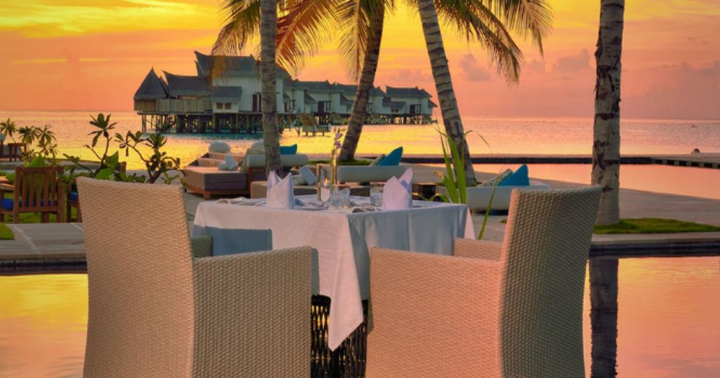 Jumeirah Vittaveli gears up for Valentine's Day
The natural beauty of Maldives perfectly complements the romantic moments guests will be able to enjoy this Valentine's Day at Jumeirah Vittaveli as couples will be able to spend this special day in the most romantic of settings.
If love is a journey, it definitely starts with a romantic dinner. For the beginning of the unforgettable voyage, Jumeirah Vittaveli provides choices to spoil all hearts. The resort's signature 'Dining by Design' experience is the true marriage of fine dining and breath taking scenery. Whether guests wish to dine at the beach side, with an Aqua Dinner inside the pool, or even on a private yacht, Dining by Design caters to all preferences. Guests will be able to book these unique dinners and at the same time, select from a delicious menu created especially for the occasion.
"Jumeirah Vittaveli has just the right mix of ingredients to make this the perfect Valentine's Day celebration. Our creative chefs provide heart melting gastronomical delights while you are sipping Champagne at the beach overlooking the perfect sunset of rich hues over the Indian Ocean with soft melodies in the background. This is where cupid himself would spend his Honeymoon" said Amit Majumder, General Manager, Jumeirah Vittaveli.
The Colour of love will be splashed upon all dining outlets for the night. Samsara, the main restaurant, will be hosting a special Valentine's buffet alongside a curated menu of cocktails. A romantic set menu will be available for diners at the French specialty restaurant Fenesse, not only serving delicious culinary delights accompanied by Champagne, but also offering an a la carte menu created around the exclusive white truffle. Moreover, guests visiting Jumeirah Vittaveli in February can enjoy a special Wine Dinner by the winery of Domaine Hamelin, France. The winemaker himself, Mr Charles Hamelin, will be visiting the resort to host an exclusive dinner where guests may experience a set menu of six courses, each paired with a wine by Domaine Hamelin, and learn about the factors that influence each wine's distinct qualities, typicity and expression.
The mood, however, isn't set unless there is the right music to complete the setting. Alesya Ostrovskaya, a pianist and violinist from Belarus, brings her melodies to the tropics to give Valentine's Day a soulful backdrop for an evening of pure romance. She will be performing throughout the month of February at Samsara and Fenesse.
The only thing that remains is a way for guests to cherish their romantic Jumeirah Vittaveli memories even after they leave. For this, Jumeirah Vittaveli brought caricature artist Somrak Puttharuksa, who popularly goes by the name of 'Aon' in his home city of Bangkok. He will move across the resort, turning vacationing lovebirds into pieces of art the couple can take home after their romantic holiday ends.
Jumeirah Vittaveli offers romantic escapes as well as a host of land- and water-based activities, including a PADI Dive base, water sports centre, four restaurants and two bars, and aTalise Spa with overwater and garden treatment rooms. With its focus on cultural connection and organic experiences in a luxurious setting, Jumeirah Vittaveli offers guests a true Maldivian island experience.